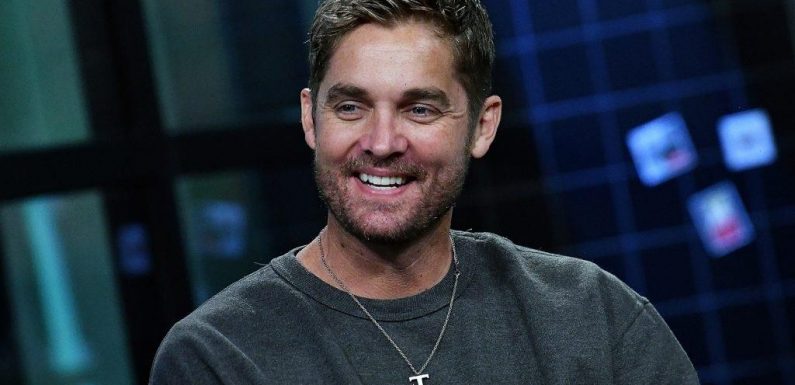 Over the last few years, Brett Young has become one of the biggest country music stars on the planet. But while music has long been a part of Young's life, he never envisioned a career in the industry as he had sights set on a career in sports, specifically baseball.
And he certainly had the talent to make it happen.
Young was a phenomenal pitcher in high school and even received contract offers from a pair of Major League Baseball teams at the age of 18. He instead chose to take the college route but didn't find the same success at the university level and played for three different schools before an elbow injury ended his career.
Brett Young had a 15-0 record as a pitcher during his senior year of high school
In one of the biggest hits of his music career thus far, Young pleads for an ex-partner to "have mercy" on him but as a senior at Calvary Chapel High School in Santa Ana, California, in 1999, the 6-foot-6-inch, 230-pounder certainly didn't show mercy to opposing hitters.
With a fastball topping 90 on the radar gun, a fantastic curveball, and a beautifully slow changeup, Young helped the Eagles to a 27-1-1 record on the way to the CIF Division V title game with a 14-0 record with a 1.18 ERA and 124 strikeouts in 77 innings.
In the title game against LA Baptist, he gave up just three hits in 5.1 innings and struck out six in the Eagles' 12-0 victory, becoming just the fifth hurler in Orange County history to win 15 games and just the second to record a 15-0 record.
Young received contract offers from the Minnesota Twins and Tampa Bay Rays
Even before his brilliant senior season, Young was being scouted by college programs and was particularly on the radar of Ole Miss coach Pat Harrison, who'd previously coached at Pepperdine and USC. Young visited the Oxford campus in September 1998 and was highly impressed with the Rebels' baseball facility, telling the Los Angeles Times it was "incredible" and looked "like a new minor league park."
He signed his letter of intent a short time later and was so committed to playing college baseball that he later told MLB teams not to select him in the 1999 draft. But that didn't keep a couple of organizations from attempting to sign him ahead of time (h/t Sounds Like Nashville).
"The Twins and Devil Rays called when I was 18 and it wasn't going to be enough money, in my opinion, to skip school so I took a baseball scholarship to Ole Miss."
Two of his high school teammates would join him in Oxford but Young wouldn't stay at Ole Miss long.
An elbow injury ended his career and turned his attention to music
Young ended up playing just one season at Ole Miss and certainly didn't have the success he'd had in high school. He made 17 appearances for the Rebels in 2000 with five starts, posting a 2-2 record with two saves. In 48.1 innings, Young gave up 69 hits and had a 6.70 ERA with 40 strikeouts and 14 walks.
He then returned to California to play one season at Irvine Valley College before heading back to the Division I level to pitch for Fresno State. However, Young made just one appearance for the Bulldogs in 2003, striking out two and walking one in one scoreless inning before suffering an elbow injury that ultimately ended his baseball career.
With his athletic career behind him, Young turned his attention to music and the rest, as they say, is history.
Source: Read Full Article