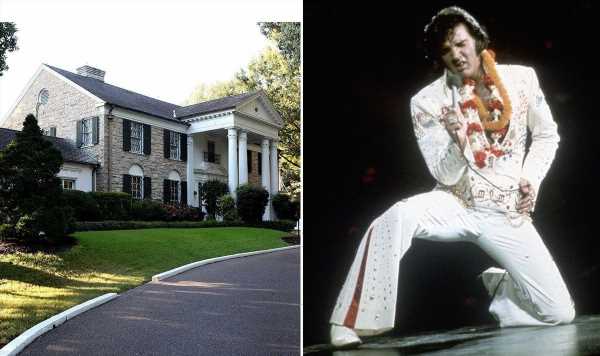 Graceland: Take a live virtual tour of Elvis' Memphis home
We use your sign-up to provide content in ways you've consented to and to improve our understanding of you. This may include adverts from us and 3rd parties based on our understanding. You can unsubscribe at any time. More info
Elvis Presley's home has been open to the public as a museum for 40 years, but nobody is allowed upstairs. That is unless you are Priscilla Presley, Lisa Marie Presley or someone with special permission like Graceland's Vice President of Archives and Exhibits Angie Marchese.
Even when Elvis first moved into Graceland in 1957, he was conscious of protecting his privacy. The Memphis mansion had an open house for his family and inner circle, but the upstairs was by invite only.
The world-famous singer had a security wall with a one-way mirror installed on the first-floor landing, with security cameras for him to see who was downstairs.
Graceland's upstairs has The King's office, his dressing room, his daughter Lisa Marie's room, his bedroom and the bathroom where he died on the toilet of a heart attack at just 42.
View this post on Instagram

A post shared by Elvis Presley's Graceland (@visitgraceland)
Since Graceland's upstairs was Elvis' private space in his life, it remains so in his death.
However, Angie has spoken of what it's like up there, as it's her job to preserve The King's inner sanctum – rooms that Lisa Marie has described as the one place she feels safest in the whole world.
Speaking previously in an Instagram Q&A from inside Graceland, the archivist admitted the upstairs is preserved as The King had it in 1977, saying: "It looks as if he just got up and left. It is part of my job to maintain it. So we do go up there to maintain the space."
Angie continued: "The record on the record player is the last record he listened to. There's a styrofoam cup that sits on a bookshelf. The bed is made, so we really maintain it the way that Lisa wants us to preserve it. So, unfortunately, [fans] can't see it, but it is taken care of."
The Graceland upstairs curator also shared what that last record Elvis played was.
DON'T MISS
Graceland upstairs: Elvis kept his bedroom 'so dark and freezing' [ELVIS BEDROOM]
Elvis Presley: The book King was reading when he died on the toilet [ELVIS FINAL BOOK]
Elvis Graceland upstairs bedroom secrets 'We'd spend hours on the bed' [ELVIS BED]
Angie revealed it was a fresh recording of JD Sumner and the Stamps. Sumner was an American gospel singer known for his bass vocals and The Stamps ended up singing at The King's funeral.
The Graceland archivist continued: "It was a recording that they had just done in the studio that they had sent to Elvis. I've never actually played it, so I don't know the song that's on it. The label on it just has the recording date on it that just says 'The Stamps.'"
Source: Read Full Article