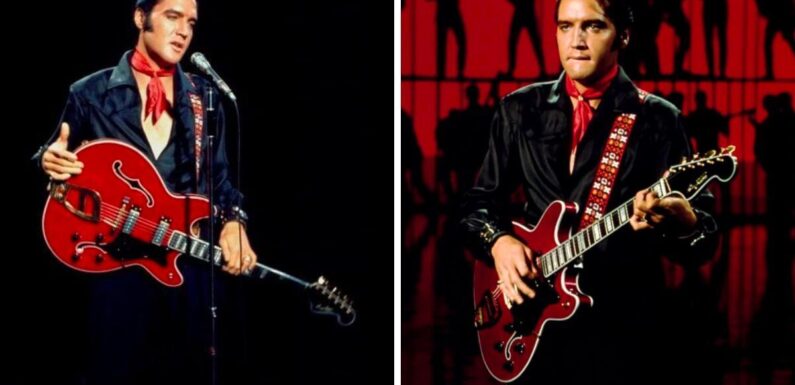 Reinventing Elvis: The '68 Comeback teased in trailer
On the anniversary of Elvis Presley's passing today, fans and music enthusiasts worldwide are celebrating his legacy in a remarkable way.
The legendary rock 'n' roll icon's most famous guitar, the Cherry Red Hagstrom Viking II, has been appraised at an astonishing $5million.
Its eye-watering valuation could make it the most valuable guitar in history.
This iconic instrument played a role alongside Elvis, famously known as The King, during his groundbreaking '68 Comeback Special.
The performance, often hailed as his finest, has not only etched its place in history but also became a pivotal moment in Baz Luhrmann's acclaimed biographical film.
For all the latest on news, politics, sports, and showbiz from the USA, go to Daily Express US.
READ MORE: Elvis' last day hour by hour – Surrounded by loved ones but he died alone
In honor of Elvis Week, devotees flocking to Graceland, Elvis's former residence, are being treated to an exclusive and enhanced screening of the original TV spectacle.
The festivities continue on Tuesday, August 15, as Paramount+ prepares to premiere a documentary titled Reinventing Elvis: The '68 Comeback.
The Cherry Red Hagstrom Viking II guitar, often considered Elvis's lucky charm, played an indispensable role in resurrecting his career.
Don't miss…
Lisa Marie Presley 'was Elvis' protector' says tearful Graceland boss at vigil[LATEST]
Lisa Marie's autopsy shines light on 'chronic Presley problem'[AUTOPSY]
Elvis fiancee on heartbreaking final conversation and intimate 'private moments'[PRIVATE]
We use your sign-up to provide content in ways you've consented to and to improve our understanding of you. This may include adverts from us and 3rd parties based on our understanding. You can unsubscribe at any time. More info
The instrument's magic resonated through the celebrated album From Elvis in Memphis, followed by the mega-hit Suspicious Minds, and his legendary Las Vegas residency.
With the guitar's valuation now soaring to unprecedented heights, it stands on the brink of shattering existing records to become the world's most expensive guitar.
This valuation threatens to eclipse the remarkable $6million that was paid for Kurt Cobain's MTV Unplugged 1959 Martin D-18E acoustic guitar.
Notably, this acoustic guitar had initially been estimated at just $1million when it was auctioned in 2020.
Source: Read Full Article