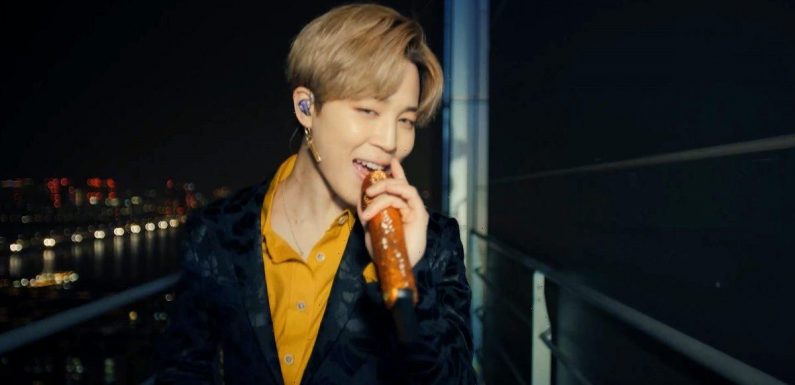 For eternity, they keep staying together. Marvel fans were introduced to several new characters with the 2021 release, Eternals. This movie, directed by Chloé Zhao, featured a star-studded cast and even one song released by the Grammy-nominated boy band, BTS.
Here's what we know about BTS' song featured in Eternals and what Zhao said about this K-pop group.
Jimin's BTS song, 'Friends' played during Marvel's 'Eternals'
Hot off of the heels of the release of Shang-Chi and the Legend of the Ten Rings, Marvel premiered Eternals exclusively in theaters. This movie, featuring Angelina Jolie, Kumail Nanjiani, Salma Hayek, and other actors, was directed by Zhao and featured award-winning and chart-topping songs.
"There is a variety of songs in Eternals, but they are all songs that I like, such as those by Pink Floyd and BTS," Zhao said during an interview with Republic World. The BTS song included in this blockbuster was "Friends," marking the first song by this boy band to appear in a Marvel production.
'Eternals' director is a fan of BTS and, specifically, Jimin
As an ARMY, it made sense for Zhao to include BTS' "sub-unit" song, "Friends," in Marvel's Eternals. This song was initially performed by vocalists V and Jimin, with Jimin credited as the songwriter.
Zhao included "Friends" in Eternals, first and foremost, because she loves Jimin, even saying he was "so cute" according to a BTS Twitter account. 
Secondly, because of the meaning behind this Map of the Soul: 7 track. With lyrics discussing the "eternal race" and offering insight into Jimin and V's friendship, it almost mimics the story of Marvel's superheroes, who become a family after decades of protecting the earth and its inhabitants.
Additionally, BTS' Map of the Soul: 7 included the song "We Are Bulletproof: The Eternal," which discussed the group's love for their fan base, nicknamed the BTS ARMY. However, this song did not make it to Marvel's Eternals soundtrack.
BTS has several celebrity fans, including Ansel Elgort, Joe Jonas, and Halsey
Several celebrity ARMYs shared their appreciation for specific members of this boy band. That includes wrestler John Cena who, as a fan of "old school rap," has J-Hope and RM as his biases. Jimmy Fallon is also a Jimin Park fan, even wearing Jimin's BT21 merchandise during their first interview together. 
Ariana Grande and Jungkook posed to a picture following her concert, with the "Thank U, Next" artist making it her phone background for some time. Aside from their duet on "Friends," both V and Jimin have their solo songs with BTS. For V, that includes "Singularity" off of Love Yourself: Answer.
For Jimin, that means "Serendipity" off of Love Yourself: Answer. Music by BTS, including the single "Stay Gold" and Map of the Soul: 7, is available for streaming on platforms like Spotify and Apple Music.
Source: Read Full Article