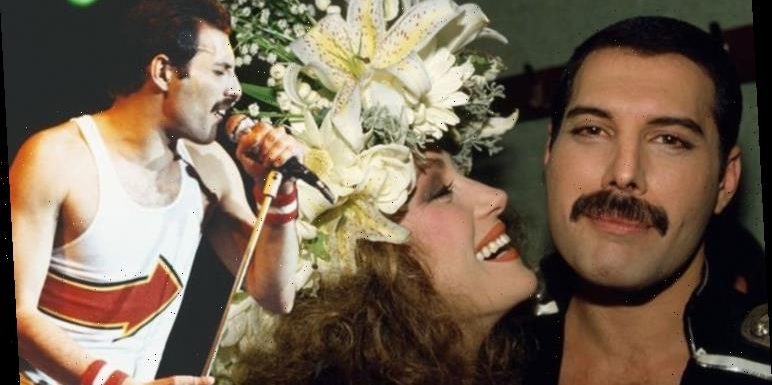 Freddie Mercury songs 'are on new Queen album' says Lambert
Freddie Mercury performed with a great deal of pizzazz and vigour during his Queen years. However, one of his more out-there stunts took place at a charity event and certainly shocked fans. So did Freddie really marry actress and model Jane Seymour?
The answer to this question is interesting, as while he did not actually marry her, Freddie did pull a pretty shocking stunt which fooled many fans.
The event took place in 1985 and involved the pair at a charity event at the Royal Albert Hall.
This was called Fashion Aid, and as the name suggests, it was an event organised by Sir Bob Geldof to raise further funds for the Ethiopian famine.
Fashion Aid took place only a few months after Live Aid, the Wembley Stadium concert where Freddie and the band Queen performed.
READ MORE: Dolly Parton Barry Gibb duet: What is Dolly and Bee Gees star's song?
We will use your email address only for sending you newsletters. Please see our Privacy Notice for details of your data protection rights.
Freddie's performance there has become a legend, and while the band did not close the show, they were one of the major headliners whose songs are watched time and time again, even years after the gig.
That autumn, Sir Bob organised a second event, Fashion Aid, which would bring together some of the most major stars of the fashion industry, as well as performers from different worlds.
Designers such as David and Elizabeth Emanuel, Bruce Oldfield and Joseph Tricot took part, as well as those involved with the innovative fashion label BodyMap.
It was not just the catwalk which was filled with stars, as Prime Minister Margaret Thatcher, Ringo Starr and Anjelica Huston were among the big names in the crowd.
As well as them, famous musicians took to the red carpet to show their support, including Madonna, Boy George and George Michael, the former of whom appeared at the American Live Aid concert in Philadelphia.
However, the biggest moment of them all would appear at the end of the show, as Freddie was involved in the finale.
At the end of the show, Freddie and Jane Seymour, the model and actress, walked down the catwalk, which was then more like an aisle.
Jane was sporting a fairly familiar style of dress, which was white and covered in lace, and was accompanied by a veil and flower garland.
This dress was stylistically similar to that which was worn by Princess Diana on her wedding day to Prince Charles.
Like Diana's dress, Jane's was designed by the Emanuels, who took part in the show.
After doing the walk, Jane and Freddie took part in the faux matrimonial ceremony, after which Freddie took Jane's bouquet and flowers and threw them to the audience from the stage.
At the time, Freddie's sexuality was not known outside of those closest to him, therefore this would have been a fun-filled moment for all, without them realising the unlikely nature of what was going on.
Freddie was never completely open about his sexuality in a serious manner, making jokes or moving topics when asked about it in interviews.
In 1974, the NME famously asked him about being "bent," to which he replied: "You're a crafty cow. Let's put it this way: there were times when I was young and green.
"It's a thing schoolboys go through. I've had my share of schoolboy pranks. I'm not going to elaborate further."
However, on another occasion, as chronicled by BBC's Nick Levine, Freddie once playfully admitted to being "as gay as a daffodil."
As a result, with questions about his sexuality in the air, his stunt with Jane would have been a pretty intriguing moment for those enjoying it in the audience.
Source: Read Full Article