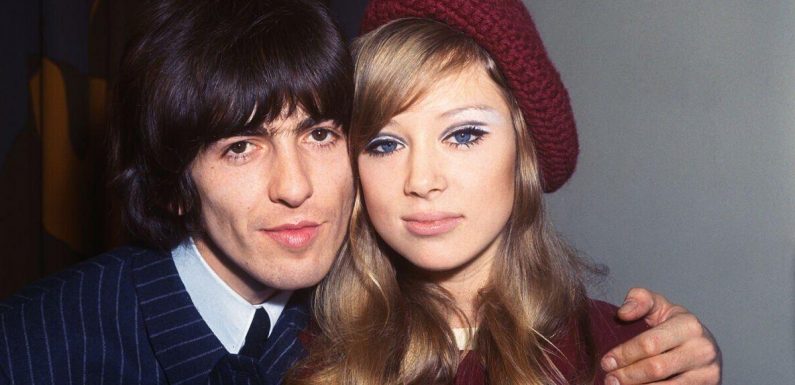 A Hard Day's Night Official Trailer (2014) The Beatles, Musical HD
We use your sign-up to provide content in ways you've consented to and to improve our understanding of you. This may include adverts from us and 3rd parties based on our understanding. You can unsubscribe at any time. More info
Later today, at 3:05pm on BBC 2, The Beatles' cinematic debut, A Hard Day's Night, will hit TV screens. This 1964 film was particularly poignant for the band as it was shot and released during the height of Beatlemania. The fictional movie followed the band over a 36-hour period leading up to a TV performance. But behind the scenes, George Harrison found himself becoming obsessed with one of the extras.
One scene in A Hard Day's Night involved a string of schoolgirls becoming obsessed with The Beatles and chasing them around London. One of these schoolgirls was played by none other than Pattie Boyd. And when Harrison locked eyes with her, he couldn't help himself.
Boyd later looked back on meeting the Fab Four for the first time: "On first impressions, John seemed more cynical and brash than the others, Ringo the most endearing, Paul was cute."
And then there was Harrison. Boyd said he had "velvet-brown eyes and dark chestnut hair," before calling him "the best-looking man I had ever seen."
Things then took a turn as they became unexpectedly closer between shots.
Boyd said: "At a break for lunch, I found myself sitting next to him. Being close to him was electrifying." The rapport between The Beatles and their groupies continued throughout the day of filming, but as it came to an end, Harrison knew he had to make his movie.
"Will you marry me?" he asked Boyd, who was just 19-years-old at the time. She couldn't help but laugh. Here was a Beatle – one of the most famous men on the planet – asking for her hand in marriage after barely knowing her a day.
She didn't respond. So Harrison followed up: "Well, if you won't marry me, will you have dinner with me tonight?"
DON'T MISS…
George Harrison helped The Rolling Stones get signed in selfless move
The Beatles' 'friction' with The Rolling Stones detailed by Jagger
John Lennon's ex described moment she walked in on Beatle with Yoko
Boyd recalled: "George and I were very young when we met. I was 19 or 20 and he was a year older than me. In a way it was wonderful because we were growing up together, we still had so much to learn."
Two years later, in 1966, Harrison and Boyd were married. Together, they experience the heights of the Beatles' career as it erupted into unbelievable popularity.
They also spent a lot of time together partying in London, Boyd continued. "London was exploding with creativity and in the fashion world we had all these wonderful designers appear, like Mary Quant and Ossie Clark, and great painters like David Hockney."
Just over a decade later, their differences became too much for them, and they divorced in 1977.
Boyd soon after married Eric Clapton – one of Harrison's closest friends – but he was happy for them. He even played music at their wedding reception, as a sign of his blessing.
Harrison later died in 2001 after battling cancer. Boyd never said a bad word about her ex-husband.
"I loved him," she confessed. "He was the most generous man and so beautiful and intelligent and articulate. We learned so much from him, we were like little kids, soaking everything up. We were really, really lucky. And in a way, I suppose it was an education for me."
SOURCE / SOURCE
Source: Read Full Article