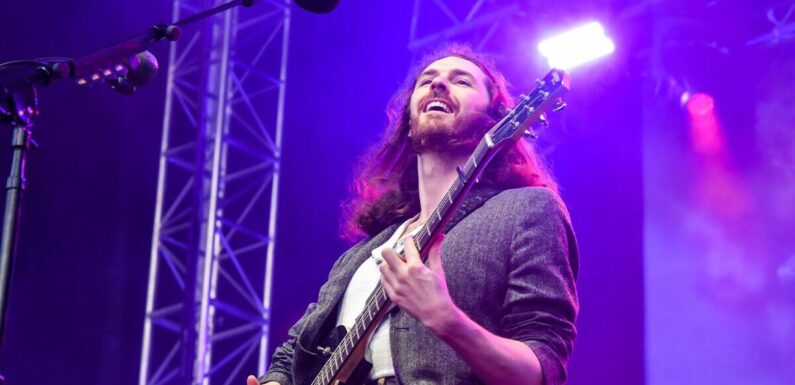 Hammersmith evades the greyness that seems to hang over the rest of London. The sun shines on the pilgrims winding their way up the South Terrace's steep incline to the elegant surrounds of the sold-out Alexandra Palace Gardens show.
It's been four years since Hozier has graced us with a UK tour and the trail of fans, like the sun, are filled with eager anticipation.
The singer-songwriter, recognised and loved globally for his modern soulful sound and wrenchingly beautiful romantic lyrics, is here. With over 22 billion streams, multi-platinum album sales and countless award nominations, it's undeniable that Andrew Hozier-Byrne is a voice of a generation.
The show celebrates Unreal Unearth, Hozier's third and newest album, set to be released mid-August, but it's the near-decade long catalogue of sublime heartfelt ballads that we are all here for.
Opener Victoria Canal welcomed the masses. The rising star warmed the crowd with her emotive ballads including Swan Song and new single Company, providing a wholesome backdrop for the sea of people on tartan picnic blankets upon the hill.
READ MORE: Glastonbury Saturday line-up: Liam Gallagher, Killers, Janet Jackson
Framed by the London skyline, the delightful Teskey Brothers, who look like a Foo Fighters tribute act, immediately transport you to the Delta, Mississippi. With simple and soulful blues that a group of Australian lads just shouldn't own, the ghosts of Otis and BB King are conjured up. The harmony between Josh Teskey's rich soulful vocals and Sam Teskey's strong blues guitar chords make for an elevating and earthy blues sound that the audience can't help but get lost in.
Hozier must be confident to bring us these brothers along as support.
The sound struggles to find the top of the hill and picnic blankets are rolled away as fans look to get closer. Front of stage is the place to be as we congregate to get taken to church.
The homely Irish charm that is Hozier emerges as golden hour hits North London. Hozier commences his set with recently released, Eat Your Young. A fine appetiser for what is to come. His voice is a sheer pleasure with this song exploring his range. The audience erupts.
Don't miss…
James Bond – The music icons that turned down Roger Moore's A View to a Kill[INSIGHT]
'Follow your heart' – Rock legend Graham Nash releases new solo album[NEWS]
Jason Aldean's controversial song lyrics explained – and video makes it worse[VIDEO]
Together we journey through his 2014 self-titled debut album which exploded and hurled Hozier from his parent's small house in Wicklow to international stardom. Loved on both sides of the Atlantic.
The powerful rock riff of Jackie And Wilson fills the Palace, followed by the soft sentiment of From Eden through to To Be Alone, slow and haunting. Hozier's vocals are rich, smooth yet gravelly as he takes us on a decade's journey; nostalgic yet now refreshing.
Hozier's showcases Unreal Unearth tracks De Selby Parts 1 & 2 with Part 2, released today, being the third single from the new album. Hozier is bringing us a new era, a deeper funk soul disco vibe yet unmistakably Hozier. The bass vibrates through the gardens.
A hear-twarming highlight of the show is the gentle performance of Like Real People Do, joined by Victoria Canal to duet the tender ballad. Victoria brought a new sweetness to a fan favourite. Their harmony was a real moment.
We use your sign-up to provide content in ways you've consented to and to improve our understanding of you. This may include adverts from us and 3rd parties based on our understanding. You can unsubscribe at any time. More info
2019's Wasteland hits, Almost Sweet Music, Would That I and Movement, had the audience wrapped around Hozier's finger, his every word.
The best was saved for last as Hozier brought us old and new. And then it landed, the song that started it all.
Take Me to Church, performed against a wonderfully commanding backdrop of a luminous red ignited stage that sat in harmony with the red scattered silhouette of the city behind.
Clearly a sentimental moment for the Wicklow boy who still has so much to give.
Roll on August I need Unreal Unearth in my life and roll on the next decade of the back catalogue.