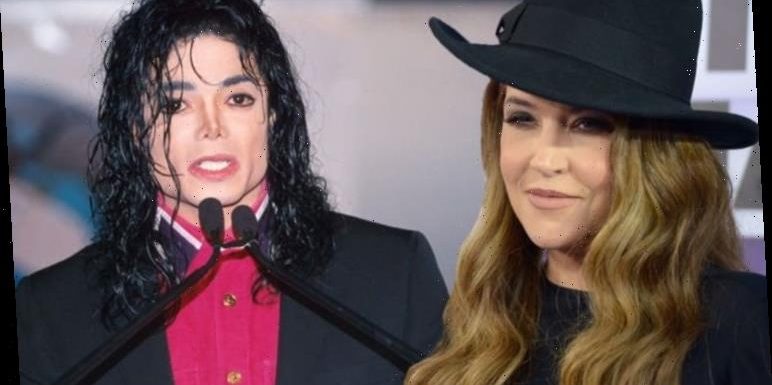 Michael Jackson hides behind curtain at 1994 Elvis tribute event
When you subscribe we will use the information you provide to send you these newsletters.Sometimes they'll include recommendations for other related newsletters or services we offer.Our Privacy Notice explains more about how we use your data, and your rights.You can unsubscribe at any time.
Michael Jackson stunned the world when it was announced he had married Elvis Presley's daughter, Lisa Marie, in private on May 26, 1994. The pair were married in Santo Domingo in the Dominican Republic with a small group of friends. Lisa Marie wore black, Michael chewed gum and the pair remained married for 20 months before an amicable divorce.
According to the LA Times, Presley filed for divorce citing "irreconcilable differences" before they "mutually agreed to go their separate ways and decided to remain good friends".
A lot of mystery surrounds the pair's prenuptial agreements, however.
Jackson had been working hard in the music industry since he was a child in the Jackson 5, so he had amassed an enormous fortune behind him.
Likewise, Lisa Marie reportedly had a staggering $100 million nest egg waiting for her following the death of her father, Elvis.
The newly-married couple spoke about their prenup on Prime Time with Diane Sawyer during their only interview together in 1995.
Diane asked: "Is there one? A careful one?"
Michael coyly responded: "Well, we've worked out things and signed certain things that – of course – are very confidential."
Lisa Marie echoed these sentiments, adding: "We made agreements prior, yes."
Martin Bashir interviews Michael Jackson in 2002
When the pair divorced in December 1995, it was reported by the Washington Post their prenup meant their "assets would not be affected" by the split.
Lisa Marie's attorney at the time, John P Coale, told the Associated Press: "There are no disputes as to property or anything else.
"It's going to be a very simple and clean divorce, and they're going to remain friends."
Despite the pair not getting involved in any fights for money or properties, Lisa Marie did have some stipulations for their divorce.
DON'T MISS…
Elvis Presley: Family slam claims The King has been spotted alive [NEWS]
Elvis Presley 'alive': King 'spotted' in Michigan a decade after death [INFO]
Elvis Presley tour photo: 'I've never seen this before' Linda Thompson [NEW IMAGES]
The Associated Press reported Jackson was requested to pay for the legal fees brought on by the divorce.
The agreement also requested that Lisa Marie's name was restored to Presley from her married surname, Presley-Jackson.
Presley, who was 27-years-old at the time, married again in 2002 to Hollywood actor Nicolas Cage, and once again in 2006 to Michael Lockwood.
The year after divorcing Lisa Marie, Jackson married his second wife, Debbie Rowe.
The pair tied the knot on November 14, 1996. Just four months later Rowe gave birth to Jackson's first child, Prince Jackson on February 13, 1997.
Rowe later gave birth to his second child as well, Paris Jackson, on April 3, 1998.
Discussing meeting Jackson, Rowe revealed in an interview: "Michael was divorced, lonely and wanted children.
"I offered him my womb, it was a gift. It was something I did to keep him happy."
Rowe and Jackson divorced on October 8, 1999.
SOURCE
Source: Read Full Article