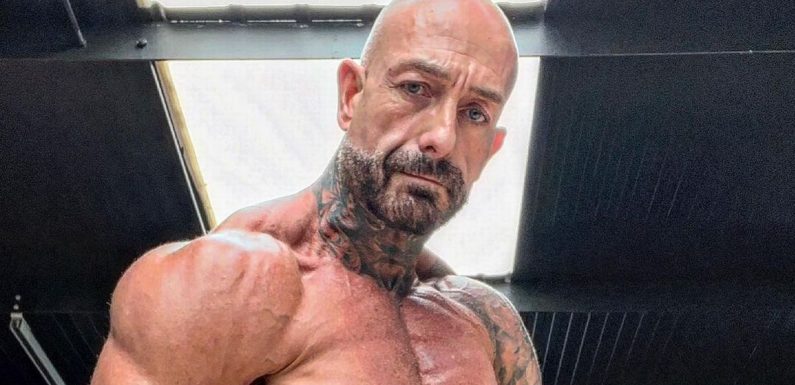 Naked Attraction star Steven Barrett has revealed he used to sell his friends' farts for cash.
The OnlyFans hunk, 49, chatted exclusively to the Daily Star about his racy career and the strangest things about his job.
Steven confessed he has received some seriously bizarre requests since his time in the adult industry, but this one definitely 'trumps' it.
READ MORE: Naked Attraction star has £8,500 sex doll made of himself to 'perform' with on OnlyFans
He told us: "The fart ones were jokes, the builders at my work were giving me their farts and I would sell them for a fiver and I would give them £2 for every fart.
"But it became too intense and they were coming through on my WhatsApp constantly and I was like 'for f*** sake'.
"They call them 'fart fax', and they'd like 'Have you got my farts from today?' And I thought 'This is wrong, I can't have my life like this'.
"I was sending out and delivering farts multiple times a day."
Explaining further what a 'fart fax' is, he said: "It s a video clip, not necessarily to see what you're doing, it's just to get the noise.
"The man just wanted more farts he was obviously addicted to it. I just thought I can't do this anymore it was making me feel ill.
"In the end, I had to be like 'f*** off you weirdo, this is wrong'.
"It was funny initially when you start doing it and it's a good bit of money, but when more and more are coming through, I had more farts on my phone than I had photos.
"But you also get ones that want to do belching, there isn't a fetish that's not crossed. There are some really random ones."
The star also once created a "fake dentist scene" for an OnlyFans subscriber who had a teeth fetish.
Steven elaborated: "I get lots of random ones but I had a dentist one where he wanted 25 pics of my teeth.
"So, I did a whole scene in my garage, put a blanket around my neck, and put my ring light above me like it was a dentist chair.
"Then I put a bit of cardboard on the side of my toot and had my mate pull it out and I said 'Oh my god, I've got a really big filling'.
"Afterwards, we were p***ing ourselves laughing."
READ NEXT:
Naked Attraction star with 'tiny todger' has men with small manhoods sliding into DMs
Naked Attraction star almost died climbing Welsh mountain for wild group sex
Naked Attraction porn star 'filmed more than just shower scene' with Lauren Goodger's ex
Source: Read Full Article