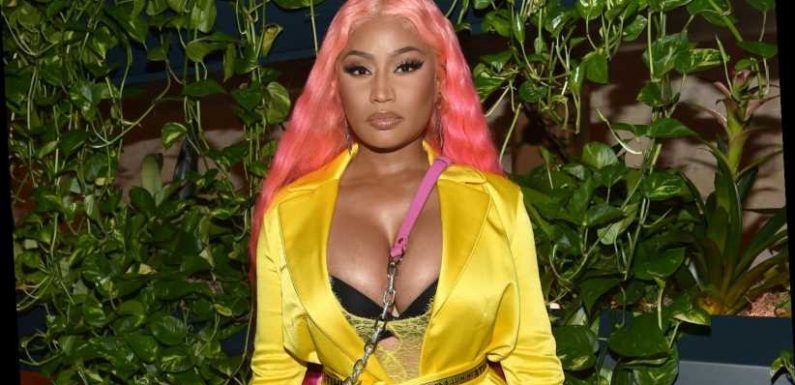 What better way to bring in the new year than with new baby photos? To kick off the new year, Beyoncé shared footage of her infant twins, Rumi and Sir Carter, in her 2020 year-in-review video. Social media users gushed over the rare sighting of the singer's youngest children, but the cuteness overload doesn't stop there. Following up with a photo of her own adorable bundle of joy is rapper Nicki Minaj. The "Hard White" rapper shared a series of photos and videos of her three-month-old son on her social media accounts. While she has yet to reveal his name, Minaj publicly addresses her baby boy by his nickname, Papa Bear.
"#PapaBear thank you so very much for choosing me to be your mama… Wishing you guys a happy & prosperous New Year. Thank you for your love & support throughout this journey. It's meant so much to me," Minaj captioned the Jan. 2, 2021 photo dump of her designer-clad son on Instagram. "Becoming a mom is by far the most fulfilling job I've ever taken on. Sending love to all the superhero mothers out there. Big hugs to all the women who have been pregnant during this challenging time."
Considering he is rap royalty, it's only right that Queen Sleaze's little prince had his Fendi prints on and his Papa Bear chain. According to Minaj's Twitter post, she wants fans to be the judge of whether her son looks like her or her husband Kenneth "Zoo" Petty (pictured below), but we think baby Petty looks like his mother!
Nicki Minaj shared details of her son's birth
In order to celebrate her son turning three months old, Nicki Minaj shared another picture from her maternity shoot. In true Nicki fashion, the rapper sported two bright yellow buns in an ice-cream themed photoshoot. "Happy 3 months Bday #PapaBear Mommy & Daddy love you soooo much," The "Good Form" rapper captioned the Dec. 30, 2020 Instagram post. "You're the best boy in the whole wide *globe emoji*." In addition to sharing the never-before-seen photo, Minaj interacted with her Twitter followers to answer a few questions about her baby boy, who was born in September 2020.
In the impromptu Q&A session, Minaj detailed that she endured a long labor and called breastfeeding 'very painful.' She also shouted out fellow industry mom and singer Ciara for giving her parenting advice. On her fan radio station, Minaj said she originally wanted to name her son Ninja. "You know what his name was supposed to be? I think I might still change it," she shared, per Entertainment Tonight. "A lot of people said they liked it, but I said, 'Nah.' His name was going to be Ninja." As far as any more details about her newborn, according to the rapper's response to a tweet, we'll just have to wait for her HBOMax docuseries. In the meantime, check out the photos of Nicki Minaj's adorable baby boy below: 
https://www.instagram.com/p/CJizFyJLX4k/
A post shared by Barbie (@nickiminaj)
Source: Read Full Article