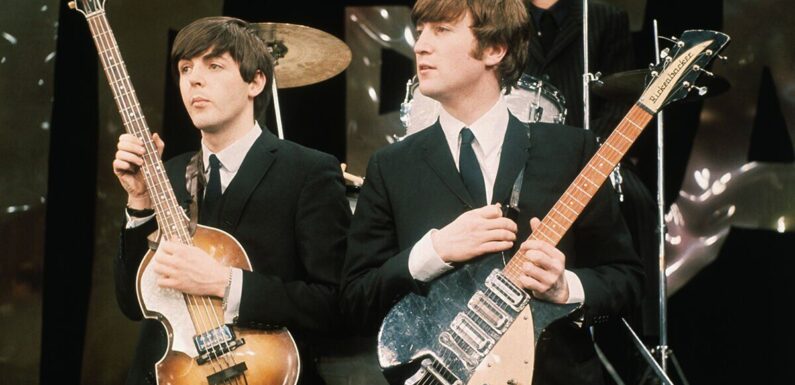 Glastonbury: Paul McCartney virtually duets with John Lennon
It was 60 years ago when Beatlemania kicked off in the UK after the release of 1963 singles Please Please Me, From Me to You and She Loves You.
Adoring British fans would scream in hysteria at John, Paul, George and Ringo as they toured the country.
And it would only grow a year later when The Beatles shot to international stardom after appearing on The Ed Sullivan Show in the US.
During this fanatical period, Sir Paul McCartney took plenty of personal photographs, which he's allowing to go on public display for the first time ever.
Teasing what will be available to see, today Macca shared a snap he took of John Lennon in 1964 Paris, which you can view below.
Paul McCartney Photographs 1963-64: Eyes of the Storm will be a major exhibition at the National Portrait Gallery, featuring "an extraordinary archive of rediscovered and never-before-seen photographs taken by Paul at the height of Beatlemania."
According to the National Portrait Gallery's website: "An unprecedented exhibition, revealing – for the first time – extraordinary photographs taken by Paul McCartney. In this show, we focus on portraits captured by McCartney, using his own camera, between December 1963 and February 1964 – a time when The Beatles were transitioning from a British sensation to a global phenomenon.
"These never-before-seen images offer a uniquely personal perspective on what it was like to be a Beatle at the start of Beatlemania – and adjusting from playing gigs on Liverpool stages to performing to 73 million Americans on The Ed Sullivan Show. At a time when so many camera lenses were on the band, it is Paul McCartney's which tells the truest story of a band creating cultural history – in one of its most exciting chapters."
Don't miss…
John Lennon hid references to 'escaping' his marriage in Beatles song[JOHN LENNON]
A day in the life on the new Beatles biopic, Midas Man set[THE BEATLES]
Paul McCartney's favourite Beatles cover changes lyrics to iconic song[PAUL MCCARTNEY]
View this post on Instagram

A post shared by Paul McCartney (@paulmccartney)
The exhibition takes place at the gallery from June 28 to October 1, 2023. It's free for members and patrons or at least £22 a ticket including entry to the National Portrait Gallery.
All visitors under 30 can enter for £5 and other concessions do apply. To book tickets click here.
Source: Read Full Article