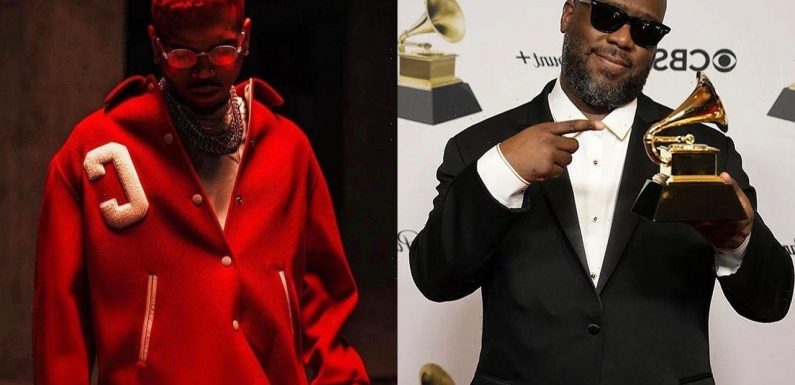 The pianist, whose 'Black Radio III' album won the best RnB album category at the 2023 Grammy Awards, reveals that he will donate the money to the Community Music Center of New Orleans.
AceShowbiz –Robert Glasper is cashing in on his drama with Chris Brown. Having launched "Who TF is Robert Glasper?" T-shirts inspired by the "No Guidance" singer's diss over his Grammy win, the pianist revealed that they had all sold out.
On Tuesday, February 14, the 44-year-old shared a photo of the tee on Instagram. "Thanks for the support. A portion of the proceeds from this shirt will be donated to the Community Music Center of New Orleans," he began his caption.
"A nonprofit created to share the music culture and music education in New Orleans, providing free music lessons to underserved youth," he added. "I can't thank y'all enough for supporting this cause."
CB previously threw tantrum upon learning that Robert's "Black Radio III" album won the best R&B album category at the 2023 Grammy Awards. "BRO WHO THE F**K IS THIS?" he wrote over a screenshot that named Robert as the winner. In another post, the "Under the Influence" crooner shared a picture that read, "WHO THE F**K IS ROBERT GLASPER."
The crooner also penned, "Ima keep kicking y'all a** respectfully." He added in a separate slide, "I gotta get my skills up … ima start playing the harmonica." Trolling himself, he later shared a picture of him playing the harmonica with "New Level Unlocked! Harmonica Breezy" written on it.
CB, however, has apologized to Robert. In a screenshot of a DM he sent to the latter, the R&B star wrote, "Congratulations my brother. I would like to apologize if you took offense to my reaction at the Grammys .. you were not the intended target and I know I came off really rude and mean."
"After doing my research I actually think your amazing … THE ORGANIZATION ISNT DOING US BLACKS OUR DUE DILIGENCE. YOU AND I SHOULD never be in the same categor," he continued. "Two totally different vibes and genres. So from one black man to another.. CONGRATULATIONS.. HOPE YOU ARE ABLE TO FEED YOUR FAMILY FOR LIFE. God bless my G."
You can share this post!
Source: Read Full Article