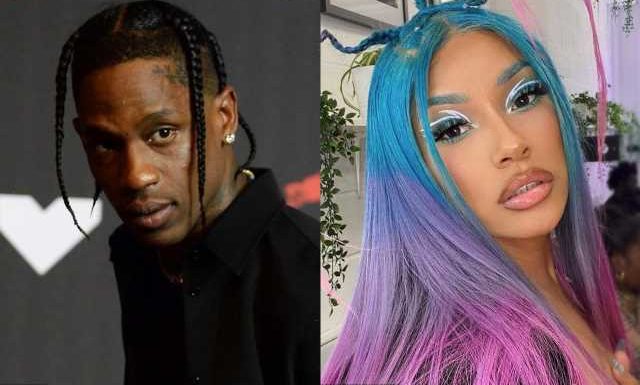 Eight concertgoers, ranging in age from 14 to 27, died at the 'SICKO MODE' rapper's Astroworld concert NRG Park in Houston, Texas on Friday, November 6.
AceShowbiz –Stefflon Don is among those who slammed Travis Scott (II) in the wake of tragedy at the 2021 Astrowold Festival that killed eight people. The rapper/singer took to her Twitter account to criticize the "SICKO MODE" rapper for not stopping his performance despite the chaos.
"As an artist, a mother and a human being I am so upset with Travis Scott," so Stefflon said in a since-deleted tweet. "He saw an ambulance in the crowd while people were screaming for help saying 'people are dying' which he clearly heard but still continued to perform. Allot [sic] of kids died because of negligence."
She also said, "In this life many of us lack empathy. This world is driven off the pain and suffering of others. People are so caught up and forgot the true meaning of life. People are dying but you don't care because you are there to do a 'Job'. Society's bar is currently set on the floor."
"When I see things like this it breaks my heart because this could be my child. Imagine people not helping your child. These kids are the future. We have to show them that caring is cool and this 'idgaf' attitude is detrimental," Stefflon further noted. "With that being said everyone involved that got hired to make sure things like this doesn't happen should be held accountable not just Travis."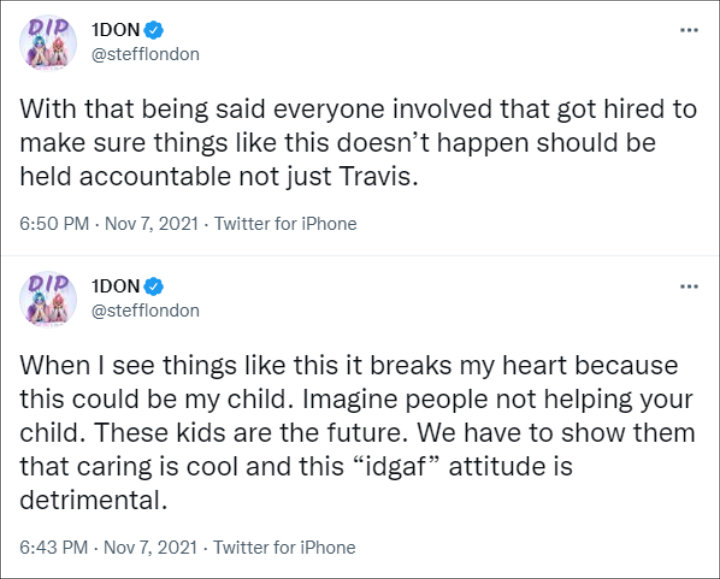 Stefflon Don weighed in on Astroworld tragedy.
After fans noticed that she deleted the first tweet, some people criticized her for the decision. "I don't know why she deleted the tweet because we NEED this. We need other artists calling him out. He heard them crying, he saw the ambulance, he had people in his ear. He is responsible. Stand up to him," one person tweeted.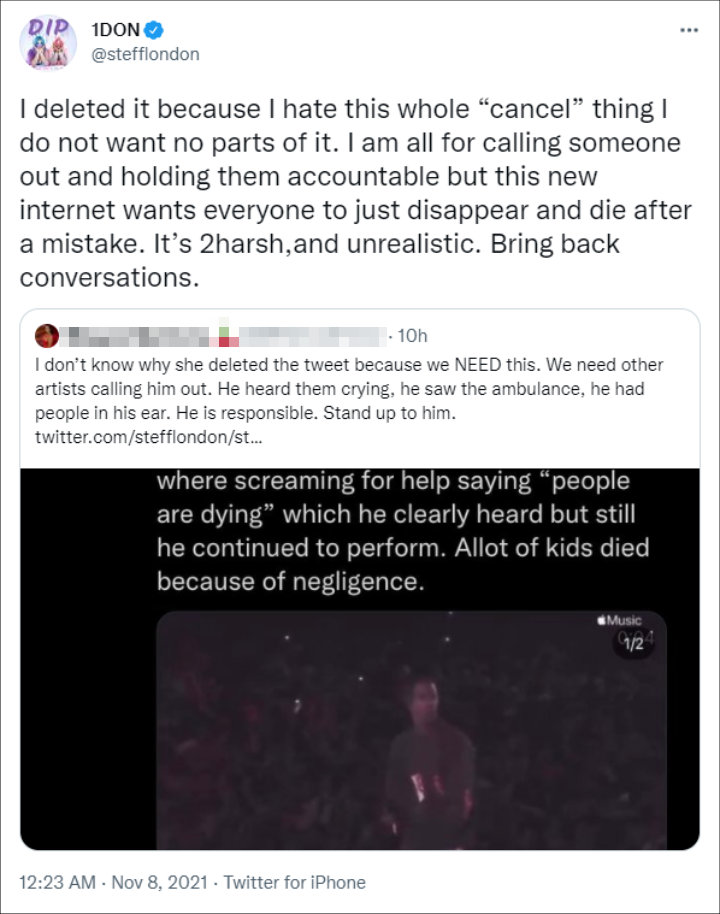 Stefflon Don explained why she deleted Astroworld tweet.
Explaining why she deleted the tweet, the "Bum Bum Tam Tam" artist wrote in a separate post that she didn't want to be the cause of Travis' cancellation. "I deleted it because I hate this whole 'cancel' thing I do not want no parts of it. I am all for calling someone out and holding them accountable but this new internet wants everyone to just disappear and die after a mistake. It's 2harsh,and unrealistic. Bring back conversations," she said.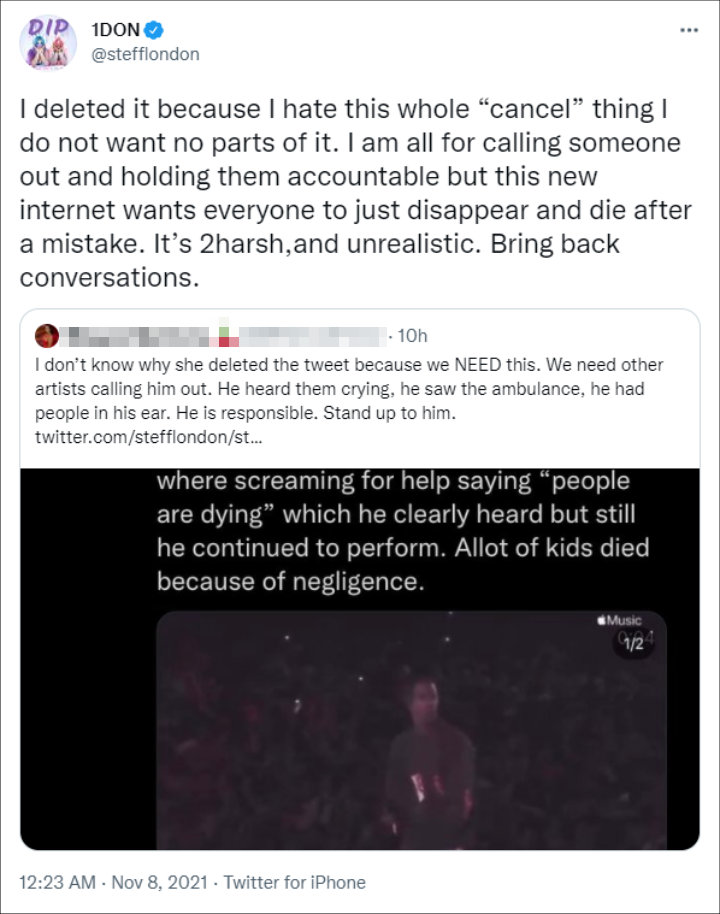 Bottom-INFO
Eight people, ranging in age from 14 to 27, died at Travis' Astroworld concert at NRG Park in Houston, Texas on Friday, November 6. At least 25 concertgoers were transported to the hospital, and 13 of them remained there on Saturday, Houston Mayor Sylvester Turner told CNN. Five of them are under the age of 18, with reports one is as young as 10.
On Saturday, Travis took to Twitter to share a video addressing the incident. "I'm honestly just devastated," he said in the clip as he sighed and rubbed his eyes and forehead in the black-and-white clip. "Anytime I could make out, you know, anything that's going on, you know I stop the show and, you know, help them get the help they need."
Source: Read Full Article