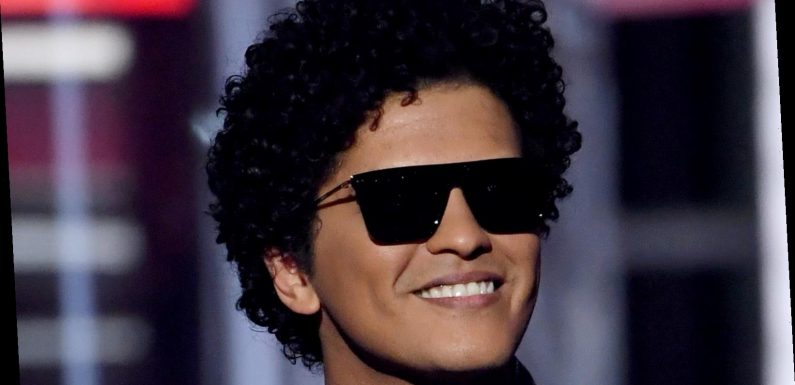 Bruno Mars gave fans a reason to celebrate "New Music Friday" by dropping the first single from his album An Evening With Silk Sonic on March 5, 2021. The "Uptown Funk!" singer announced the new collaborative album on Feb. 26, 2021 with a simple post to Instagram: "We locked in and made an album. The band's called Silk Sonic. First song drops next Friday."
Mars's previous album, 24K Magic, was released in 2016 and awarded him with quite the successful run, including awards for Album of the Year and Best R&B Album at the 2018 Grammys. To celebrate his success, he added one final leg to his 24K Magic Tour (per Billboard) and then withdrew himself from the spotlight for quite some time.
Fans were not-so-patiently awaiting new music from the "That's What I Like" singer, and were thrilled when he announced the new album, which is in collaboration with musicians Anderson .Paak and Bootsy Collins as the new band Silk Sonic. Now, fans have gotten their first taste of what to expect from Mars' new tunes. On that note, let's dive into the real meaning behind Bruno Mars' "Leave the Door Open."
Bruno Mars' 'Leave the Door Open' is a throwback love song
"Leave the Door Open" by Bruno Mars and Anderson .Paak stays true to the Hawaii native's funky style that calls back to the music of the '70s. It's a calm, feel-good song that has Mars and .Paak trying to entice a love interest into coming over. .Paak opens the song (per Genius) singing, "What you doin'? Where you at? Oh, you got plans? Don't say that." He then details why the person should come to his house. "I look too good to be alone. My house clean, my pool warm. Just shaved, smooth like a newborn. We should be dancin', romancin' in the east wing and the west wing of this mansion, what's happenin'?"
Next, Mars comes in with the chorus to let the love interest know that the door will be open if she wants to join him. "I'ma leave the door open, girl," he croons. "Tell me that you're coming through," he continues. The music video for "Leave the Door Open" cements the Motown vibes of the song, with Silk Sonic performing the song in a recording studio that looks straight out of the '70s. 
Mars and .Paak are also leaving the door open to the possibility of performing "Leave the Door Open" live, telling Apple Music's Zane Lowe before the song's release (via People) that they hope to perform it in person. "We would love to do a show. I'd love to present it," .Paak gushed.
Source: Read Full Article