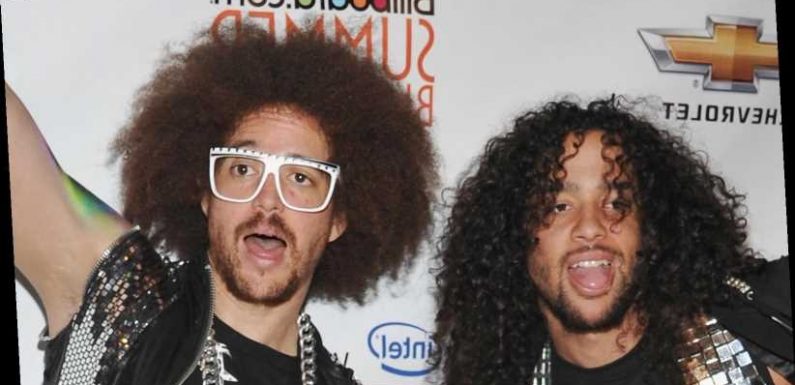 In 2011, a little musical duo known as LMFAO dominated the airwaves and introduced us to a new verb — party rocking — with "Party Rock Anthem." 
Though LMFAO had already charted with their Lil Jon-featured ode to boozy merriment, "Shots," in 2009 (curiously off an album titled Party Rock, though that song came two years later), they broke new ground with the iconic, dance floor-ready smash. "Party Rock Anthem" (featuring Listenbee and Lauren Bennett) was a No. 1 hit that spent an enormous 68 weeks (more than a calendar year) on the Billboard Hot 100, taking the duo of Redfoo and Sky Blu to new heights. 
Interestingly enough, the two really are uncle and nephew, per The New York Times. Oh, and respectively, they are the son and grandson of Motown Records mogul Berry Gordy. Their takeover was clear. 
While their subsequent hit "I'm Sexy and I Know It" also showcased the duo's humorous electronic strengths, "Party Rock Anthem" is truly their "Hey Jude" moment (but with more dubstep). The song had the nation "shufflin'" to its bass-heavy beat, and today, it fits comfortably in the canon of good time-urging, practically wedding reception-syndicated songs of that era, like Black Eyed Peas' "I Gotta Feeling." 
So, how was LMFAO's "Party Rock Anthem" created anyway? Shuffle down to find out the interesting story behind the hit song. 
Party Rock Anthem was actually not written for LMFAO
So what is the story behind LMFAO's "Party Rock Anthem"? According to StoryofSong, the song was written, interestingly enough, by producer GoonRock for Flo Rida. But luckily Redfoo and Sky Blu got their hands on it, and at the same time, were embracing their humor and finding their footing. "I feel like we've been doing this for so long, five or six years, … And we're kind of like saying, well, let's just do what's natural and just kind of explore that, instead of like forcing it all the time," Redfoo explained, via Digital Spy. "I was really passionate about bringing party music to the world, so I will always be making some kind of party music."
As for the actual lyrical content of the song, there's no mistaking that this is some certified "party music."
"In the club: Party rock / Looking for your girl? She on my jock (Huh) / Non-stop when we in the spot," Redfoo raps on the first verse. "Booty moving weight like she on the block (Woo!) /Where the drank? I gots to know."
Of course, the chorus lays it all out bare: "Party rock is in the house tonight / Everybody just have a good time (Yeah) / And we gon' make you lose your mind (Woo!) / Everybody just have a good time." No doubt this energized track is the perfect party starter, even a decade later.
Source: Read Full Article