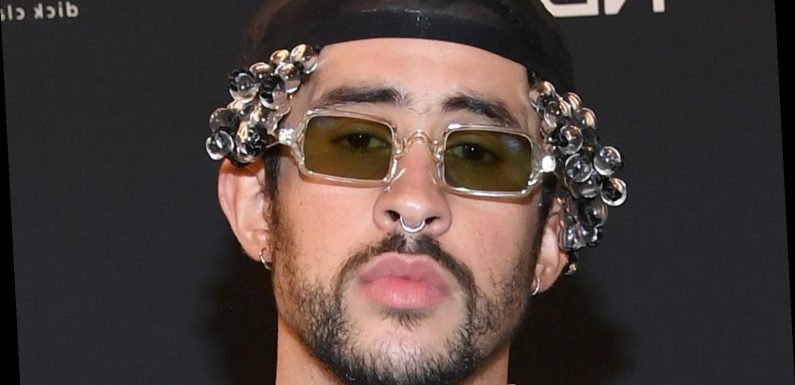 Puerto Rican singer and songwriter Bad Bunny, born Benito Antonio Martínez Ocasio, first burst on the scene as an independent artist who bagged groceries during the day. As reported by Vulture, the future rapper got his start singing in a church choir, but later turned himself into an overnight sensation after producing his own music and submitting it to the music-sharing website, SoundCloud.
Quite the impressive feat for a boy born to blue-collar, working-class parents in Puerto Rico. But instead of forgetting his roots once he became famous, he chose to capitalize on them. During a December 2020 interview with The Guardian, Bad Bunny's manager Noah Assad explained that his songs are about much more than just "cars and girls." "It's about everything. How you get out of sadness, and how there's a light at the end of the tunnel," Assad said.
But what else is there to know about the talented lyricist? Keep reading after the jump to find out!
Bad Bunny doesn't conform to gender norms
Bad Bunny is no shrinking violet when it comes to calling "bogus" on gender norms. Instead, he proudly champions the case for gender fluidity while frequently performing in drag and manicured nails. As reported by GQ, many criticize Bad Bunny for advocating for what they refer to as "sexual deviance," but just as many people have praised him for his willingness to be authentic to himself. "There's people that appreciate what I do; there's people that criticize it," he acknowledged in the interview.
But one particular instance of condemning traditional gender norms actually resulted in him temporarily deleting his Twitter account. As reported by Refinery29, the Puerto Rican rapper was enraged after being refused service at a nail salon in Spain, simply because he is a man. Bad Bunny quickly took to Twitter to vent his frustration. "I just wanted to tell you all that I went to this s**tty place to get my nails done (manicure + color), and they told me NO because I'm a MAN. I don't know what to think, but it's very unfortunate. What year is it? F**king 1960?" he asked. 
Soon after, he received many tweets questioning his sexuality and the singer/songwriter opted to disable his account. 
Bad Bunny is a political activist
As it turns out, Bad Bunny isn't just a performer. He's also somewhat of a political activist and regularly speaks out about issues near and dear to his heart. As reported by GQ, the rapper made waves when he criticized former President Donald Trump's response to Hurricane Maria that ravaged Dominica, St. Croix, and Puerto Rico in September of 2017. "More than 3,000 people died and Trump's still in denial," he said while performing on The Tonight Show Starring Jimmy Fallon.
But Bad Bunny is quick to shrug it off when people refer to him as a political activist, instead he just sees it as his duty. "I think it's my responsibility, as a person of influence—not just as an artist but as a person—to sometimes try to do what I can," he explained to GQ in March 2019. "If I have the chance to say something, I will say it—but that doesn't obligate me to always say something, or to shed light on every problem, as if I were a lawmaker."

Bad Bunny contracted COVID-19
Unfortunately, it hasn't been all rainbows and sunshine for Bad Bunny. In November 2020, the famous singer and songwriter contracted coronavirus. As reported by Vulture, Bad Bunny was slated to perform at the American Music Awards, but at the last minute, pulled out. He did, however, still manage to present an award for favorite Latin female artist for the show, albeit remotely. Later it was confirmed to the Associated Press by one of his representatives that the star tested positive for COVID-19, but wasn't experiencing "any major symptoms."
Luckily, the pandemic hasn't been all bad for the rapper. In fact, the performer tapped into his creativity early on and found ways to pivot during quarantine. In an effort to continue doing shows, he implemented performing on moving vehicles during virtual concerts. He then went on to release an entirely new album that he created during the 2020 quarantine titled, EL ÚLTIMO TOUR DEL MUNDO. "For a moment, it seemed like it was the end of the world," Bad Bunny confessed to Apple Music about the COVID-19 pandemic.
Alas, Bad Bunny opted to turn lemons into lemonade. "It's as if I spent my final tour of 2032 advancing the word from 2020," he explained about his vision for the album. This is probably what our teachers meant when they advised us to use our time wisely…
Bad Bunny won the WWE 24/7 Championship belt
One little-known fact about Bad Bunny is his penchant for World Wrestling Entertainment, lest we forget famous wrestler Ric Flair's cameo in the star's music video for his hit song, "Chambea," per Vulture. 
As reported by Rolling Stone, the rapper has appeared several times at various WWE events during his career, including a show that left him holding the highly coveted WWE 24/7 Championship belt. The story goes that during what was supposed to be a routine appearance for Bad Bunny, including a backstage interview with Puerto Rican pro wrestler Damian Priest, ended with Priest cajoling Bad Bunny to pin Japanese WWE star Akira Tozawa in an effort to take home the prize. And that he did!
But some argue that Bad Bunny's love of wrestling goes much further than just a carefully curated publicity stunt. As reported by NBC, one wrestling fan says that Bad Bunny's love for the sport is indicative of wrestling's increasing Latino fanbase. "Seeing Bad Bunny was priceless," the fan gushed. "We are a part of the wrestling world and more people are learning about it." 
Bad Bunny is set to perform on 'Saturday Night Live'
It appears that 2021 is already off to a really great start for Bad Bunny. As reported by USA Today, the powers that be at Saturday Night Live announced that the rapper is set to perform on the legendary late-night show on Feb. 20, 21. Also set to make an appearance is Netflix's Bridgerton breakout star Regé-Jean Page. This will be the first time both celebrities take the SNL stage. (Bad Bunny did make a cameo in one of the SNL At Home specials back in April 2020.)
Twitter users and Bad Bunny stans alike immediately reacted to the good news. "Omgg rege-jean page and bad bunny on the same day i'm not well," one user posted. Meanwhile, another fan wrote, "When you see that bad bunny and regé Jean page are in the same sentence I might actually watch snl for once in my life." Even Page's Bridgerton castmate, Ben Miller, got in on the action, commenting on Instagram, "Oh wow. This is a moment."
Congratulations to Bad Bunny. It looks like his 2021 will only get better from here!
Source: Read Full Article