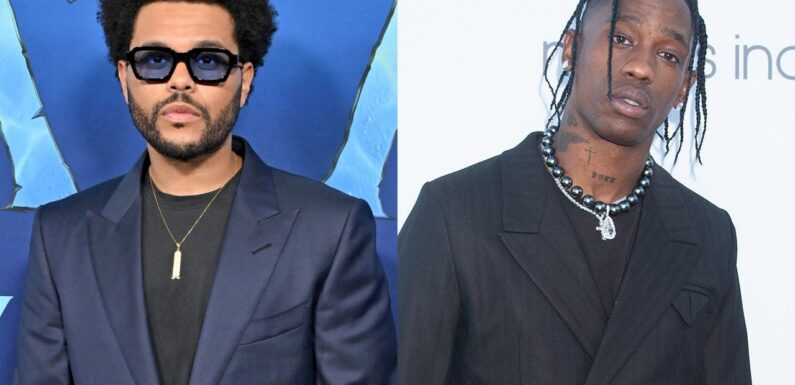 Shortly after the 'Cactus Jack' rapper shares via social media his upcoming album's cover art, the 'Blinding Lights' singer comments with a hashtag that read, '#BLACKEDTOPIA.'
AceShowbiz –The Weeknd could not help but make an NSFW comment about Travis Scott (II)'s upcoming album. A few days ahead of his fellow artist's "Utopia" album release, the "Blinding Lights" singer went public with his reaction to the "Cactus Jack" rapper's project cover.
On Wednesday, July 26, the 33-year-old singer/actor, whose real name is Abel Tesfaye, cracked a porn joke about the 32-year-old rapper's "Utopia" album cover via Instagram. In the comments section of the spitter's post, the singer responded with a hashtag that read, "#BLACKEDTOPIA." He seemed to be making a reference to one of porn sites named Blacked.

The Weeknd cracked a porn joke about Travis Scott's 'Utopia' album via Instagram.
Abel's comment came in shortly after Travis uploaded a series of photos via Instagram. One of the photos captured the cover art of his album, which is set to be released on Friday, July 28. Along with the post, he wrote, " 'UTOPIA'. See u at midnight tomorrow. Photo by Pieter Hugo."
In the carouse post, the first picture captured an abstract art which was made of three different photos. Another picture saw a woman smiling in a satin robe and high heels while sitting on a chair. Behind her, there were four men standing shirtless wearing pairs of long jeans and sneakers.
Abel appeared to have reacted to the second photo, and he was not the only one who responded to the particular snap. In the comments section, one Instagram user stated, "You know exactly what you was doing wit that second pic." Another joined in, "I see they tryna take her to utopia with the shirts off and everything huh."
The comments did not stop there. A third asked, "Gang what the hell is that 2nd pic [a crying emoji] u knew what u was doin." Meanwhile, a fourth noted, "Dude the second reminds me of something bad," adding a smiling face with tears of joy emoji.
In addition, Travis shared another cover art in a follow-up Instagram post. The cover featured a black-and-white photo of his head turned upside down. The snap showed him flaunting his teeth and long locks. In the post, he also let out a series of other black-and-white photos. Along with the snaps, he wrote in the caption, "7/28. Photos by my fav Kristina Nagel."
Travis unveiled his "Utopia" album cover a few days after he gave fans a hint at his album's release date. On July 9, he made an announcement via Instagram that he will be performing at the Giza pyramids in Egypt on July 28, which is assumed by many to be the release date of the album. In the caption of the post, he wrote, "UTOPIA LIVE AT THE PYRAMIDS. TICKETS AND UTOPIA PACK On TRAVISSCOTT.COM." However, the concert has been canceled after getting pushback from The Egyptian Syndicate of Musical Professions.
You can share this post!
Source: Read Full Article