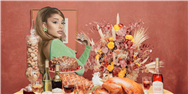 Every year, there's a great holiday music debate: When is it appropriate to start listening to festive tunes dedicated to specific days in December? You're usually Team Right-After-Halloween or Team Any-Time-After-Thanksgiving. At the risk of pulling an Ebenezer Scrooge, might I propose we at least try to throw some of that musical energy at Thanksgiving this year instead? There are few Turkey Day anthems, but you can still pull together a playlist that actually slaps while you stuff your face with mashed potatoes and pie. Here are a few Thanksgiving music suggestions, so you don't have to think too hard about it.
"Thankful," by Kelly Clarkson
This sweet little song from Kelly Clarkson is all about being thankful for the love and lessons your significant other has brought into your life. It's a great message to hear right before you both sit down to eat so much you don't want to be around another human for 24 hours.
"All Too Well," by Taylor Swift
If there was an award for a song with the most fall-esque vibe, it would be "All Too Well"—the 10 minute version, of course. Taylor may not mention Thanksgiving directly, but by talking about autumn leaves and going to her BF's sisters house, it definitely feels on brand for the holiday.
"Autumn in New York," by Billie Holiday
Never have I ever heard a song that felt so incredibly perfect to play in the background of a Thanksgiving dinner. Billie's soulful voice and descriptions of a New York autumn are just *chef's kiss*.
"Thank You For The Music," by ABBA
Thanksgiving is all about being thankful for the good things in your life, riiiight? And that includes music! And ABBA!
"Thank U," by Alanis Morissette
This might not be your typical Thanksgiving banger, but technically she's giving thanks for everything from India to consequence to silence. PLUS the second line of the song is "How 'bout stopping eating when I'm full up?" and, I mean, what could be more Thanksgiving than that?
"Where You Lead," by Carole King
You may recognize this as the theme song to Gilmore Girls, which, IMHO, is the most perfect fall show that exists, so it's got that going for it. But the lyrics are all about going to your loved one when they're in need and that's a pretty nice message for a day of thanks.
"Take Me Home, Country Roads," by John Denver
Raise your hand if you're traveling back home for the holidays! Okay great, this song is perfect for you! Even if you don't live out in the country, the nostalgic feeling still hits.
"Stretchy Pants," by Carrie Underwood
Okay so technically this was meant to be a funny Christmas song, but when it's going on about needing to wear stretchy pants because of all of the turkey, potatoes, and casseroles being eaten, you can't tell me it doesn't work perfectly for Thanksgiving too!
"We Are Family," by Sister Sledge
This one is for the brief moments when you and your family members are actually getting along. Make sure to play it after you all eat, when no one is hangry. It's strictly a song for full stomachs and good vibes.
"I've Got Plenty To Be Thankful For," by Bing Crosby
We've seen and experienced plenty of terrible stuff recently, but the circumstances have made the parts of life we're grateful for even more meaningful–like, you know, being able to live another day during a pandemic. What better song to encompass that feeling than this oldie?
"Sicko Mode," by Travis Scott feat. Drake
You know that feeling when you overeat and have major regrets? Let this song be your anthem in that moment. All self-control is shot when there are snacks and seasonal eats covering the countertops.
"Thankful," Celine Dion
Want to get deep in your feels on this day of thanks? Celine Dion's majestic voice will guide you through it. If you listen to her gratitude-forward song after your feast, it might even help you fall into a deep Turkey Day slumber.
"Hunger," by Florence + the Machine
This track's chorus says it all. Everyone is bound to be in a massive state of hunger as they anticipate and cook up a hearty meal on Thanksgiving. I mean, sure, you'll graze throughout the day, but all of the delicious food that awaits you during the main event will fuel your seemingly endless hunger.
"Thank u, next," by Ariana Grande
Yes, this is technically a breakup song. But you know what? It's also what you say when there are, like, three different kinds of potatoes at the table. Right after conquering the mashed, you're like, "Thank you, next," and head right over to the sweet potatoes.
"Thank You," by Dido
Forget Eminem and "Stan." Dido made this at least a year before the rapper asked her to collab. And it's a lovely song about how things can be the worst, but if you have the right person (or people!) in your life, it can also be the best. And who doesn't want that, especially on Thanksgiving?
"Biscuits 'n' Gravy," by Kelis
Of all the under-appreciated singers, Kelis might top the list. And with her 2014 album Food, Kelis gave casual listeners who stanned "Milkshake" a whole new side to her. The title itself is a Thanksgiving staple, and the lyrics of the downbeat track sound kinda like a prayer? Speaking of…
"Thanksgiving Song," by Adam Sandler
Uh…Adam Sandler's "Thanksgiving Song" isn't much of a banger, but it is decidedly one of the few songs that's purely about Thanksgiving—and due to Adam's frat-boy popularity of the '90s, it quickly became a modern holiday classic. So let him inspire you to literally eat all of the turkey.
"You and I," by Lady Gaga (live from A Very Gaga Thanksgiving)
LOL, remember when Lady Gaga hosted her Thanksgiving special on ABC? It resulted in a gorgeous live cover of Gaga's hit ballad "You and I," which is really peak Gaga because it's about whiskey, a hot Midwestern guy, and rock and roll. So basically it's the narrative of Thanksgiving Eve, the biggest bar night of the year. Might as well celebrate!
"Thank God I Found You," by Mariah Carey feat. Joe and 98 Degrees
A lovely bop about gratitude? You have to stan. TBH, this was probably about Mariah being thankful for her pending divorce from Tommy Mottola and Nick Lachey being thankful for Jessica Simpson. Things we can all be thankful for.
"Sweet Potato," by Sia
Before Sia was aggressively Sia, she wrote this lovely little song in 2004 about sweet potatoes and burgeoning romance and getting to know the holes in other people. It's wistful and perfect for swaying around while putting marshmallows on your sweet potatoes.
"Thanksgiving Theme," by Vince Guaraldi Trio
Is it even a holiday if a Charlie Brown special isn't mentioned? Use the Vince Guaraldi Trio to get you into the Thanksgiving spirit and give you the urge to watch A Charlie Brown Thanksgiving. Also, the minute you put this on, all adult voices become that "wah wah" from Peanuts, right?
"Apple Pie à la Mode," by Destiny's Child
Pie (specifically apple) is a holiday staple, and so is Destiny's Child. I know this song is not technically about eating apple pie leftovers in front of the TV the day after Thanksgiving…but it's kind of the perfect theme music for exactly that.
"Nicotine and Gravy," by Beck
Beck's "Nicotine and Gravy" is the song to get you over that end hump of the holiday. It's danceable enough to make you wonder if you can push your turkey-stuffed self out the door to another location or if you're just gonna roll into bed.
"Family Is Family," by Kacey Musgraves
Something you'll need to remember, at multiple points during Thanksgiving, is that your family is going to be your family no matter what. Shout-out to Kacey Musgraves for making a song to remind us of that even if we're gritting our teeth while listening to their political opinions over cranberry sauce.
Source: Read Full Article