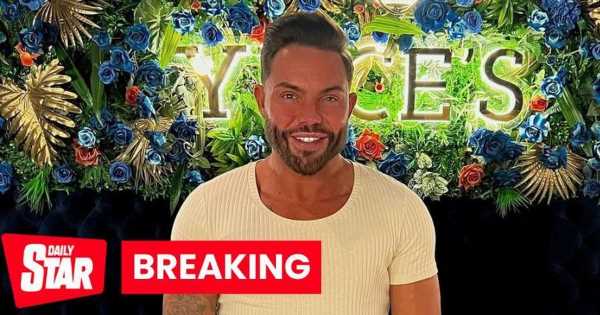 Bookmark
Get the best celeb gossip with the Daily Star Showbiz newsletter
Thank you for subscribing!
Get the best celeb gossip with the Daily Star Showbiz newsletter
We have more newsletters
TOWIE star Bobby Norris has been rushed to hospital after colliding with a motorbike.
The reality star, 37, was crossing the road in London's busy area of Regent Street at around 12.30pm on Wednesday (November 1) when the shock crash occurred. Bobby was reportedly thrown into the air and feared to have suffered head injuries after he was mowed down by the vehicle travelling at speed.
The TV personality was recording a segment called Bobby on the Street for his Fubar radio show at the time of the accident. The star was rushed to hospital and underwent at CT scan to detect the extent of his injuries.
READ MORE: TOWIE's James Lock admits one star's breast implant 'popped' while filming The Challenge
READ MORE: Want more TV? Daily Star has just the thing for you!
He is reportedly having further tests and is being closely monitored by medics as he recovers from the shocking incident. A source told The Sun: "Bobby was crossing the road when a motorbike came out of nowhere.
"He was sent flying up in the air and landed on his head after being driven straight into at speed. It was a shocking sight for those who were close by when it happened.
"Police arrived at the scene as did a paramedic on a bike who then called for an ambulance. He was quickly taken to UCLH hospital for tests."
Earlier this year, Bobby opened up about his journey towards self-acceptance and body positivity as he unveiled his jaw-dropping transformation. The TV star shot to fame on reality series TOWIE, starring on the show from 2012 to 2021.
But Bobby revealed that for years, he struggled with his body image and felt insecure about his slim frame, especially when compared to his muscular co-stars on the show. He recalled feeling intimidated by the glamorous gym culture that surrounded him and built up a phobia in his head about going to the gym.
He said: "I never used to be a gym person, which anyone who's watched me on TV over the last decade will know that I have never been one of the boys that's been muscly. I used to be Bobby beansprout if I'm honest.
"I was scared of walking into a gym, and I built this phobia up in my head because you see all of these lovely bodies on social media and gym guys… I used to think it's alright for them walking into a gym because they already look good.
"A lot of gyms can be quite posey, which I found intimidating. Some people literally go in full glam. I go to the most amazing gym, and I've never felt uncomfortable."
For the latest breaking news and stories from across the globe from the Daily Star, sign up for our newsletter by clicking here
Source: Read Full Article