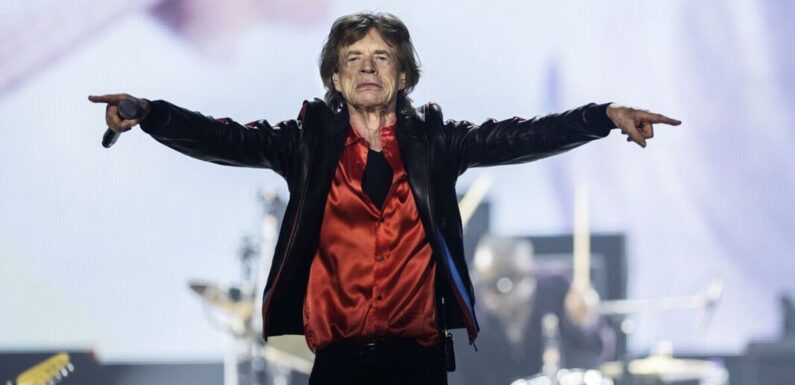 What is it with pop stars and ageing? Roger Daltrey sang the immortal line from The Who's hit My Generation – "Hope I die before I get old" – in October 1965.
Pete Townshend wrote that when he was 20. Lennon and McCartney's When I'm 64, with its stark references to 'losing hair' and 'wasting away', featured on 1967's Sgt Pepper's Lonely Hearts Club Band. Paul had penned the song when he was just 14.
And The Rolling Stones' singer Mick Jagger sang: "What a drag it is, getting old." That was in 1966, on the Stones' hit Mother's Little Helper. He and guitarist Keith Richards were 22 when they wrote it.
Not that any of them expired prematurely.
Macca turned 81 last month. Townshend and Daltrey will be 80 and 79 next birthday. Mick Jagger-nauts his way into his ninth decade today as he turns 80. What a swell party with 300 besties he will have.
READ MORE Rolling Stones legend Mick Jagger, 79, 'engaged' to ballet dancer partner, 36
For a multimillionaire rock superstar, there is no hiding place. The numbers haunt. The mirror taunts. He is 18 from behind, 81 in front. The pert derriere and sinewy limbs may defy gravity, but the crinkled face and deflated-lilo lips are dead giveaways. Even the artfully-tousled moptop may be enhanced.
It's the thing about age. It catches up with you. One minute you're swinging on down the road from Twickenham to Tennessee banging out Satisfaction and It's Only Rock and Roll alongside your Human Riff boyhood pal Keef – both having neatly sidestepped the death of Brian Jones, their founder, who drowned in his swimming pool in 1969 at the age of 27. Foul play long suspected. Nothing proved.
The next, you are lamenting the loss of your lifelong drummer Charlie Watts – who succumbed to cancer in 2021 having just notched up his own four-score – and looking frantically at each other, wondering who's next.
No one is more aware of his own mortality than Jagger. Critics were imploring him and the Stones to call it a day 40 years ago. On the one hand, Mick'n'Keef, the last remaining members of the original line-up, crab about like fossilised derelicts inching ever closer towards the abyss. On the other, don't look too closely, they are as vital as ever. Which makes them specimens to be treasured, like any species on the verge of extinction.
For the classic rock generation is lumbering into the sunset. Our heroes are falling like flies. Keith Richards, 80 in December, who has survived more life-threatening incidents than a Hollywood stuntman, has pledged to drop dead live on stage.
Don't miss…
Mick Jagger's girlfriend calls rocker her 'inspiration' for saucy new novel[LATEST]
John Lennon blasted Mick Jagger for 'imitating' The Beatles[INSIGHT]
Mick Jagger's quiet life in London suburb where average home fetches £1.2million[DISCOVER]
We use your sign-up to provide content in ways you've consented to and to improve our understanding of you. This may include adverts from us and 3rd parties based on our understanding. You can unsubscribe at any time. More info
Don't ask him, he hasn't got a date.
Most of us take stock on big birthdays. We tend to pause and look back. Acknowledge the good times. Rue the bad. Give thanks for the things we got away with, and own up to long-harboured regrets.
But Jagger doesn't do regrets. He has never allowed himself to be horrified or embarrassed by the excesses of his misspent past.
"It was just part of your life then," he says. "I look at it and think, 'Yeah, I remember that. We did this and we did that'. So what? And now we do something else.
"There were loads of drugs… but everyone had their own drug habits which they weren't necessarily sharing with everyone else. It's pretty vivid. I wasn't that out-of-it that I don't remember. I can recall most of it pretty well considering some of the stuff. Blimey!"
Mick famously returned a reported million-pound advance to publisher Weidenfeld & Nicholson, a colossal sum during the 1980s, insisting that he couldn't remember enough to write his memoirs.
"I don't really like the idea of doing it," he confessed. "I'm not sure how excited I feel about it, digging into your own past. Apart from getting paid, I don't know what you really get out of it."
It is no stretch to imagine why he never fancied retracing his steps. Jagger's personal immorality tale features an overload of misdemeanours he would rather forget.
What would great grandfather Mick make of his schoolboy face secretly caked in his Avon-lady mother Eva's make-up samples? Of his college-scarfed poncing at the London School of Economics, where he was all too briefly a student?
Of his band's unceremonious offloading of early manager Giorgio Gomelsky in favour of teenaged blond hustler Andrew Loog Oldham – who would later allege that Jagger wears lifts in his shoes and is lamentably under-endowed (a revelation also shared by Richards)?
Of the way he and Keef snatched control of the group from Brian Jones because, while the latter could pick up and play any instrument, he could neither sing nor write songs? Of their behaviour that may have helped drive the unfortunate Jones to drug addiction and into an early grave?
As for his treatment of women: my year-long research into Jagger's thousands of relationships and encounters for my book The Stone Age: 60 Years of the Rolling Stones was mind-boggling.
After writing the song Under My Thumb about her, Mick proposed to Chrissie Shrimpton, sister of model Jean. Then he womanised behind her back so relentlessly that she attempted suicide.
He progressed to Marianne Faithfull, a 17-year-old Reading convent schoolgirl about to sit her A-levels, whom Loog Oldham had met at a party. They talked her into a recording studio, and she had a Top Ten hit with their composition As Tears Go By. Mick emptied a champagne flute into her cleavage in the Ready, Steady Go! TV studio, as a come-on.
Despite which, she married her boyfriend John Dunbar and gave birth to a son. Motherhood bored her. She had a fling with Brian Jones, fell for Keith Richards, with whom she enjoyed "the best night of my life", but gave in to Jagger when she was 19. Somebody told her he'd wanted the actress Julie Christie. Marianne, to him, was "God's second attempt".
They moved into a mansion on Chelsea's Cheyne Walk, and became the most beautiful couple of the 1960s. She kept her sapphic affairs to herself. He shared his homoerotic fantasies about bandmate Keith, which would later be consummated.
Mick told Marsha, a star of West End stage production Hair, that he longed to conceive a baby with her. But while she was pregnant with Mick's first child Karis, he fell for Nicaraguan beauty Bianca Pérez-Mora Macías, whose sulky eyes, sculpted philtrum and pendulous underlip prompted Marianne to comment: "Mick had fallen in love with himself."
He told Marsha he'd never loved her and threatened to sue for custody of Karis. He subsequently denied paternity. Marsha had to pursue him through the courts for child support.
When Mick married Bianca in May 1971, she was expecting his second daughter, Jade. The Stones escaped Her Majesty's tax inspectors, moved to the south of France and set about recording their career-defining album Exile on Main Street. A studio was set up in the basement of Villa Nellcôte, the lavish house in Villefranche rented by Keith. Mick resided in a Paris apartment with Bianca, and commuted.
On one sojourn south, he seduced Brian Jones's young replacement, guitarist Mick Taylor – under the noses of Taylor's partner Rose Millar and their six-week-old daughter Chloe and behind the back of his pregnant wife. Taylor never forgave himself. He quit the band in 1974, to be replaced by Ronnie Wood.
Texan model Jerry Hall left Roxy Music's Bryan Ferry for Mick in 1977, gave him four more children – Lizzie, Georgia May, James and Gabriel – married him in Bali in 1990 and turned a blind eye to most of his womanising.
But she drew the line, in 1999, at his affair with Brazilian model and TV host Luciana Gimenez Morad that resulted in the birth of his seventh child and third son, Lucas.
Jerry divorced him, only to find that they had not been married in the first place. The ceremony in Bali had been a sham. Mick challenged her claims through the London courts, and screwed her payout to a fraction of what she deserved. She later married and divorced nonagenarian media baron Rupert Murdoch.
Mick seemed to settle with statuesque American fashion designer L'Wren Scott, whom he met on a shoot in 2001. It was claimed she came between Mick and the rest of the band, who called her "the First Lady", "the apostrophe" and "le Man".
Despite this dissent, she and Jagger lasted nine years.
In March 2014, just after they had returned from a holiday in Mustique and after Mick had departed on a Stones tour of Australia and New Zealand, she hanged herself. The tour was cancelled.
Her failing business and money worries were blamed. We have no way of knowing whether she had discovered that Mick, now 70, had met a ballerina in Tokyo, Melanie Hamrick, a 27-year-old dancer with the New York-based American Ballet Theatre.
Although they were photographed together on a balcony in Zurich, their rumoured affair was denied. The couple became the proud parents of Mick's eighth child and her first, their son Deveraux, who was born in December 2016, 32 months after L'Wren died.
Three years later, Melanie retired to focus on choreography and to mother her son. And her lover..
Along the way, there have been dalliances with a monarch's sibling, first ladies, politicians, socialites, aristocrats, publishers, photographers and journalists. There were many models, actresses and porn stars, celebrity daughters, nannies, cooks and housekeepers, and plenty of male lovers too – including actor Helmut Berger, Rolling Stone magazine publisher Jann Wenner and David Bowie.
No affair was ever denied. It is said that everyone knows someone who knows someone who has slept with him.
Sixty years of debauchery, infidelity, duplicity, divorce and denial. It's a lot to lug around. Little wonder that Jagger prefers to focus forwards.
The world still falls at his feet. Tickets to Stones gigs change hands for thousands of pounds, and are nigh on impossible to bag. Why? He has never been a great singer. His strutting, swaggering, finger-pointing antics veer hilariously towards self-parody. The band's instrumental work has always seemed sloppy.
They haven't had a UK Number One since Honky Tonk Women in 1969. But they still lay claim to the title Greatest Rock'n'Roll Band in the World. How?
Because they are still here. We circle back to them for a wistful swig of forgotten youth. We'll never be young again. But the Stones and their music remind us of what that was like.
"Not fade away," Mick blares defiantly, in the spirit of the song's composer Buddy Holly. He means it. As he lives and breathes.
The Stone Age: 60 Years of the Rolling Stones published by John Blake Publishing/Bonnier Books UK is out now in paperback.
Source: Read Full Article