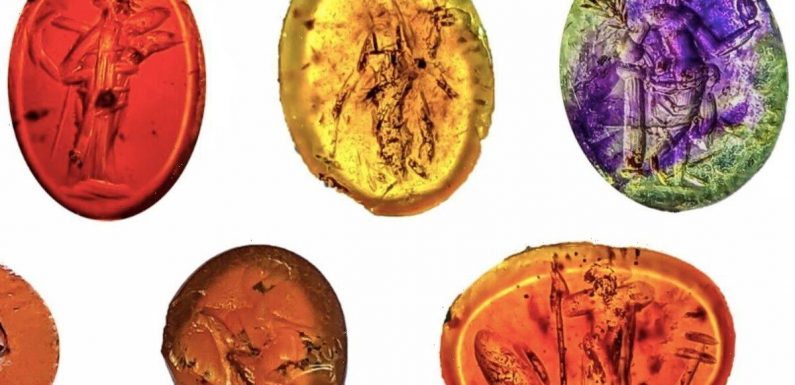 Netherlands: Roman sanctuary discovered in Gelderland
We use your sign-up to provide content in ways you've consented to and to improve our understanding of you. This may include adverts from us and 3rd parties based on our understanding. You can unsubscribe at any time. More info
Stunning carved Roman stones that were lost in an ancient pool have been discovered in Carlisle not too far from Hadrian's Wall. Archaeologists found up to 30 semi-precious stones which were listed around 2,000 years ago. The artefacts are thought to have dropped out of their rings, with their glue most likely weakened in the steamy baths. They were then flushed into the drains when the pools and saunas got cleaned.
They were engraved gems called intaglios and bear images whose spectacular craftsmanship indicates they would have been highly valuable for a period during the late 2nd century or 3rd century.
2,000 years later, and they have been found at a site in Carlisle, which lies just behind the famous Hadrian's Wall, the World Heritage Site, stretching 73 miles from sea to sea across some of England's finest countryside.
Frank Giecco, a Roman Britain expert and leader of the bathouse excavation, was left stunned by the finds.
He was quoted in the Observer saying: "It's incredible. It's caught everyone's imagination. They were just falling out of people's rings who were using the baths. They were set with vegetable glue and, in the hot and sweaty bathhouse, they fell out of the ring settings."
The bathhouse was next to the most important Roman fort on Hadrian's Wall, the Roman empire's northern frontier. An elite cavalry unit with the imperial court was stationed there.
Evidence discovered so far also includes imperial-stamped tiles. It is tough that the complex was huge in scale and incredibly luxurious. It is no wonder then that the lost items belonging to the Roman bathers, one of which is amethyst depicting Venus, holding on to what could either be a flower or a mirror, are valuable.
Mr Giecco said: "You don't find such gems on low-status Roman sites. So they're not something that would have been worn by the poor."
Among the lost items was also a red-brown jasper which depicts a satyr seated on rocks by a sacred column.
Mr Giecco said that the owners "may not even have noticed" that tier lost their items "until they got home because it's the actual stone falling out of the rings – although we've also found one ring with a setting".
Some of the intaglios are very small, only around 5mm. The biggest one is 16mm. Mr Giecco said that the "craftsmanship to engrave such tiny things is incredible".
Also discovered in the collection were more than 40 women's hairpins and 35 glass beads, which are thought to have come from a necklace.
Back in 2017, the Roman bath house was uncovered at the Carlisle Cricket Club and has led to a range of stunning discoveries since then. Archaeologists even believe that the Emperor Lucius Septimius Severus could have visited the site.
Uncovering Roman Carlisle curator Claire Sleightholm told ITV back in July 2022: "Not only was this a working bathhouse or civic building but this was one that was commanded by the emperor himself.
DON'T MISS
Europe 'on track' to end reliance on China for electric cars by 2030 [REPORT]
Cancer breakthrough as 'pioneering treatment' gets NHS approval [INSIGHT]
Mysterious handprint on historic moat at the centre of 'prank probe' [REVEAL]
"There is certainly thought or speculation that the emperor and his family were here in Carlisle 1800 years ago."
Other finds made at the site include weaponry, jewellery, and imperial-branded tiles. Excavations have uncovered more than 700 finds here, including 500 coins, and over 30 Intaglios. A community dig at the site of a Roman bathhouse drew to a close in October 2021, but experts have been focused on excavating and expect to come across more and more.
Mr Geicco told News and Star, The Cumberland News: "It's a huge monumental building that has been built by the Imperial workshop when Septimus Severus is in this country.
"There is a huge amount of circumstantial evidence. It has obviously got something to do with the Imperial court because his workshop built it. To say he was ever physically in it, you would need to have a time machine."
Head of Collections and Engagement at Tullie House Museum & Art Gallery Trust, Anna Smalley, said: "We are delighted at how much this excavation seems to have captured the imagination of our local residents – we've had thousands of visitors to the site over the past few weeks taking part in everything from object handling and site tours to Roman themed family crafts."
Source: Read Full Article