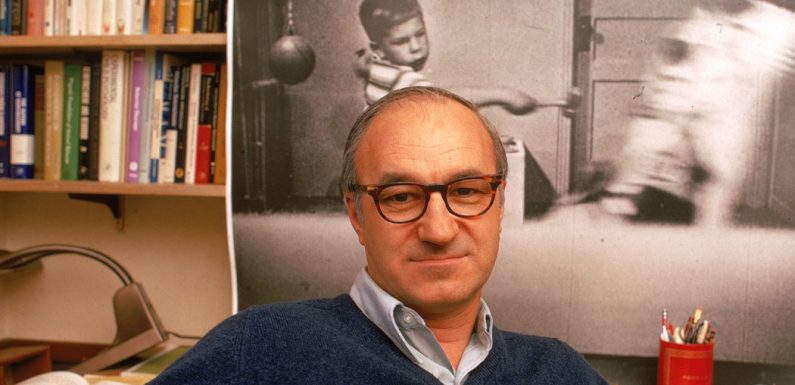 Albert Bandura, a psychologist whose landmark studies on aggression are a staple of introductory psychology classes and whose work on the role of people's beliefs in shaping their behavior transformed American psychology, died on Monday at his home in Stanford, Calif. He was 95.
The cause was congestive heart failure, his daughter Carol Bandura Cowley said.
Dr. Bandura, a native of Canada who joined the Stanford University faculty in 1953 and remained affiliated with the university until his death, was widely regarded as one of the most influential psychologists of his time. In a 2002 survey, he ranked fourth among the most-cited psychologists of the 20th century, behind Sigmund Freud, B.F. Skinner and the Swiss psychologist Jean Piaget.
His social cognitive theory of human functioning emphasized people's capacity for self-reflection and personal agency, and his extensive writing and research contributed to the understanding of personality formation, cognition, morality and the treatment of mental disorders like phobias. His theory of self-efficacy — people's belief in their own competence and ability to exert control over their behavior and social environment — has been widely applied across many areas, including education, public health and drug and alcohol abuse.
But Dr. Bandura was most widely recognized for a series of laboratory studies — collectively known as the Bobo doll experiment — that he carried out with two colleagues at Stanford in the early 1960s.
In the first study, nursery school children watched an adult heaping verbal and physical abuse on an inflatable Bobo the clown doll, punching it in the nose, kicking it, hitting it on the head with a mallet and throwing it around the room. When the children were then given a chance to interact with a similar doll, they copied the adult's abusive behavior and produced additional forms of abuse that they thought up on their own.
In contrast, children who watched an adult interacting peacefully with the doll, or who were not shown a model at all, were significantly less aggressive, Dr. Bandura and his colleagues found. Later studies indicated that just showing a film of an adult acting aggressively could produce similar results. And the children's response to the adult model could be influenced by whether the aggressive behavior was rewarded or punished.
The Bobo doll findings challenged a basic tenet of classical behaviorism: that if a behavior is rewarded, it will persist and sometimes increase; and that if it is punished, it will diminish and eventually cease. In contrast, the Bobo doll studies demonstrated what any parent or schoolteacher knew: that children also learn from observing other people's behavior.
In a 2006 autobiographical account, Dr. Bandura wrote that behaviorism's narrow focus on reward and punishment had seemed to him "discordant with the obvious social reality that much of what we learn is through the power of social modeling."
Lee Ross, a professor of psychology and colleague of Dr. Bandura's at Stanford, said in an interview for this obituary in 2018 that strict behaviorism, as championed by John Watson, Skinner and other psychologists, made sense when applied to pigeons or rats, but was less important when it came to humans.
"Al jumped on that and understood it," Dr. Ross said. "He was in many ways the transition from old learning theory to modern cognitive psychology." (Dr. Ross died in June.)
The results of the Bobo doll experiment were at odds with behaviorism and conflicted with the reigning mental health theory of the time, psychoanalysis, which held that vicarious aggression — watching a violent film, for example — would provide a catharsis, diminishing the need to act out aggressive impulses.
The distinction might seem academic, but its outcome had real-world implications. The 1960s and '70s were a time of increasing public anxiety about the effects of television violence on children. Coverage of the Vietnam War had brought startling images of carnage into people's living rooms, news programs carried reports of crimes that seemed to mimic television dramas, and children had been injured while reproducing actions shown in television advertisements.
Dr. Bandura was drawn into the public debate and testified before congressional committees and the National Commission on the Causes and Prevention of Violence, a task force created after the assassination of Senator Robert F. Kennedy in 1968.
His research did not sit well with the broadcast industry. His findings were criticized in articles commissioned by the networks, and the Television Information Office, part of the National Association of Broadcasters, sent its sponsor stations elaborate rebuttals to his findings. After Dr. Bandura and several other social scientists were excluded from a committee that the surgeon general had asked to evaluate the effects of television violence, Dr. Bandura later wrote, he discovered that broadcast networks had been allowed to veto the nominations of committee members.
"I began to feel a kinship with the battered Bobo doll," he wrote.
In the end, his work won out, his findings becoming even more relevant in a world where social media and a 24-hour-a-day news cycle have afforded violence models far greater reach.
The Bobo doll experiment became a staple of psychology classes around the world. People mailed Bobo dolls to Dr. Bandura requesting autographs and knocked on his office door in Stanford's Jordan Hall, hoping to have their photograph taken with the famous psychologist.
In an interview for this obituary in 2018, Dr. Bandura said he had once received an email from some high school students.
"Professor Bandura," they wrote, "we're having a huge fight in our class and you're the only one who can answer it: Professor Bandura, are you still living?"
He wrote the students back: "This email is being sent from the other side. We have email there, but not Facebook."
Albert Bandura was born on Dec. 4, 1925, in the prairie town of Mundare, about 50 miles east of Edmonton, Alberta. His parents, like most of the settlement's 400 residents, were immigrants from Eastern Europe, his father from Krakow, Poland, his mother from Ukraine. His father, Joseph Bandura, laid track for the trans-Canada railway and turned a heavily wooded homestead into a working farm. His mother, Justyna (Berezanski) Bandura, ran a delivery service, transporting goods from the railway station to the store.
In the summers, Dr. Bandura helped his father on the farm or worked in other manual labor jobs. When he was 7, one of his many siblings died, and his parents, concerned about the grief-stricken atmosphere in the house, sent him to live for a year with the eldest of his five older sisters, a teacher in Mundare's only schoolhouse. The town's lack of educational resources forced him to take charge of his own schooling, and taught him a valuable skill.
"The content of courses is perishable," he later wrote, "but self-regulatory skills have lasting functional value whatever the pursuit might be."
Dr. Bandura did not plan to become a psychologist. But his social cognitive theory emphasized that fortuitous events often play a role in determining a person's life path, and in his case that event was reading a course catalog at the University of British Columbia and discovering an introductory psychology course that would fill an empty slot in his class schedule.
After completing his undergraduate degree in three years, he pursued graduate studies at the University of Iowa, which was home to some of the biggest names in psychology at a time of great excitement in the field. Many psychologists were hoping to construct a science of human behavior that would mirror the rigor and predictive power of the natural sciences.
Central to this endeavor was the study of learning, the research focus of the psychology department's chairman, Kenneth W. Spence. With his mentor, Clark L. Hull at Yale, Dr. Spence had developed an influential theory of learning that was rooted in the work of earlier behaviorists.
At Iowa, Dr. Bandura met Virginia Varns, an instructor at the nursing school. They were married in 1952 and moved to Stanford, where he had been offered a teaching position.
In California, Dr. Bandura's career advanced rapidly. He served for a short time as psychology department chairman, and in 1974 served as president of the American Psychological Association, where he devoted his tenure to increasing the credibility of the field and helping to settle growing public fears over behavior modification, set off by movies like "A Clockwork Orange" and books like Skinner's "Beyond Freedom and Dignity."
Virginia Bandura died in 2011. In addition to his daughter Carol, Dr. Bandura is survived by another daughter, Mary Bandura, and two grandsons.
Dr. Bandura was known at Stanford as a highly organized teacher and a prolific writer and researcher who never failed to get excited about new projects. Daniel P. Cervone, a professor of psychology at the University of Illinois, Chicago, and a former student of Dr. Bandura's, described Dr. Bandura as someone who was "absolutely lacking in personality tics and quirks" and who drew a strict line between his personal and professional lives.
"If Al Bandura's cat had been run over in the morning and you met with him in the afternoon, he would not be talking about how his cat was run over by a car," Dr. Cervone said.
In his research, Dr. Bandura increasingly focused on beliefs and self-reflection and the role they played in human behavior and development — "how people talk about and to themselves," as Dr. Cervone put it.
Dr. Bandura found that people's confidence in their ability to perform a task or to control something that was threatening could have a remarkable impact on how they lived their lives. Providing people with positive models to follow and an environment in which they could succeed could treat a range of disabling problems, including phobias.
In studies, Dr. Bandura and his collaborators were able to eliminate longstanding fears of snakes in a few hours. The treatment, he wrote, "instilled a robust sense of coping efficacy, transformed attitudes toward the phobic objects from abhorrence to liking, wiped out anxiety, biological stress reactions and phobic behavior."
Dr. Bandura studied how people's beliefs about the self were developed, how they functioned and how they affected behavior. He used social cognitive theory — codified in his 1986 book, "Social Foundations of Thought and Action" — as a lens through which to examine various topics, from the reduction of disease to how individuals and societies fall into morally transgressive behavior.
The author of many books and hundreds of papers, Dr. Bandura was appointed to the Order of Canada in 2015. The next year, President Barack Obama presented him with the National Medal of Science.
The Bobo doll experiment remained Dr. Bandura's best-known work.
"His experiments with kids dramatically demonstrated that both the content of what models do, and even the style of what they do, is very, very influential, particularly early in life," Walter Mischel, a longtime colleague, said in 2018. (He died later that year.) "Learning through observation may seem obvious," he added, "but the brilliance of Al was to show what its applications are for changing all types of behavior."
If there was a single principle undergirding his work, however, it was the idea of personal agency — that people, through their beliefs about themselves and the processes of self-reflection and self-regulation, can exert control over their lives.
"If you look at my life path, you try to make the most of whatever is there," Dr. Bandura said. "And to do that, you have to believe that through your actions you can influence the course of your life."
Alex Traub contributed reporting
Source: Read Full Article