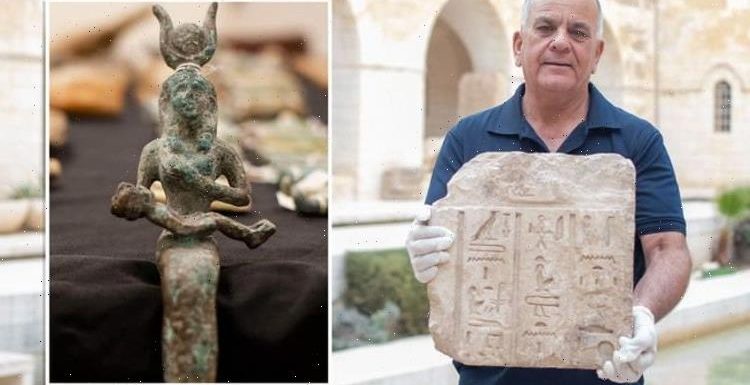 Egyptologist discusses 'surprise' hieroglyphic discovery
We use your sign-up to provide content in ways you've consented to and to improve our understanding of you. This may include adverts from us and 3rd parties based on our understanding. You can unsubscribe at any time. More info
The objects, which have been dated to the time of Egypt's ancient Pharaohs, were seized during two separate police raids in 2013. According to the Israel Antiquities Authority (IAA), they are now being returned to their rightful owner as part of a recent diplomatic mission and a gesture of "goodwill". Egypt is one of the few Middle East countries to formally recognise and maintain diplomatic relations with the state of Israel.
The IAA wrote in a Facebook post: "Foreign Minister Yair Lapid paid a diplomatic visit to Cairo today.
"As part of the trip, stolen Egyptian artefacts, which were smuggled to Israel and held by the Israel Antiquities Authority, will be returned to Egypt."
The first collection was seized at the Ben Gurion airport, on the outskirts of Lod, from an Israeli antiquities trader who claimed to have bought them in Oxford.
Because the artefacts appeared to have come from Egypt, the country was notified of the seizure through Interpol.
The IAA said: "Egyptian authorities declared the items were stolen and illegally removed from Egypt.
"A legal proceeding was conducted in Israel, at the end of which, in 2015, the items were transferred to the State of Israel."
The second collection of nearly 100 items was seized "months later" from a certified trader in Jerusalem, following a tip from the Egyptian authorities who claimed the artefacts were illegally removed from Egypt.
The tip-off led to a joint investigation between the IAA's Anti-Robbery Unit, representatives from Israel's Foreign Minister and the Egyptian ambassador.
Historians form picture of what Egyptian pyramid first looked like
In total, 91 items were seized from the merchant's store who then faced legal proceedings.
These ended with the merchant having to hand over the artefacts to the Israeli state.
As a "gesture of goodwill" Israel then agreed to transfer the artefacts back to Egypt.
IAA director Eli Eskozido said: "The Israel Antiquities Authority welcomes the initiative of Foreign Minister Lapid and is happy to help Egyptian authorities restore antiquities of Egyptian culture, stolen from Egypt, back to the Egyptian people.
"The State of Israel and the Israel Antiquities Authority are interested in cooperating with the Egyptian authorities to protect the archaeological treasures that belong to the whole of human culture.
"It is essential to work to eradicate the theft of antiquities and the illegal trade in antiquities worldwide.
"The Israel Antiquities Authority expects to strengthen cooperation with the Egyptian Ministry of Antiquities on archaeology and research."
Earlier this year, the IAA reported the discovery of more than 6,000 ancient coins during a raid on a suspected illegal antiquities trader.
The coins were seized in the city of Ashkelon, on Israel's Mediterranean coast.
The IAA's Robbery Prevention Unit was tipped off about the possibility of illegal antiquities trading in the city.
An investigation led the authorities to the owner of a jewellery store in Ashkelon.
The group said: ""A search of the suspect's home and store revealed scandalous results; thousands of ancient coins from different periods, a metal detector, and excavation equipment."
Source: Read Full Article