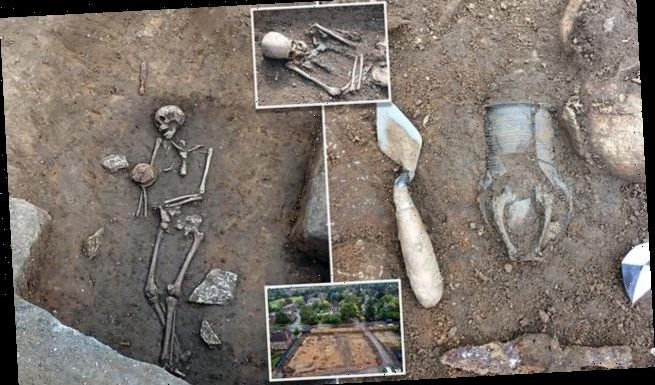 More than 60 graves, brooches, necklaces and pottery uncovered at Anglo-Saxon cemetery hidden beneath University of Cambridge student accommodation
University of Cambridge is redeveloping a plot of land called Croft Gardens in the city  
Buildings were torn down last year and archaeologists began scouring the site for historical finds 
They found graves, artefacts and bodies dating back as far as the Anglo-Saxon era between 450 and 600AD 
An Anglo-Saxon burial ground has been discovered on a plot of land earmarked to become University of Cambridge accommodation.
Excavations at the site revealed more than 60 graves which date back to a similar period as the famed Sutton Hoo site, around 400-650AD.
Many of the newly-discovered burials contain grave goods such as bronze brooches, bead necklaces, glass flasks, weapons, and pottery. 
Experts claim the haul of artefacts is one of British archaeology's mos significant finds since the Sutton Hoo burial ship was found in 1938. 
Scroll down for video 
Picured, a drone shot of the 60 graves found at the Cambridge site. it is said to be the biggest archaeology find since the famed Sutton Hoo dig
Picture of a skeleton with a shield found at he Cambridge site. Experts have dated the graves as being up to 1,600 years old 
There is also evidence of Iron Age structures as well as objects dating back to Roman times. 
Analysis of the extremely well-preserved artefacts suggests the cemetery was primarily used during the 5th and 6th centuries, and possibly into the 7th century.
Dr Caroline Goodson, senior Cambridge University lecturer, said: 'The excavation of this cemetery provides an outstanding opportunity to explore very early medieval Britain, interactions between the island and the continent, and changing ways of life around the ruins of Roman-period Cambridge.
'We are thrilled to have the chance to examine this site and integrate these finds with other early medieval archaeology along this side of the river Cam to understand better this transformative period in history.'
Many of the newly-discovered burials contain grave goods such as bronze brooches, bead necklaces, glass flasks, weapons, and pottery
This grave is thought to have been dug during the Anglo-Saxon era and contains a person who lived in Cambridge at that time 
Picture of one of the Anglo-Saxon graves lined with stones at the Cambridge site which is being excavated by Albion Archaeology 
Picture,  one of the Anglo-Saxon graves at the site
An archaeological dig at the site of the new graduate accommodation at Croft Gardens has revealed an extensive early medieval burial ground (pictured)
The existence of an early medieval cemetery on this Cambridge site has been presumed since the nineteenth century.
COnstruction began last summer on the new accommodation block for students and saw buildings demolished as part of the redevelopment project. 
A team from Albion Archaeology then set about digging up the site to look for any fields of historical value. 
David Ingham, from Albion Archaeology, said: 'We always knew there was a chance of finding a cemetery, but we didn't expect to find as many graves as we did.
'What really surprised us was how well they had survived beneath the 20th century houses.
'Burials from this date are so often found in small numbers or with the bones barely surviving because of the soil's acidity, but this cemetery offers a real chance to fill some of the gaps in our knowledge about the people who lived in East Anglia after the Roman period had ended.'
This will provide new information about dress, burial habits, and health and disease of the time period.
New methods of analysis used on the site are being used in the hope of finding fresh information about migration and family relationships across medieval Britain and Northern Europe.
King's College Cambridge is appointing a four-year research fellow to continue the work.
'These finds are tremendously exciting for King's, and I'm delighted that the research fellowship will enable a substantial research project,' said Professor Michael Proctor, Provost of King's.
'The wonderful new accommodation being built at Croft Gardens will help generations of students in the future; and what we have found during construction will also give us a unique opportunity to learn much more about the past.' 
A small number of graves on an east–west alignment had stone linings and contained no grave goods. This burial style is more commonly associated with the Roman period and radiocarbon dating of the remains will be needed to confirm this 
Almost HALF of working class people in medieval England suffered broken bones due to 'manual labour and bone-crushing work' 
Working class people in medieval Cambridge lived hard lives that meant they were far more likely to suffer serious physical injury that the upper echelons of society, a new study reveals. 
It found nearly half (44 per cent) of people on the lowest rung of the social ladder from the 10th to 14th centuries suffered some form of broken bone by the time they died. 
For people buried at a friary or by a hospital — individuals who were of higher social standing or suffering from illness — this figure drops to 32 and 27 per cent, respectively. 
Fractures were more common overall in men (40 per cent) than women (26 per cent). 
Life expectancy in Britain during the medieval period was far shorter than today due to brutal jobs, rife disease and a lack of sanitation. At birth, the average life expectancy was 31 years old, it is today almost 80.
University of Cambridge researchers studied the remains of 314 people buried at three locations around the city.
Eighty-four came from the parish cemetery of All Saints by the Castle, 75 from the  Augustinian Friary and 155 the cemetery of the Hospital of St John the Evangelist.
The parish graveyard was for the ordinary people, the hospital buried people who were disabled or infirm and therefore lived very sheltered lives, and the friary cemetery was where society's elite who provided money to the institution were interred alongside clergymen. 
The hospital was home to 'inmates' who likely were unable to work due to either disease, mental illness or age.  
Skeletal remains of every individual was analysed carefully and the researchers noted any signs of 'skeletal trauma', a proxy for hardship of life, they say. 
Source: Read Full Article