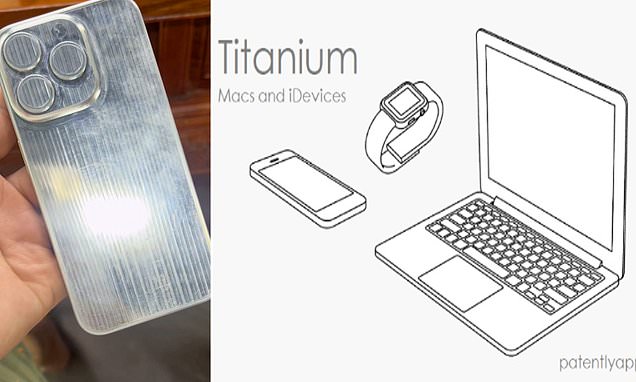 iPhone 15 leak suggests Apple's next device will have a 'game-changing' design feature – and it's ideal if you're always dropping your phone
Patently Apple claims the iPhone 15 Pro will have a new titanium alloy frame 
If proven true, this will replace the previous, heavier stainless steel build
Many of us are guilty of dropping our phones more than we should, but the latest iPhone 15 rumours suggest you can worry a little less in the future.
Patently Apple claims the iPhone 15 Pro will be built from a resilient titanium alloy – switching out its previous stainless steel frame.
While titanium rivals steel in strength, it can be up to 45 per cent lighter, which could make the iPhone 15 Pro model far easier to carry, but with a similar resilience.
Titanium can handle higher temperatures better than steel too, while also offering a similar level of protection against water damage.
On the downside, however, titanium is a more costly material than stainless steel which could bump up the price of the iPhone 15 Pro.
While titanium rivals steel in strength, it can be up to 45 per cent lighter – potentially making the Pro model far easier to carry with a similar resilience. Pictured: A rumoured dummy iPhone 15 Pro model that was allegedly leaked in April
READ MORE: iPhone 15 Pro could be Apple's most expensive smartphone yet, rumours suggest
According to Apple analyst Jeff Pu based in Hong Kong, iPhone 15 Pro and iPhone 15 Pro Max will be more expensive than previous Pro models. Pictured is last year's iPhone 14 Pro Max 
The latest rumours align with previous rumours put forward by Apple analyst Jeff Pu, who said the new model could be more expensive than previous Pro models.
While he didn't reveal specific costs, it's worth noting that last year's iPhone 14 Pro and Pro Max started at £1,099/$999 and £1,199/$1,099, respectively.
If the rumours are proven true, it would be the second occasion that Apple has incorporated titanium into its designs.
The Apple Watch Ultra, costing £849/$799, also has a titanium case, which 'strikes the perfect balance of weight, durability and corrosion resistance', according to Apple. 
Titanium could even be used in future MacBooks and iPad designs, Patently Apple suggests, pointing to what appears to be leaked products drawings.
Even still, this has not been publicly confirmed by Apple, and MailOnline has approached the firm for comment. 
The alleged leak comes amid numerous other rumours about the anticipated iPhone 15 and what features it might have.   
Footage of a iPhone 15 Pro 'dummy' was leaked in April and surfaced on the Chinese version of TikTok.
A titanium-based frame was also shown on this prototype, alongside a new solid-state volume button replacing the mute switch.
If proven true, this would be the first time Apple has changed the button since the iPhone's launch in 2007, likely allowing users to toggle with its sensitivity.
Titanium could even be used in future MacBooks and iPad designs, Patently Apple suggests, pointing to what appears to be leaked products drawings 
READ MORE: Is THIS the iPhone 15 Ultra? Dummy unit for Apple's next flagship smartphone appears online
A new video claims to show a dummy unit of iPhone 15 Ultra – the most expensive of the upcoming iPhone 15 range that is expected to be released this September
The dummy also included a USB-C charging port in place of the usual Lightning port.
This alteration follows previous talk from Apple's executive Greg Joswiak who said that the tech giant was 'having to comply' with new USB laws passed by the EU.
With that in mind, it's already publicly known that the company is replacing its own Lightning charging technology – discernible by its eight pins – with USB-C in EU countries.
He previously said: 'Obviously, we'll have to comply; we have no choice, just as we do around the world to comply to local laws.
'But we think the approach would have been better environmentally and better for our customers to not have a government be that prescriptive.'
Despite this, analyst Ming-Chi Kuo claims that some new Pro devices may be geared to support USB 3.2 or Thunderbolt 3, according to MacRumors.
It is understood this would enable more advanced devices to transfer data faster than standard models.
Currently, it is unclear whether the dummy or Patently Apple rumours are accurate in their depictions of the new iPhones.
But it may only be a couple of months until we know for sure, as Apple is expected to make huge announcements in September. 
WHY APPLE HAS RESISTED USB-C
Apple has long been a thorn in the side of the EU's plans to force a unified standard for charging cables.
Apple claims that changing its iPhone charging ports to USB-C would 'stifle innovation'.
Speaking last year, an Apple spokesperson said: 'We believe that regulations that impose harmonization of smartphone chargers would stifle innovation rather than encourage it. 
'It will harm consumers in Europe and the economy in as a whole.'
It is believed that the firm also favours its proprietary cable for its higher waterproof-rating than USB-C.
In addition, Apple is able to regulate the quality of lightning cables and accessories through its 'Made for ‌iPhone‌' program.
This is also a source of profit that the firm is likely reluctant to part with.
However, Apple did switch its iPad tablets to USB-C back in 2018. 
Source: Read Full Article