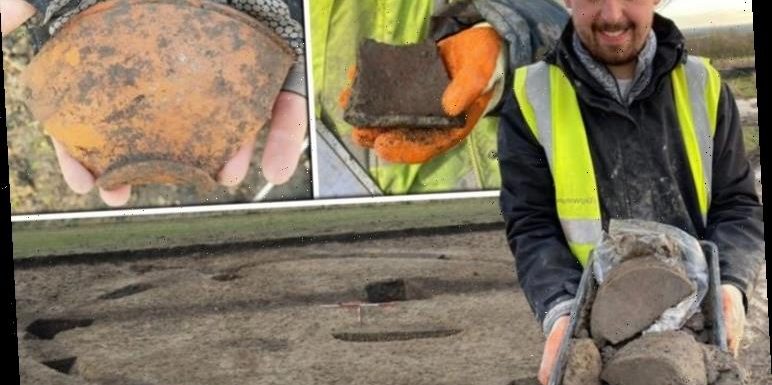 Roman Tunisia settlement archaeology is 'enigma' says expert
When you subscribe we will use the information you provide to send you these newsletters.Sometimes they'll include recommendations for other related newsletters or services we offer.Our Privacy Notice explains more about how we use your data, and your rights.You can unsubscribe at any time.
Archaeological excavations close to Wittenham Clumps' Iron Age hill-fort have exceeded even the most optimistic expectations, with a wealth of evidence uncovered dating back thousands of years. Experts have long known the area surrounding the Oxfordshire landmark has been occupied for more than 3,000 years.
However, archaeologists were still amazed to discover an extended iron age settlement, including the remains of more than 12 roundhouses dating back to 400 BC.
t's very evocative

DigVentures' Lisa Westcott Wilkins
These historically-important structures would have remained underground were it not for environmental charity Earth Trust's decision to redevelop its visitor centre – with investigating the locale's archaeology part of the planning application process.
Lisa Westcott Wilkins of DigVentures, an archaeology social enterprise, described the discovery as "astonishing".
She said: "These were people's homes and, obviously, over the course of the last year, we've all been spending so much time at home.
"Contemplating the whole idea of 'home' as each one of these houses was coming up, we were thinking about how people were living and how they might have been using their space.
DON'T MISS: Yellowstone volcano hit by 73 earthquakes – Will the volcano erupt?
"That, to me, is the most exciting thing. It's very evocative.
"We had some idea that there would've been quite a lot of settlement there, but honestly it is astonishing that so much evidence has come up of people's actual daily lives.
"It's been one of those digs where you feel you can almost reach out and touch them."
Each of the iron age roundhouses is approximately 35ft (10m) across, and once housed farmers living off the land.
Although the walls have been reduced to rubble, a clear ground plan for a substantial building with a "winged corridor" design remains distinctly visible.
The archaeological digs also discovered two Roman cemeteries each bearing more than 40 graves and stone-built corn-drying ovens.
Other finds recovered include particularly well-preserved iron age pots and a pair of Roman bone combs, surgical instruments and plenty of pottery shards.
Ms Westcott Wilkins described the bone combs as "very beautiful personal items in a very high state of preservation".
How USGS study showed 'abnormal' change [REVEALED]
How scientists made alarming find in lake [COMMENT]
Yellowstone volcano shock: Eruption mantle runs under California [STUDY]
And Mr Casswell added: "It's a substantial iron age settlement. It's probably no surprise because we're right at the foot of Wittenham Clumps, an enormous hill-fort.
"The settlement probably continues well into the landscape beyond where we've looked.
"Normally we go out and do geophysics, which gives an image of what might be under the ground.
"But on this site, it didn't show up any of this. It showed a couple of anomalies … So it's completely unexpected."
Dr Emma Brownlee, a Cambridge University expert, believes these discoveries serve to highlight the world-class nature of the UK archaeology sector.
She told Express.co.uk: "Internationally significant sites are found the world over, and are not confined to the UK.
"Nor does the UK have a richer archaeological record than other regions.
"But we do have a very strong history of archaeological investigation, both through world-class university departments, and through a planning process that ensures archaeological investigation is prioritised ahead of any development.
"These are both under threat, from reforms to the planning laws, and restructuring of university funding, and if these reforms go through, then we risk losing a large part of our heritage here in the UK."
Source: Read Full Article