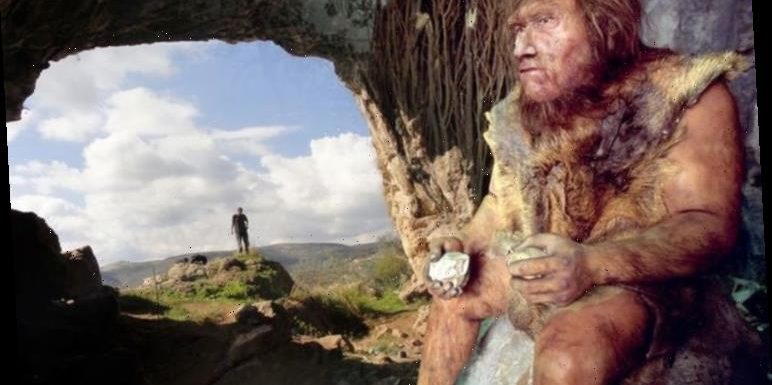 Neanderthals: Expert discusses why species went extinct
When you subscribe we will use the information you provide to send you these newsletters.Sometimes they'll include recommendations for other related newsletters or services we offer.Our Privacy Notice explains more about how we use your data, and your rights.You can unsubscribe at any time.
A solitary tooth discovered in a Palestinian West Bank cave may help revolutionise our understanding of evolution, as it provides a missing link between Neanderthals and Homo sapiens tech. The newly-analysed molar belonging to a Neanderthal child marks the hominin's southernmost known range.
And because it was discovered among relatively-sophisticated stone tools – known as Nubian Levallois technology – it indicates such devices were not restricted to Homo sapiens alone.
The study of both fossils and tools is critical for understanding hominin occupations of Shukbah Cave and the larger region

Dr Jimbob Blinkhorn
The high concentration of cave sites harbouring evidence of past populations and their behaviour means the Levant is a central hub for human origins research.
Middle East archaeological digs have for more than a century produced human fossils and stone tools revealing it was home to both Neanderthal and Homo sapiens populations.
As a result, this marks the region as a fascinating mixing ground between the two species.
Distinguishing these populations by stone tool collections alone is notoriously tricky, but the distinct Nubian Levallois method – the knapping, or shaping of stone – was until now considered to have been produced by Homo sapiens alone.
Max Planck Institute for the Science of Human History researchers collaborated with international partners to re-examine the fossil and archaeological record of Shukbah Cave.
Their findings suggest the now-extinct Neanderthals made use of technology previously argued to be a trademark of modern humans.
This is the first time the lone human tooth from the site has been studied in detail, in combination with a major comparative study examining the stone tools.
Dr Jimbob Blinkhorn, formerly of the Pan-African Evolution Research Group, revealed the site's central importance to understanding how our ancient relatives harnessed tools.
He said: "Sites where hominin fossils are directly associated with stone tool assemblages remain a rarity – but the study of both fossils and tools is critical for understanding hominin occupations of Shukbah Cave and the larger region."
Shukbah Cave was first excavated in 1928 by Dorothy Garrod, who reported high concentrations of animal bones and Mousterian-style stone tools cemented in breccia – a type of rock formed from broken minerals – deposits.
And although she also identified a human molar, the specimen remained in private hands for the next hundred years, preventing further comparative studies from taking place.
Fortunately, the recent re-identification of the tooth at London's Natural History Museum has resulted in new detailed work on the Shukbah collections.
DON'T MISS…
Elon Musk warns life on Earth will 'go out with a bang or a whimper' [REPORT]
UFO hunter spots 'Tic-Tac' anomaly over New York in archive video [VIDEO]
SpaceX CEO Elon Musk on UFOs: 'I'd know if there were aliens' [INSIGHT]
Dr Clément Zanolli, from Université de Bordeaux, said in a statement: "Professor Garrod immediately saw how distinctive this tooth was.
"We've examined the size, shape and both the external and internal 3D structure of the tooth, and compared that to Holocene and Pleistocene Homo sapiens and Neanderthal specimens.
"This has enabled us to clearly characterise the tooth as belonging to an approximately nine-year-old Neanderthal child.
"Shukbah marks the southernmost extent of the Neanderthal range known to date."
Although Homo sapiens and their precursors shared the use of a wide range of stone tools, Nubian Levallois technology has until now been argued to have been exclusively used by Homo sapiens.
The argument has been made particularly in southwest Asia, where Nubian Levallois tools have been used to track human dispersals in the absence of fossils.
Dr Blinkhorn said: "Illustrations of the stone tool collections from Shukbah hinted at the presence of Nubian Levallois technology so we revisited the collections to investigate further.
"In the end, we identified many more artefacts produced using the Nubian Levallois methods than we had anticipated.
"This is the first time they've been found in direct association with Neanderthal fossils, which suggests we can't make a simple link between this technology and Homo sapiens."
Professor Simon Blockley, of Royal Holloway, University added the cave is a perfect place to study how ideas were exchanged between early man.
He said: "Southwest Asia is a dynamic region in terms of hominin demography, behaviour and environmental change, and may be particularly important to examine interactions between Neanderthals and Homo sapiens.
"This study highlights the geographic range of Neanderthal populations and their behavioural flexibility, but also issues a timely note of caution that there are no straightforward links between particular hominins and specific stone tool technologies."
Source: Read Full Article