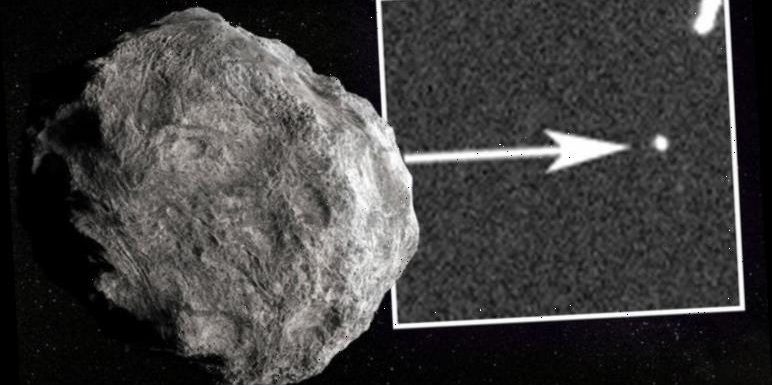 NASA: Asteroid Apophis to come 'close' to Earth says expert
When you subscribe we will use the information you provide to send you these newsletters.Sometimes they'll include recommendations for other related newsletters or services we offer.Our Privacy Notice explains more about how we use your data, and your rights.You can unsubscribe at any time.
Amateur astronomers are in for a treat tonight (March 5) because the asteroid's flyby will be broadcast live over the internet. Apophis is racing around the Sun on a trajectory that will bring it exceptionally close to our planet in just nine years. On Friday, April 13, 2029, Apophis will come within a mere 19,800 miles from Earth's surface.
To put the flyby in perspective, some geosynchronous satellites orbit the planet from a distance of more than 22,000 miles.
Of course, the asteroid will safely skim the planet without any risk of impact but it is incredibly rare for an object this big to pass this close to Earth.
Marina Brozović, a NASA radar scientist who tracks near-Earth object (NEOs) like Apophis, said: "The Apophis close approach in 2029 will be an incredible opportunity for science.
"We'll observe the asteroid with optical and radar telescopes.
"With radar observations, we might be able to see surface details that are only a few meters in size."
Before this happens, however, you should pay attention to the asteroid's flyby this Friday to Saturday.
At its closest, Apophis will be about 44 times as far away as the Moon.
But the space rock is already visible to Earth's telescopes and astronomers have been tracking it for days now.
On Wednesday, astrophysicist Gianluca Masi of the Virtual Telescope Project in Italy snapped a 300-second exposure of the asteroid.
Apophis appears as a single, bright dot in the centre of a streaky field of stars.
Dr Masi said: "The telescope tracked the apparent motion of the asteroid, this is why stars show as short trails, while the asteroid looks like a bright and sharp dot in the centre of the image, marked by an arrow.
"'Apophis' is, by far, the most famous potentially hazardous asteroid."
At the time the image was taken, Apophis was roughly 10.5 million miles away.
Later tonight, the rock will come within 9.3 million miles – so quite a safe distance away.
DON'T MISS…
What would really happen if Yellowstone erupted – expert [ANALYSIS]
Scientists identify the source of hazardous solar particles from Sun [REPORT]
China aims to become 'space power' with its new space station [INSIGHT]
https://www.youtube.com/embed/PECWpgMY9eg
How to watch the Asteroid Apophis flyby tonight:
The space rock's flyby will be broadcast live online by the Virtual Telescope Project.
The free stream, which is embedded above, will kick off at midnight.
Dr Masi said: "Apophis has been and still is 'used' as part of several catastrophic theories, which really do not have any reason to be.
"For us, it is just a very interesting rock and will offer a memorable show in 2029, when it will be visible by naked eye."
Asteroid Apophis was first spotted in 2004 and, at the time, it seemed to follow a potentially worrying orbit.
Initial observations determined there was a small chance of the asteroid striking us in 2068.
But astronomers assure there is absolutely nothing to worry about.
Dr Masi said: "Recently, new studies addressed the impact risk for the 2068 fly-by, reducing the already extremely small impact probability (which will likely go to zero once future data will help computing that scenario)."
The asteroid was named after Apophis or Apep, an ancient Egyptian deity that embodied chaos and evil.
According to Egyptian legends, Apophis was a giant snake that hid under the world and came out each day to battle the Sun god Ra.
Astronomers estimate the rock measures about 300 to 350m across, making it comparable in size to the Shard in London.
Source: Read Full Article