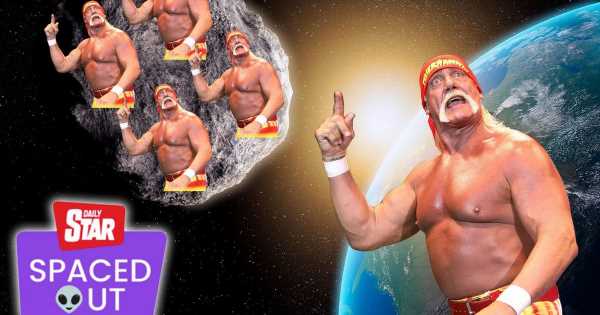 One of the biggest asteroids to crash into Earth's orbit is set to do so next month.
Given the catchy title of 2020 DB5, it has been placed on NASA's Near Earth Object list ahead of its June 15 impact.
Measuring a whopping 850 metres in diameter, the rock will also be travelling at around 9.51 km/s.
READ MORE: 'I'm Russian but fought for Ukraine in Belgorod – here's what really happened'
The Daily Star's top boffins worked out that 850 metres is the same as around 422 Hulk Hogans standing one on top of the other.
The former multi-time wrestling champion allegedly measures in at around 2.01 metres – although he also claimed he had 16" biceps at one stage…
Despite coming very close to the planet, NASA scientists have not confirmed if any damage will be caused but it's highly unlikely to.
The last time the giant rock came near Earth was in 1995, with a three separate visits in the 1960s taking place before that.
The first time it was spotted was on May 28, 1905, when it was travelling at around 10.59 km/s at the time.
NASA's schedule has it visiting Earth for the last time on July 23, 2179, and you can be sure that the Daily Star will keep you up to date with all the latest news about 2020 DB5 ahead of that historic moments.
New giant super powerful solar storm could be a threat to planet Earth
However, should things go wrong and the asteroid change course next month, giving us on Earth serious cause for concern, NASA now has an asteroid destroying system ready to go after successful test were run at the end of 2022.
The scientists will actually fire a rocket at the oncoming destroyer, pushing it off course and hopefully save Earth in the process.
Called DART, the system was tested in October, and successfully managed to remove a harmless asteroid onto a different trajectory.
For the latest breaking news and stories from across the globe from the Daily Star, sign up for our newsletter by clicking here.
READ NEXT:
For more of the latest news from the world of the Daily Star, check out our homepage

Covid conspiracy doctor claimed 'false flag' alien invasion was coming days before death

Heavily armed Ukrainian militia crosses border into Russia and wreaks havoc

People convinced aliens exist as UFO spotted in 1,000-year-old painting of Jesus

'I make adult content in my hijab – I'm fuming after 300 photos of me were removed'
Source: Read Full Article