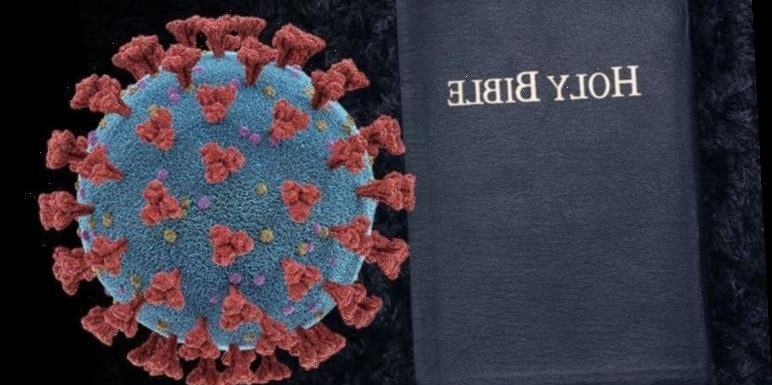 Vladimir Putin warns coronavirus has 'exacerbated' global issues
Coronavirus (SARS-CoV-2) has infected more than 102 million people since the end of 2019 and killed more than 2.2 million as of January 30. Entire countries went under lockdown to stop the virus from spreading but experts fear thousands of people could still become infected in the coming weeks to months.
In these trying times, many are looking towards Christian scripture for comfort and answers.
Matthew Maas said on Twitter: "Corona or the coronavirus is in the Bible, written in Matthew 24 6-8. Jesus loves you!"
Another person said: "Many know that time is short. We are living in perilous times as the Bible states.
"Coronavirus is only a small taste of what is to come in the near future. Don't fear but continue to abide in Christ."
We will use your email address only for sending you newsletters. Please see our Privacy Notice for details of your data protection rights.
What does the Bible say about coronavirus and Covid-19?
Although the coronavirus is not mentioned by name in the Bible, some Christians have claimed online there are prophetic passages and messages that can be linked to the pandemic.
A commonly mentioned passage is Matthew 24.
The scripture reads: "For nation shall rise against nation, and kingdom against kingdom: and there shall be famines, and pestilences, and earthquakes, in divers places.
"All these are the beginnings of sorrows."
The passage is attributed to Jesus Christ who told his followers what to expect before his second coming.
History is replete with plagues, wars, and natural disasters

Ed Jarrett, Christianity.com
A similar account of Jesus' teaching is found in Luke 21.
The passage reads: "Then he said unto them, Nation shall rise against nation, and kingdom against kingdom: Abd great earthquakes shall be in divers places, and famines, and pestilences; and fearful sights and great signs shall there be from heaven.
"But before all these, they shall lay their hands on you, and persecute you, delivering you up to the synagogues, and into prisons, being brought before kings and rulers for my name's sake."
A passage in 2 Chronicles 7 also warns of plague: "If I shut up heaven that there be no rain, or if I command the locusts to devour the land, or if I send pestilence among my people;
"If my people, which are called by my name, shall humble themselves, and pray, and seek my face, and turn from the wicked ways; then will I hear from heaven, and will forgive their sin, and will heal their land."
DON'T MISS…
Bible archaeology news: Nails linked to crucifixion of Christ discovery [REPORT]
End of the world: When will the Rapture happen? What does Bible say? [INSIGHT]
End of the world: Look for THESE signs of the Antichrist's arrival [INTERVIEW]
Many people who have read the Bible also believe the coronavirus could be a biblical harbinger of doom.
One person said on Twitter: "Thinking of the four horsemen of the apocalypse. Pestilence, war, famine, and death. #Coronavirus
"The Bible will tell you more on this subject."
Another Twitter user said: "The Four Horsemen of Apocalypse representing War, Famine, Pestilence and Death depicted in the Bible on Revelation 6:2-8 are most likely causing this coronavirus worldwide.
"We don't see them but wen can feel their wrath everywhere."
The Book of Revelation is the last of Book of the Bible.
It was penned by John the Apostle and details his prophetic visions of the end times.
Among his visions are warnings of plagues and pestilence.
However, according to Ed Jarrett from Christianity.com, there is very little evidence to support the claim Covid-19 is biblical.
He said: "History is replete with plagues, wars, and natural disasters that kill large numbers of people. But none of these has been a sign of the end."
Source: Read Full Article