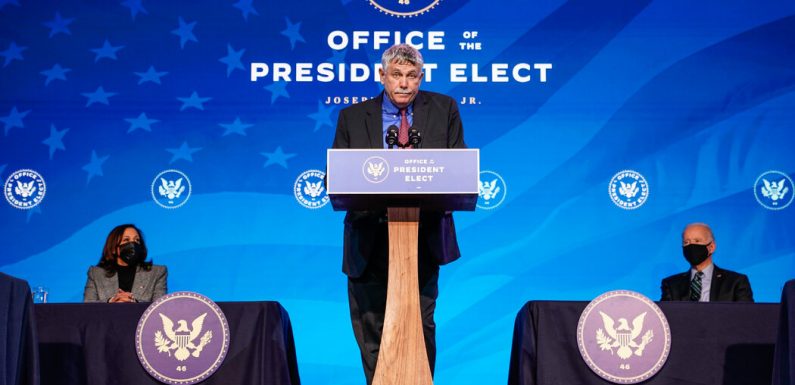 The Senate is considering Eric S. Lander's nomination after months of delay. Some experts ask what impact an adviser can actually have.
By William J. Broad
On the campaign trail, Joseph R. Biden Jr. vowed to unseat Donald J. Trump and bring science back to the White House, the federal government and the nation after years of presidential attacks and disavowals, neglect and disarray.
As president-elect, he got off to a fast start in January by nominating Eric S. Lander, a top biologist, to be his science adviser. He also made the job a cabinet-level position, calling its elevation part of his effort to "reinvigorate our national science and technology strategy."
In theory, the enhanced post could make Dr. Lander one of the most influential scientists in American history.
But his Senate confirmation hearing was delayed three months, finally being set for Thursday.
The delay, according to Politico, arose in part from questions about his meetings with Jeffrey Epstein, the financier who had insinuated himself among the scientific elite despite a 2008 conviction that had labeled him as a sex offender. Dr. Lander met with Mr. Epstein at fund-raising events twice in 2012 but has denied receiving any funding or having any kind of relationship with Mr. Epstein, who was later indicted on federal sex trafficking charges and killed himself in jail in 2019.
The long delay in his Senate confirmation has led to concerns that the Biden administration's elevation of Dr. Lander's role is more symbolic than substantive — that it's more about creating the appearance of strong federal support for the scientific enterprise rather than working to achieve a productive reality.
Roger Pielke Jr., a professor at the University of Colorado, Boulder, who has interviewed and profiled presidential scientific aides, recently noted that one of President Biden's top scientific agendas, climate policy, has moved ahead briskly without any help from a White House science adviser.
"Is Biden giving him busy work?" he asked of Dr. Lander's role. "Or is there actually a policy portfolio?"
Likewise, Mr. Biden's first proposed federal budget, unveiled April 9, received no public endorsement from the presidential science adviser but nonetheless seeks major increases in funding at nearly every science agency.
Mr. Biden's championing of the science post and its unpunctual start have raised a number of questions: What do White House science advisers actually do? What should they do? Are some more successful than others and, if so, why? Do they ever play significant roles in Washington's budget wars? Does Mr. Biden's approach have echoes in history?
The American public got few answers to such questions during Mr. Trump's tenure. He left the position empty for the first two years of his administration — by far the longest such vacancy since Congress in 1976 established the modern version of the advisory post and its White House office. Under public pressure, Mr. Trump filled the opening in early 2019 with Kelvin Droegemeier, an Oklahoma meteorologist who kept a low profile. Critics derided Mr. Trump's neglect of this position and the vacancies of other scientific expert positions across the executive branch.
But while scientists in the federal work force typically have their responsibilities defined in considerable detail, each presidential science adviser comes into the job with what amounts to a blank slate, according to Shobita Parthasarathy, director of the Science, Technology and Public Policy program at the University of Michigan.
"They don't have a clear portfolio," she said. "They have lots of flexibility."
The lack of set responsibilities means the aides as far back as 1951 and President Harry S. Truman — the first to bring a formal science adviser into the White House — have had the latitude to take on a diversity of roles, including ones far removed from science.
Source: Read Full Article