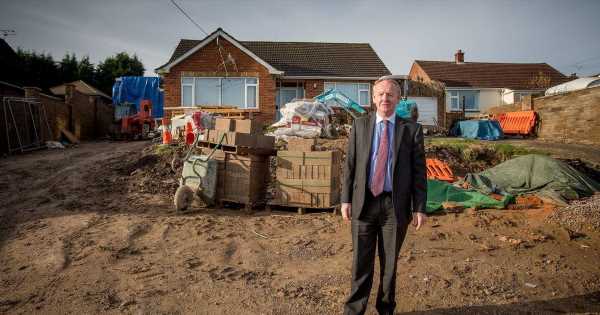 The bloke who illegally built 'Britain's biggest man cave' has been battling the law to keep his haven.
But he may have finally thrown in the towel after removal vans were spotted on his drive on the same day as the crucial court deadline.
Millionaire Graham Wildin built a 10,000 sq/ft leisure complex – without planning permission. The man cave includes a bowling alley, casino and a cinema at the back of his home.
READ MORE: Woman kidnapped girl, eight, from playground before running down the street naked
The 70-year-old was jailed last year for repeatedly refusing to knock down his illegal extension, despite a court order.
Wildin, of Cirencester, Glos, was given 18 weeks from his release to comply with the court order to make the giant leisure complex unusable by 'soft stripping' the inside.
The accountant only served around half the six-week sentence imposed on August 12, 2022, the 18 weeks from his release was up on Friday (January 6).
And on that day removal van was spotted on his driveway.
Locals say removal vans have been there for a few weeks and are being loaded with stuff – although they remain cynical it means the entire cave will ever be demolished.
One said: "He's got a couple of white vans there, and we think he's been putting stuff in them.
Five people including three kids found slain in horror murder-suicide, cops confirm
"He loads some items into them, they've not moved at all in that long, but we are under the impression that as soon as the council comes to check if the interiors of the building have been stripped – he's gunna put everything back in again."
The anonymous neighbour added: "He thinks he's being clever – but he's not that clever. We can see everything he does.
"He's had people there working, so I think they're probably clearing it out for him into the vans.
''A lot has been going on there this week but he's had 18 weeks to do this so I'm assuming something is being done.
Inside bloke's 'bit strange' relationship with sex doll after 'frozen' years
"In the meantime, his cars are still there, he parks his sports cars all up and down the road to make life as difficult as possible for all of us.
''It makes parking our cars a nightmare, especially if we have more than one car.
"I don't expect the council will turn up today, they usually leave it a few days, but I expect when they do sometime next week he'll just replace it all."
Another local resident said that they had 'no idea' what he was doing in there but they had seen people entering and exiting Wildin's gated 'mansion'.
Battered Brits abroad topple huge beloved buffalo sculpture by trying to ride it
Council officials have vowed to continue the planning battle not just to soft strip, but to get rid of the complex which once contained a cinema, squash court, bowling alley and casino.
The Forest of Dean District Council has made it clear it is not intending to drop the planning row over the leisure centre at Meendhurst Road.
A FODDC council spokesman said: "This is an ongoing legal matter and the council will continue to pursue it."
READ NEXT
Brit tourist gunned down and killed while holidaying at luxury villa in Jamaica
Husband shoots wife for honking car horn outside home to get him to hurry up
Miracle dog shot four times in the head survives with bullet lodged in eye
Huge riot sees 14 killed in deadly New Year's Day jail break from notorious prison
Brit blokes seen attending Andrew Tate's 'university' where online sex shows are filmed
Source: Read Full Article