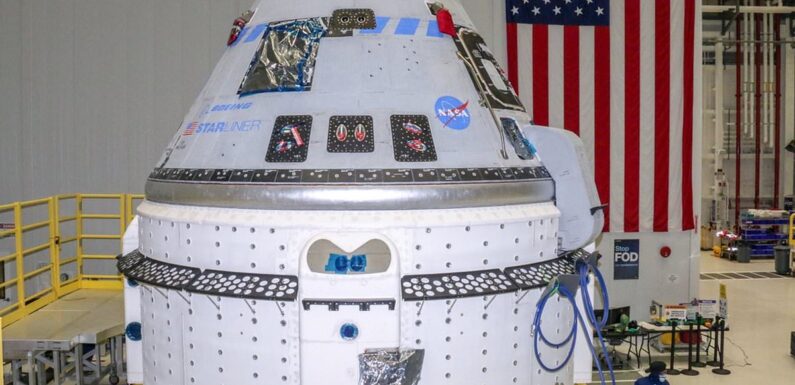 Boeing's problem-plagued Starliner is delayed AGAIN as company pushes $410 million spacecraft's maiden astronaut flight to next year
NASA gave Boeing and SpaceX contracts to send crew to the ISS back in 2014

Now nearly a decade later SpaceX is about to perform its seventh mission

Rival Boeing, meanwhile, is still having teething trouble with its Starliner vessel 
It turns out Boeing's multi-million Starliner spacecraft won't be flying humans into orbit this year after all. 
Astronauts were supposed to travel on the cone-shaped capsule to the International Space Station (ISS) on July 21 as part of NASA's Commercial Crew Program.
But the date came and went without any launch and now the US firm has confirmed a crewed launch won't be happening until March 2024 at the very earliest. 
Essential repairs are needed for Starliner's parachute, Boeing has said, but these won't be completed until later this year meaning the launch has to be pushed back. 
It means Boeing is falling far behind rival SpaceX, which has been sending crew to the ISS as part of NASA's program since 2020. 
It's the latest setback in the problem-plagued history of the reusable spacecraft, which was originally hoping to start crewed launches to ISS in 2017
READ MORE SpaceX launches its first female-led crewed mission to the ISS
SpaceX Crew-5 took place in October 
According to reports, Boeing has had to take nearly $900 million (£700 million) from its earnings to cover the cost of Starliner including $410 million in 2020 but the project's total amount now allegedly stands at $1.4 billion (£1.1 billion). 
Starliner's most recent uncrewed mission to the ISS was successfully completed in May last year, but a crewed launch is yet to occur.  
Boeing and NASA announced the new delay and detailed work that still needs to be done on Starliner during a joint online press conference on Monday, August 7. 
'Right now, based on the current plans, we're anticipating that we're going to be ready with the spacecraft in early March,' said Mark Nappi, Boeing vice president and program manager of the Starliner program. 
He added that the actual launch date would depend on constraints in the space calendar and would be decided together with NASA and the United Launch Alliance, which provides the Atlas V launch rocket for Starliner. 
During recent testing, Boeing engineers identified new issues relating to a faulty parachute system and wire harness tape used extensively through the capsule that was found to be flammable under some conditions. 
Nappi explained that a component of the parachute system called the 'soft links' had been reinforced with fibre and improvements were made to its stitching.
Substantial amounts of the electrical tape have been removed, while in other areas they have been protectively covered, he added.
Boeing should be done removing the tape in the coming weeks, but the redesigned parachute system won't be ready until December.
Only if a parachute drop test goes well late this year, the spacecraft should be ready to carry two NASA astronauts to the ISS as early as March. 
Despite it being more than 10 years since Boeing first presented its design for Starliner (pictured), the vehicle is still not yet ready for a flight to the space station 
Pictured, the United Launch Alliance Atlas 5 rocket that would carry Boeing's first Starliner spacecraft on an unpiloted orbital flight, December 19, 2019. The uncrewed mission was not a success as it didn't reach the ISS as planned 
Boeing and NASA teams work around Boeing's Starliner after it landed on May 25, 2022 at White Sands Missile Range's Space Harbor in New Mexico. This launch was uncrewed and effectively a practice run, so a crewed mission is the next step for the company 
The actual launch date next March will be decided together with NASA and the United Launch Alliance, which provides the Atlas V launch rocket for Starliner (pictured) 
Boeing's Starliner launches  
December 2019 First uncrewed flight. Reached orbit but failed to dock with ISS
May 2022 Second uncrewed flight. Successfully docked with ISS
March 2024? Tentative date for first crewed flight to ISS 
Steve Stich, NASA's Commercial Crew program manager, defended the fresh delay as being in the interest of safety for those aboard. 
He reiterated the space agency's commitment to Boeing in the face of increasing criticism from observers.
'We will go fly this mission when we're ready,' said Stich.
Boeing is one of three companies participating in NASA's Commercial Crew Program – an initiative to fly teams of astronauts to the ISS on behalf of the space agency. 
Established it 2011, the program was intended for NASA to outsource the development of vessels that can perform the journey, rather than NASA engineers doing it themselves. 
NASA awarded fixed-price contracts of $4.2 billion to Boeing and $2.6 billion to SpaceX in 2014, shortly after the end of the space shuttle program, during a time when the US had to rely on Russian Soyuz rockets for rides to the ISS. 
Elon Musk's SpaceX, so far the most successful member of the program, performed its first crewed launch to the ISS back in May 2020, using its Crew Dragon spacecraft.
Pictured, SpaceX boss Elon Musk with the firm's Crew Dragon spacecraft. NASA hopes to certify Boeing's Starliner as a second 'taxi' service for its astronauts to the ISS – a role that SpaceX has provided since 2020
NASA astronauts Bob Behnken (left) and Doug Hurley (right) give a thumbs up inside the Dragon capsule as a flight physician checks their vitals. The team returned to Earth following a two-month mission inside the International Space Station
SpaceX is due to perform its seventh crewed launch to the ISS for NASA later this month – and will perform several more after this as part of the program. 
Boeing, on the other hand, has long experienced teething trouble with its Starliner vessel, which was originally supposed to be doing crewed flights by 2017. 
Boeing launched its first uncrewed flight to ISS in December 2019, although it didn't go to plan as it didn't manage to reach the space station. 
A second uncrewed mission in May 2022 was more of a success and performed a successful ISS docking procedure two days after launch before returning safely. 
However last year's launch was uncrewed and effectively a practice run, so a crewed mission is the next step for the company.
But even now there's no guarantee Starliner will be ready when March comes around and the vessel is eating up precious time, not to mention money. 
Even though the ISS is due to be commissioned at the start of next decade, NASA said it still wants two competing crew launchers. 
The goal is to fly one Boeing and one SpaceX crew flight each year. 
The third member, Sierra Nevada, is still in the development phase of its Dream Chaser spacecraft, but it's not expected to be certified for crewed missions until later this decade. 
EXPLAINED: THE $100 BILLION INTERNATIONAL SPACE STATION SITS 250 MILES ABOVE THE EARTH
The International Space Station (ISS) is a $100 billion (£80 billion) science and engineering laboratory that orbits 250 miles (400 km) above Earth.
It has been permanently staffed by rotating crews of astronauts and cosmonauts since November 2000. 
Crews have come mainly from the US and Russia, but the Japanese space agency JAXA and European space agency ESA have also sent astronauts. 
The International Space Station has been continuously occupied for more than 20 years and has been expended with multiple new modules added and upgrades to systems 
Research conducted aboard the ISS often requires one or more of the unusual conditions present in low Earth orbit, such as low-gravity or oxygen.
ISS studies have investigated human research, space medicine, life sciences, physical sciences, astronomy and meteorology.
The US space agency, NASA, spends about $3 billion (£2.4 billion) a year on the space station program, with the remaining funding coming from international partners, including Europe, Russia and Japan.
So far 244 individuals from 19 countries have visited the station, and among them eight private citizens who spent up to $50 million for their visit.
There is an ongoing debate about the future of the station beyond 2025, when it is thought some of the original structure will reach 'end of life'.
Russia, a major partner in the station, plans to launch its own orbital platform around then, with Axiom Space, a private firm, planning to send its own modules for purely commercial use to the station at the same time. 
NASA, ESA, JAXA and the Canadian Space Agency (CSA) are working together to build a space station in orbit around the moon, and Russia and China are working on a similar project, that would also include a base on the surface. 
Source: Read Full Article