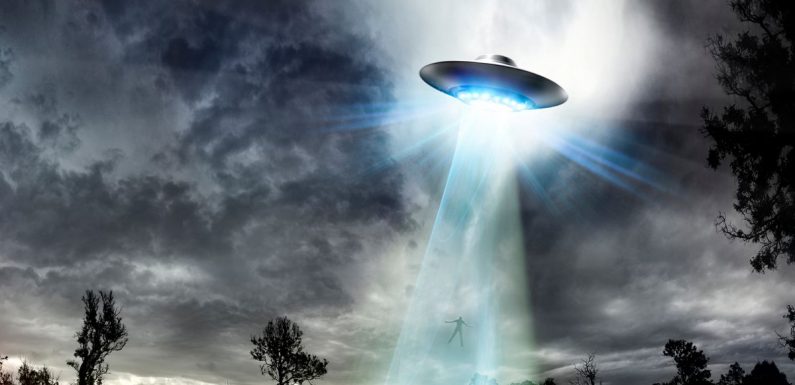 Bookmark
For out-of-this-world news, sign up for the Spaced Out newsletter
We have more newsletters
Bombshell new evidence on the existence of UFOs could be released this week.
US Department of Defense official Sean Kirkpatrick, who heads a secretive military unit tasked with studying UFO sightings dating back 80 years, will give evidence to Congress at a public hearing in Washington DC on Wednesday.
In a recent academic paper he suggested recent unidentified objects spotted in the skies could be alien probes from a mothership sent to study Earth.
READ MORE: Bloke finds monster octopus with head ripped off on UK beach and makes stir fry
Kirkpatrick is probing 510 reported close encounters involving Top Gun pilots and other military personnel dating back to the 1940s.
The respected science and defence intelligence professional is expected to reveal details of his findings so far.
Mr Kirkpatrick heads up the Pentagon's All-domain Anomaly Resolution Office (AARO) set up to study reported UFO sightings.
The office was only established last summer but has already received hundreds of reports of unidentified anomalous phenomena (UAPs) – the new government name for UFOs – including from the US Air Force.
In the draft paper, co-authored by Harvard professor Avi Loeb, the pair claim that in recently-reported sightings of UFOs, the objects, which appear to defy all physics, could be "probes" from an extra-terrestrial "parent craft".
Interstellar objects such as the cigar-shaped "Oumuamua" that scientists spotted flying through the galaxy in 2017 "could potentially be a parent craft that releases many small probes during its close passage to Earth," the researchers claim.
Hot cop who gave boss lap dance fires back at trolls with brutal six-word shutdown
These gigantic interstellar vehicles could shed probes as they travel through star systems like "dandelion seeds", the report said, using the sun's gravity to detach the probes as the mothership flew past.
The probes could use starlight to "charge their batteries" and the Earth's water as fuel.
"Habitable planets would be particularly appealing to extra-terrestrial trans-medium probes, capable of moving between space, air and water," the authors write in the paper dated March 7.
"From a large distance, Venus, Earth or Mars would be equally attractive for probes. But upon closer inspection, Earth would show spectral signatures of liquid water and vegetation."
The paper, which has not yet been peer viewed, seen by the Politico website, shows that even the top echelons of government are worried about the UFO sightings.
READ NEXT:
Paedo infant school caretaker who preyed on three young girls dies in prison
Meghan's 'masterstroke' coronation decision will avoid repeat of Queen's funeral backlash
Mum of YouTube family 'sent teen daughter's underwear to sick perv fan to sniff'
Alien
Mars
Space
UFO
Science
Military
Source: Read Full Article