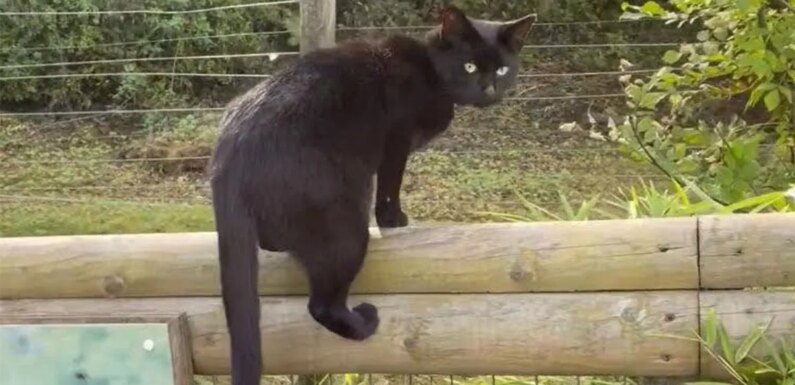 A brave cat is dicing with death at a UK zoo where staff fear one wrong move and it will 'end up as a snack'.
The domestic feline has been showing off its freedom at Dudley Zoo where it's been prowling past animal enclosures, sparking a search for its owner, BirminghamLive reports.
Attempts to catch the moggy to scan it for a microchip have so far failed as one zoo keeper admits, the cat 'won't let them anywhere near it'. A picture of the courageous visitor was shared on the zoo's social media pages with a post asking: "We need your help! Do you live near the zoo and could this be your cat?"
READ MORE: Cat that 'predicts death' always cuddles nursing home residents right before they pass
Cats, cats and more cats can be read about here!
The post also said: "We think it's owned as it's wearing a collar, but it keeps getting into animal enclosures and won't let keepers anywhere near it to be able to catch it and scan it for a microchip. If you recognise our feline friend, please call our office on 01384 215313."
One commenter joked it was the "Dudley panther", while others called it "brave". Another said: "Hope the mystery gets solved. We saw him or her last week by the spider monkeys enclosure, made us jump."
For more incredible stories from the Daily Star, make sure you sign up to one of our newsletters here
"If you don't catch it, those nine lives are going to run out quick," a Facebook user warned. Another added: "Hopefully you can catch it before it gets in trouble, may end up as a snack."
Earlier this month we reported how Bonnie, a black and white cat, snuck into her neighbour's caravan and went on a UK staycation to Devon only being found when they returned from dinner in the beachy holiday spot
* This article was crafted with the help of an AI tool, which speeds up Daily Star's editorial research. An editor reviewed this content before it was published. You can report any errors to [email protected]
Source: Read Full Article