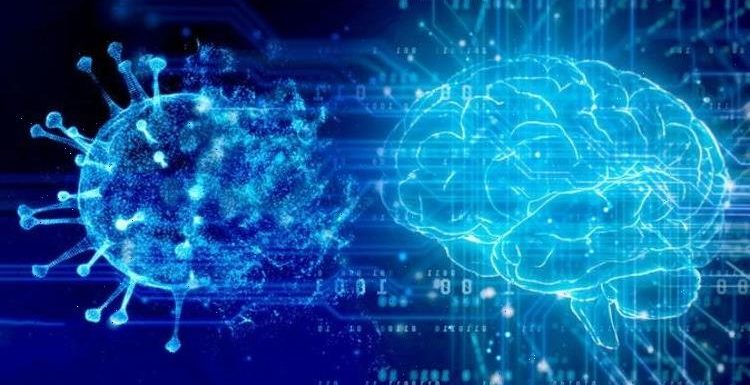 Coronavirus: Hawkins slams 'booster after booster' approach
We use your sign-up to provide content in ways you've consented to and to improve our understanding of you. This may include adverts from us and 3rd parties based on our understanding. You can unsubscribe at any time. More info
Daily COVID-19 cases have exceeded 100,000 for the first time since the pandemic began last year. The 106,122 cases top the previous record of December 17, when cases reached 93,045. A total of 8,008 people were in hospital with COVID-19 as of Tuesday — the highest level since November 22 and up four percent from a week ago.
Prime Minister Boris Johnson has said no new restrictions will be introduced in England before Christmas.
First Ministers in the UK have moved to implement their own respective restrictions.
In Wales, Mark Drakeford today announced the country would follow the rule of six at indoor hospitality venues from Boxing Day.
While Britons up and down the country anticipate further restrictions following reports of a potential two-week circuit breaker being discussed in Government, there could now be light at the end of the tunnel.
A team of scientists in Oxford have made a breakthrough in Artificial Intelligence research, overseeing the creation of a tool that could combat virus variants before they emerge.
According to the World Health Organisation (WHO), immunisation currently prevents four to five million deaths every year.
However, an additional 1.5 million deaths could be avoided through the use of more effective vaccines.
Most vaccine antigens are based on a single pathogen component — the spike protein of the COVID SARS-CoV-2 virus, for example.
JUST IN: Archaeologists stunned at shipwreck 'frozen in time'
But this limits their effectiveness and ability to cope with new strains.
Now, however, biotech start-up Baseimmune has developed an algorithm-based system capable of creating antigens containing all the parts of the pathogen.
Explored by BBC Science Focus magazine's article, the 'AI tool may help develop universal vaccines capable of combating virus variants before they emerge'. It could help researchers to develop the next generation of universal vaccines which protect against future variants capable of evolving into several major diseases.
Phillip Kemlo, Baseimmune's co-founder and software engineer, said: "Our prediction algorithm addresses all of these challenges, accelerating the creation of vaccines that are as good as they possibly can be and will stand up to whatever variants may come in the future."
DON'T MISS
Britons urge Liz Truss to invest £15bn EU research funds in UK [REPORT]
David Attenborough stunned by archaeological goldmine in UK [INSIGHT]
Truss in furious Brexit showdown as EU threaten £80bn betrayal [ANALYSIS]
Baseimmune's vaccine design algorithm draws on genomic, epidemiological, immunological, clinical and evolutionary data to create blueprints for antigens capable of responding to a particular pathogen in its current form, as well as likely variants that may arise in the future.
In January 2020, just as the pandemic was beginning to grip the world, Baseimmune fed the small amount of existing data about SARS-CoV-2 into their algorithm.
This then correctly predicted major variants such as Alpha and Delta that would not emerge for another year, researchers say.
The team were recently awarded £3.5m in funding in an investment round led by Hoxton Ventures and including early investors Creator Fund.
They plan to use the money to help to create future-proof universal vaccines for several major diseases including COVID and malaria.
Co-founder Ariane Gomes said: "I grew up in Brazil and saw first-hand the impact of infectious disease as my aunt lived her whole life with the devastating effects of polio, a vaccine-preventable disease.
"The COVID pandemic has reminded us that infectious diseases aren't going anywhere, so we urgently need to develop the next generation of vaccines to help protect us all."
Currently, the Government is attempting to blunt the effects of Omicron by speedily rolling out its booster vaccine campaign.
At the start of the week, 25 million people had had their COVID-19 booster vaccine in the UK.
Vaccines work by training the immune system to respond to infection by a specific pathogen, such as a virus, parasite or bacteria.
At the heart of every vaccine is an antigen — a small, safe molecule based on part of the pathogen, which triggers the protective immune system.
It is now hoped that with Baseimmune's algorithm, researchers may get ahead of a virus' evolutionary curve and create vaccines capable of defending against future variants.
You can subscribe to BBC Science Focus magazine here.
Source: Read Full Article