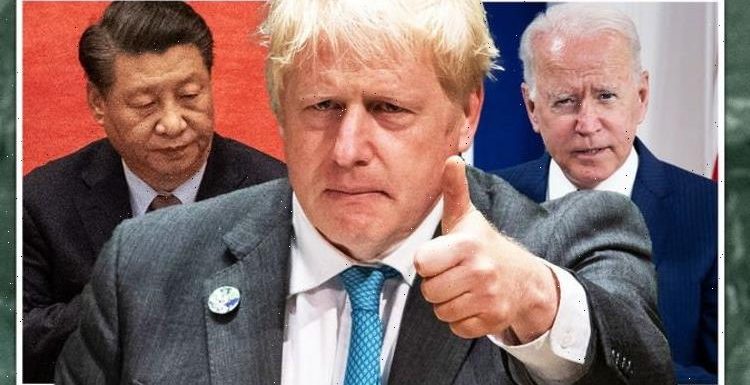 Artificial intelligence: Expert discusses research on future crime
We use your sign-up to provide content in ways you've consented to and to improve our understanding of you. This may include adverts from us and 3rd parties based on our understanding. You can unsubscribe at any time. More info
The National Artificial Intelligence Strategy has been drawn up to boost both public and private ventures and attract international investment into British companies in order to help develop the next generation of domestic tech talent. Featuring a number of different programmes with ranging aims, it seeks to develop a variety of tech goals to help push the UK to the front of the market.
The National AI Research and Innovation programme, included in the paper will aim to improve collaboration between researchers up and down the country.
While another programme will work to diversify the spread of AI and tech hubs to areas outside of London and Southeast England, where a large bulk of efforts are concentrated.
The Government is also seeking to increase investment and resources to industries that are yet to climatise on the emergence of AI, like farming and energy.
The computing power for the UK and its availability to researchers and organisations will also be reviewed, as well as consultation on copyrights and patents for AI that will assess whether the UK taking advantage of the sector.
Chris Philp, a minister at the Department for Digital, Culture, Media and Sport, said in a statement: "Today we're laying the foundations for the next ten years' growth with a strategy to help us seize the potential of artificial intelligence and play a leading role in shaping the way the world governs it."
Beth Singler, an anthropologist at the University of Cambridge who studies AI and robots, told CNBC that the UK is increasingly trying to find specialist areas where it can compete against much larger states like the US and China in a post-Brexit world.
The 10 year-plan to level up British tech and AI follows earlier plans drawn up in both 2017 and 2019.
While the 2017 Industrial Strategy plan was a broad strategy to boost innovation and investment in British industry and not centrally focused on technology, the 2019 AI Sector Deal was drafted to help with the Industrial strategy targets by focusing on the AI sector.
It suggested that it could bring a contribution of £200billion or 10 percent of UK GDP by 2030.
Peter van per Putten, Assistant Professor of AI and creative research at Leiden University said: It is particularly encouraging to see a shift from broad strategic policy statements and good, yet non-committal intentions as formulated in the 2017 Industrial Strategy and 2019 AI Sector Deal to more concrete, action-oriented recommendations, also in the short and mid term.
"This is a tell-tale sign of AI maturing further as a technology and field of application."
The move comes after former Google CEO Eric Schmidt tipped that China could overtake the US as the world's main AI superpower.
DON'T MISS
Russia threatens 'Asian NATO' in fury over AUKUS deal [INSIGHT]
Scientists pin date for ANOTHER pandemic as deadly as Covid-19 [REVEAL]
Sturgeon could hold key to ending UK energy crisis [REPORT]
The UK is now seeking to catch up on lost opportunities and enter the race by growing its domestic AI strength, having sold DeepMind to Google for $600million (£512million) in 2014 and selling a large host of AI start-ups to overseas companies following a £2.5billion investment into the sector in 2019.
AI is intelligence demonstrated by machines, as opposed to the natural intelligence displayed by humans or animals.
AI applications include advanced web search engines, understanding human speech, self-driving cars and competing at the highest level in strategic game systems.
Source: Read Full Article