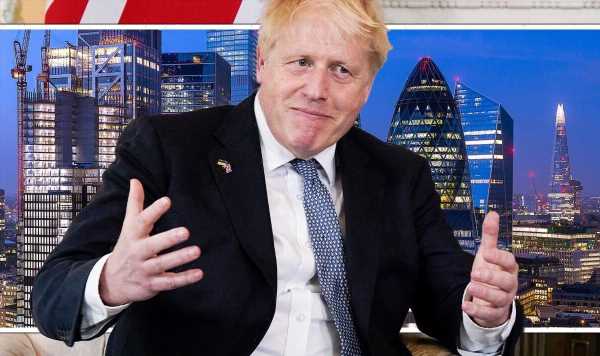 Brexit: UK and EU 'may renegotiate in 20 years' says Osborne
We use your sign-up to provide content in ways you've consented to and to improve our understanding of you. This may include adverts from us and 3rd parties based on our understanding. You can unsubscribe at any time. More info
Data provider Dealroom, which specialises in start-ups and growth companies, revealed this week the UK tech sector raised an astonishing £12.4billion in venture capital funding in the first five months of 2022. Speaking at the Digital Catapult's Cyber-Physical Future Forum, an event for London Tech Week, Science Minister George Freeman noted this puts Britain ahead of Germany, China and France.
He said: "It was a joy to be at the G7…to be able to tell them (G7 members) that in the last five months we raised £12.4billion for tech in the UK.
"That is not just three times more than Germany, two times more than France, it is more than China.
"And that is technology powerhouse working for you…it is an extraordinary achievement."
But this was not the only exciting news the Science Minister had to share.
In fact, for London Tech Week, the UK's flagship event showcasing the country's tech sector, Mr Freeman made three key announcements.
This includes Innovate UK's Fast Start competition, a £30million series of new grants to support British start-ups and entrepreneurs across a range of key sectors.
Mr Freeman also announced the continuation of the Future Leader Fellowships, which supports the emerging talent in universities, business and other research environments to commercialise new technologies.
The Science Minister said a further round of £100million in new funding is planned to assist these talented researchers.
Lastly, Mr Freeman announced the launch of UKRI's Enabling a Responsible AI Ecosystem programme
This involves an £8.5million investment for the programme led by the Arts and Humanities Research Council (AHRC).
It marks the country's first ever major programme on Artificial Intelligence (AI) ethics of this scale and will bring together experts from across the board to help tackle some of the biggest ethical questions posed by AI.
But these were not even the only announcements made amid London Tech Week, as combined with a package announced by Business Secretary Kwasi Kwarteng, the Government will invest a record £743.5million into the technologies of tomorrow.
Mr Freeman said: "As the entire government focuses on tackling the cost-of-living , it is my firm belief that an innovation-led economy will deliver the jobs, growth and prosperity we need to help us rebuild across the country.
"We are living in a time of huge technological change. New technologies are creating new industries at a pace that would have been thought impossible, even 10 years ago.
DON'T MISS
Putin humiliated as Israel turns on 'ally' Russia to strike EU deal [REVEAL]
Germany sends warning to Putin in 'territorial command' launch [INSIGHT]
Antarctica researchers stunned as 'hidden world' discovered under ice [REPORT]
"As a responsible government, we must give our researchers and innovators the tools and the wherewithal to flourish.
"That's why we're announcing a record £743.5million package of investment into the technologies of tomorrow, putting entrepreneurs at the heart of our plans to help power our economy while tackling some of the world's greatest challenges, and supporting our ambitions to make the UK a Science Superpower."
Source: Read Full Article