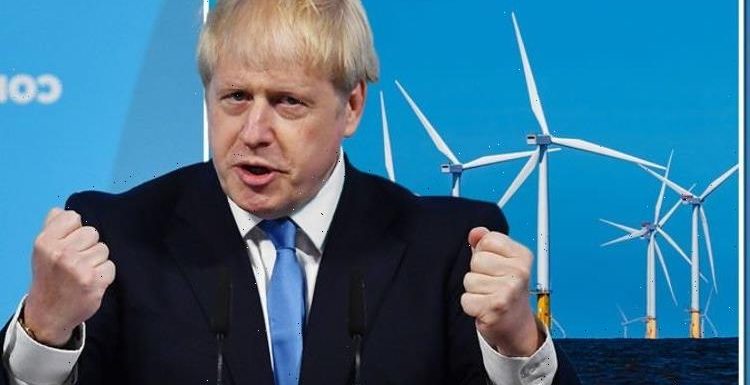 Wind farm technician explains how wind turbines work
We use your sign-up to provide content in ways you've consented to and to improve our understanding of you. This may include adverts from us and 3rd parties based on our understanding. You can unsubscribe at any time. More info
The UK Government will announce today how it plans to generate more electricity from renewable sources through its world-leading green energy scheme. British companies are encouraged to invest in low-carbon electricity production through the Contracts for Difference (CfD) initiative. The scheme incentivises companies to go green by sharing the financial burden of transitioning to net-zero while ensuring customers don't see their bills skyrocket even when prices are high
In the fourth round of the scheme, the Government will hand out a staggering £265million.
The cash injection is expected to double the UK's renewable electricity capacity, which was secured in the scheme's third round.
With the boost in hand, the UK is expected to generate more power than the previous three rounds combined.
And the nation's rapidly expanding offshore wind farms will have the capacity to power some eight million homes.
As part of today's announcement, the Government will invest £200million in offshore wind projects.
The UK is committed to reaching a 40GW capacity by 2030.
The Government is also directing £55million towards supporting new renewable technologies, of which £24million is ringfenced for floating offshore projects for the very first time.
And for the first time since 2015, established technologies will have the chance to bid for Government support via the CfD.
These include companies already involved in offshore wind and solar power.
Laura Tobin reports on climate change live from Svalbard
The Government aims to increase their capacity by 5GW with a £10million budget.
The investment will support companies all across the UK, with an emphasis on Scotland and Wales.
As outlined in Prime Minister Boris Johnson's Ten Point Plan for a Green Industrial Revolution, the offshore wind sector alone could support up to 60,000 jobs within the next decade.
Energy Minister Anne-Marie Trevelyan said: "The Contracts for Difference scheme has helped the UK become a world leader in clean electricity generation and lowered prices for consumers.
"The new plans set out today deliver on the Prime Minister's Ten Point Plan and will support the next generation of renewable electricity projects needed to power our homes and meet our world-leading climate change targets."
Previous runs of the CfD scheme have helped deliver clean energy to more than seven million homes.
More importantly, this was achieved without hitting homeowners in the pocket as government investments have helped drive the price of offshore wind down by about 65 percent.
The advancement of technology will ensure the costs of green energy will continue to fall.
Wind and solar energy are now cheaper than coal and gas in many parts of the world.
The Government's commitment to supporting the green sector highlights Britain's role in fighting the climate crisis.
This will be brought to the international spotlight at the 26th United Nations Climate Change Conference in Glasgow, this November.
Investments will also help the UK economy build back better and stronger after the Covid pandemic.
CfD contracts are awarded through a series of competitive auctions or allocation rounds, which since 2015 occur every two years.
Source: Read Full Article