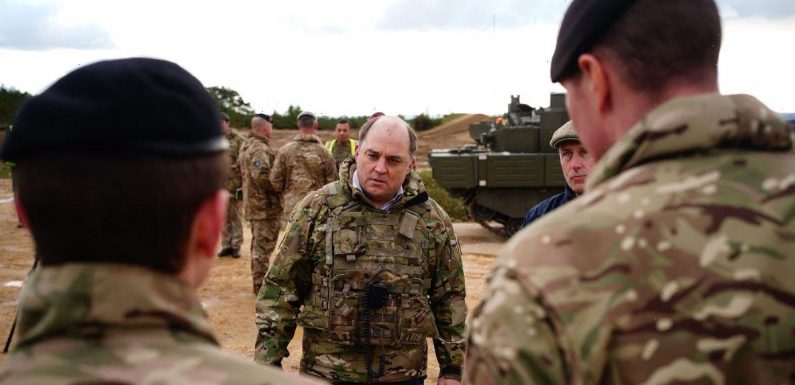 Defence Secretary Ben Wallace has given a stark warning that war will come to Britain by the year 2030 and we must be "ready and equipped".
Mr Wallace said the world is "definitely more dangerous, more unstable and more insecure" as a result of Vladimir Putin's near one-year-old "special military operation" in Ukraine.
He also piled pressure on Rishi Sunak over defence spending ahead of Jeremy Hunt's Budget on March 15.
READ MORE: Ex-KGB spy and oil magnate dies mysteriously in latest high-profile Russian death
The defence secretary told the Sun that the government needs to recognise and prepare for impending danger.
He said: "Conflict is coming by the end of this decade, whether it is a cold war or hot, war is coming.
"We just have to recognise that in order to deter you just have to be ready, you have to be equipped and you have to stand with your friends and your allies."
He made the remark ahead of the first anniversary of the war in Ukraine tomorrow (Friday, February 24).
Mr Wallace stated: "The world is more dangerous, more anxious and more insecure… we need a greater proportion of the public spend on defence."
Seven shot dead by pool player furious when he was mocked for losing two games
He told LBC this morning that he expects the war will still be going on this time next year, said said: "I think Russia has shown a complete disregard, not only for the lives of the people of Ukraine, but for its own soldiers.
"We are sitting here 12 months in and 188,000, actually more now, Russian soldiers are dead or injured as a result of this catastrophic miscalculation and aggression by President Putin.
"When someone has crossed the line and thinks it is OK to do that to your own people, running effectively a meat grinder for an army, I think he is not going to stop."
To get more stories from the Daily Star delivered straight to your inbox sign up to one of our free newsletters here.
READ NEXT:
Meghan Markle denies feeling 'embarrassed' following Prince Harry's memoir
Meghan started 'domino effect' by 'burning bridges first' before Harry, says expert
Aristocrat mum on run with rapist and their baby 'could be anywhere' as hunt expanded
Source: Read Full Article