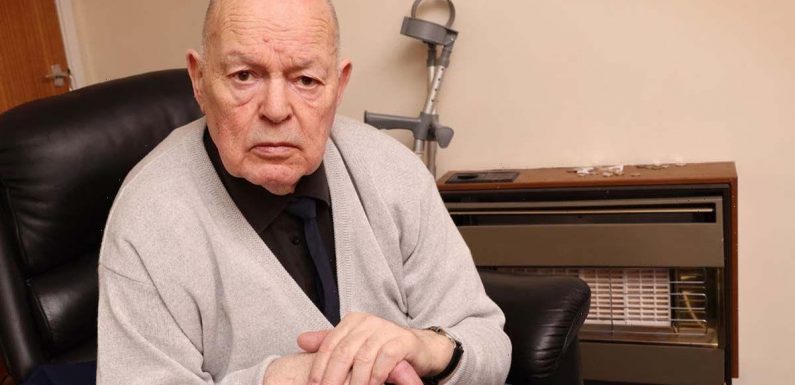 Energy bills: Couple discuss the increase in their prices
We use your sign-up to provide content in ways you've consented to and to improve our understanding of you. This may include adverts from us and 3rd parties based on our understanding. You can unsubscribe at any time. More info
An 82-year-old British Gas customer was forced to plunder his funeral savings in order to pay for a huge British Gas bill. The elderly widower saw his bill more than quadruple over winter, as wholesale gas and electricity prices skyrocketed following Russia's invasion of Ukraine. Barry Seckerson, 82, said that his energy bills left him no choice but to dip into his emergency funds. It comes as the profits of Centrica, the owner of British Gas more than tripled to a record £3.3billion. As many households struggle with soaring power bills Centrica's massive windfall led to ­accusations of profiteering.
The gigantic profits – equivalent to almost £6,300 a minute or £104 a second – was fuelled by rocketing wholesale energy prices after Russia's invasion in Ukraine and a surge in energy bills for ordinary households.
Centrica boss Chris O'Shea sparked further anger by refusing to rule out taking an annual bonus of up to £1.6million, on top his nearly £800,000 salary.
Yet while he coins it in, customers like Mr Seckerson are left struggling to afford his firm's sky-high energy bills, the Mirror reports.
The retired construction worker, from Stoke-on-Trent, Staffordshire, a loyal customer of British Gas for more than 50 years, suffers from a heart condition and angina which means he has to have the heating on during cold snaps.
Mr Seckerson, who lives alone with his pet cat after his wife Brenda died 10 years ago, recently phoned British Gas to ask what his gas bill was from the start of December.
He said: "I gave the agent my meter reading, and she said it was £1,171. I have arthritis and angina so have to keep the heating on over Christmas."
"Because it was winter I was expecting it to be £400 maybe £500, but never that much."
The £1,171 bill is over £900 more than the £266 for the previous three months, and three times what he paid a year ago.
"I can pay this bill but I will have to use some of the money I have in savings. It is money I put aside to cover the cost of my funeral."
Mr Seckerson said he was now dreading April when energy bills are set to jump again after the Government scales back the Energy Price Guarantee.
He branded Centrica's profits "disgusting" and a "scandal." He criticised Mr O'Shea's possible bonus, saying: "I don't know he would have the cheek to take it. My bill is part of what is paying for it."
Sana Yusuf, climate campaigner at Friends of the Earth, said: "Another set of bumper profits from one of the companies fuelling the energy and climate crises will no doubt spark further outrage as millions of people struggle to pay their bills and face a drop in government support from April.
DON'T MISS:
Woman finds largest dinosaur footprint ever discovered in Yorkshire [REPORT]
Elon Musk issues 'WW3' warning after dealing Ukraine blow with ban [INSIGHT]
UK unveils £60m boost to develop ships that will 'fly' above water [REVEAL]
"The new Energy Security and Net Zero Secretary needs to step up and back growing calls for a tougher windfall tax on the excessive profits of fossil fuel companies like Centrica to help fund the investment in insulation and homegrown renewables needed to bring down bills and cut emissions."
Most of the money it made came from Centrica's gas production, its stake in nuclear power plants and its energy trading arms. Annual profits at British Gas Energy, its supply arm for 7.5 million households, dropped 39 percent to £72million.
A British Gas spokesperson said: "Mr Seckerson came to the end of a fixed tariff in April 2022 and went onto a standard tariff. His prices are now capped by the Government's Energy Price Guarantee.
"We and will be seeing if there is any further help we can provide him with such as a grant towards his energy costs."
Source: Read Full Article