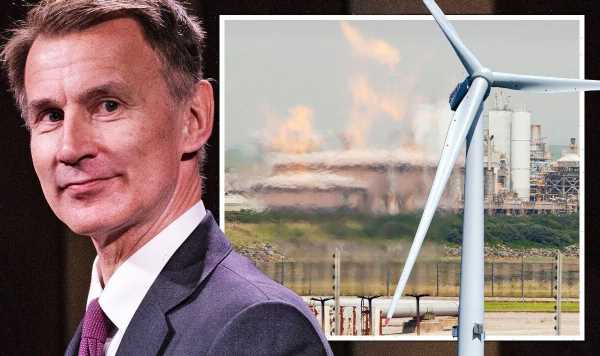 Martin Lewis predicts when energy prices could drop slightly
We use your sign-up to provide content in ways you've consented to and to improve our understanding of you. This may include adverts from us and 3rd parties based on our understanding. You can unsubscribe at any time. More info
Electricity suppliers in the UK have long paid the highest price all generators agree upon. Now, a groundbreaking new report from a climate think tank claims over seven billion pounds could have been shaved off household bills over the past two years if this system more fairly reflected the lower cost of renewables. Instead of changing the market setup, low-carbon producers now face steeper windfall taxes than their oil and gas counterparts, the proceeds of which go towards energy support schemes.
Climate non-profit Carbon Tracker Initiative (CTI) claims a quirk in the way electricity prices are determined between producers and wholesalers in the UK means households overpaid by up to £7.2billion throughout 2021 and 2022.
The price paid for electricity by supply companies such as Eon, OVO and SSE is determined by the result of a bidding process. Generators impose the highest bid on all, regardless of how the electricity is produced, with this price then passed on to bills.
If an average price were used instead, the think tank's calculations mean roughly £250 could be saved per household.
Initially, electricity prices were pegged to gas-powered generation because it was the cheapest – but this is no longer the case.
The development of more efficient nuclear energy, the harnessing of renewable energies, and rising gas prices mean gas-fired power stations are now among the most expensive ways the UK produces electricity.
Projections by the Department for Business, Energy and Industrial Strategy (BEIS) estimate the cost of gas turbines to be at £85 per megawatt-hour (MWh) of electricity generated in 2025.
In comparison, offshore wind is predicted to cost £57/MWh, onshore wind £46/MWh, and large-scale solar £44/MWh. The latest available data for nuclear priced the energy source at £73/MWh.
Between 1990 and 2021, gas became the UK's single largest source of power generation, soaring from less than 0.1 per cent to 39.8 per cent, according to the BEIS. But low-carbon sources have been gaining ground rapidly in recent years.
READ MORE: Energy boss's 7 word defence as prepayment meters blasted
According to the latest Energy Trends report, the share of renewable sources in the country's energy mix grew 18 per cent in the year to September 2022 – over four-fifths of which came from added wind capacity alone.
Wind power met over a quarter of the UK's annual electricity demand (26.8 per cent) for the first time in 2022. The UK leads Europe in terms of offshore capacity and is behind only China globally.
The cost of generating electricity via offshore wind fell by 13 per cent between 2020 and 2021, and by 15 per cent onshore, according to the International Renewable Energy Agency (IRENA).
Last year, a further 15.5 per cent of the UK's electricity came from nuclear, 5.2 per cent from biomass, 4.4 per cent from solar and 1.8 per cent from hydroelectric sources, according to the National Grid.
DON'T MISS:
Teachers on strike could still be paid as schools see mass walkouts [LATEST]
US military planning expansion of access to bases in Philippines [BREAKING]
Kate 'was trying to help' Meghan in bridesmaid dress row [REPORT]
Leaked document shows Russia's early plans for Ukraine invasion [REVEAL]
The current system has also meant that renewable energy companies have been selling electricity at prices far higher than their production costs.
In a bid to straighten this out, in the Autumn Budget, Chancellor Jeremy Hunt imposed a temporary 45 per cent windfall tax on the profits of low-carbon generators. The oil and gas sector will face a lower rate of 35 per cent from January 2023 until March 2028.
Combined, the Energy Profits Levy and the Energy Generator Levy are expected to net the Treasury £54billion over six years, which will "help fund energy bill support for households and businesses."
The Energy Price Guarantee scheme – which cost the Government roughly £7billion in December alone – is set to be raised from £2,500 to £3,000 in April.
A BEIS spokesperson said: "We have already launched a major review into Britain's electricity market design to radically cut costs of electricity for consumers in the long term, including consulting on changes to the wholesale electricity market that would stop volatile gas prices setting the price of electricity produced by much cheaper renewables.
"To reduce the burden on billpayers in the short term, we have introduced a temporary Electricity Generator Levy on extraordinary returns being made by low-carbon generators, which will help fund energy bill support for households and businesses."
Gas persists as an essential commodity in the UK – used not just in electricity production but also in heavy industry and the heating of up to 80 per cent of private homes – but the Government's Energy Security Strategy seeks to move in a different direction.
Russia began restricting outflow to international markets in the wake of sanctions for its invasion of Ukraine – the supply shock sending prices skyrocketing.
CTI's analysis found people in countries dependent on gas imports such as the UK and Italy had consistently paid the highest prices for electricity during the recent period of gas price volatility.
But wholesale gas prices were going up long before this, increasing by over 500 per cent between 2005 and 2021. The price of electricity to UK consumers alone shot up by 294 per cent during this time.
Energy prices were the driving force throughout the cost-of-living crisis throughout 2022, with inflation sitting at 10.5 per cent going forward into 2023.
Source: Read Full Article