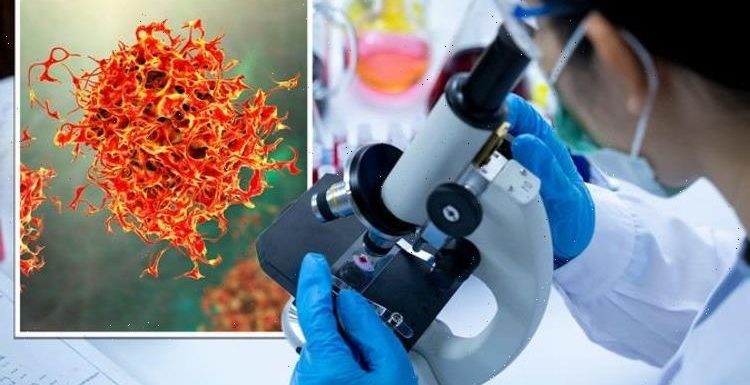 Testicular Cancer: Expert details main sign and symptoms
We use your sign-up to provide content in ways you've consented to and to improve our understanding of you. This may include adverts from us and 3rd parties based on our understanding. You can unsubscribe at any time. More info
After more than 15 years of backbreaking research, scientists at Princeton University in the US have published two papers describing their promising new therapy. The researchers were focused on identifying a "little-known but deadly" gene called metadherin (MTDF), which is present in most major types of cancer. Metadherin is present in lung, colon, breast, prostate and liver cancers, making it a potential target for future cure development.
According to cancer biologist Yibin Kang, the Princeton researchers have figured out a way in which this gene can be attacked or disabled.
And more importantly, their research so far indicates this can be done without triggering any obvious side effects.
Professor Kang said: "You can't find a drug target better than this: MTDF is important for most major human cancers, not important for normal cells, and it can be eliminated with no obvious side effects."
So far, the new treatment was only tested on mice and human tissue.
But the researchers are positive they will move onto clinical patient trials in just a few years.
Their findings were published this week in the journal Nature Cancer.
Professor Kang said: "In the two papers we are publishing back-to-back today, we identify a compound, show it is effective against cancer, and show that it is very, very effective when combined with chemotherapy and immunotherapy.
"Even though metastatic cancers are scary, by figuring out how they work – figuring out their dependency on certain key pathways like MTDF – we can attack them and make them susceptible to treatment."
The expert's research has primarily focused over the years on cancer metastasis.
Metastasis is cancer's ability to spread from one part of the body to another, making the disease much more likely to kill.
Dr Nighat discusses symptoms of prostate cancer
Data from the National Cancer Institute in the US, indicates 99 percent of cancer patients survive within five years of receiving their diagnosis.
But only about 29 percent of patients survive if their cancer has metastasised.
Study lead author and associate researcher Minhong Shen said: "Metastatic breast cancer causes more than 40,000 deaths every year in the US, and the patients do not respond well to standard treatments, such as chemotherapies, targeted therapies and immunotherapies.
"Our work identified a series of chemical compounds that could significantly enhance the chemotherapy and immunotherapy response rates in metastatic breast cancer mouse models.
"These compounds have great therapeutic potential."
According to Professor Kang and his colleagues, MTDH allows cancer tumours to survive the stress associated with chemotherapy and "muzzles the alarm cry" of organs invaded by a tumour.
The new treatment developed by the team, in essence, reactivates the body's alarm system.
Professor Kang said: "In normal tissues, healthy cells are usually not under stress or presenting signals that can be recognized as foreign by the immune system, so this is why MTDH is not essential for normal tissues.
"In essence, MTDH is a quintessential 'cancer fitness gene' that is uniquely required by malignant cells to survive and thrive."
The researchers are hopeful they will begin human trials within two to three years.
He added: "In terms of the biology, I think we are only starting to scratch the surface.
"I foresee another decade of discovery work, so, the saga continues."
Source: Read Full Article