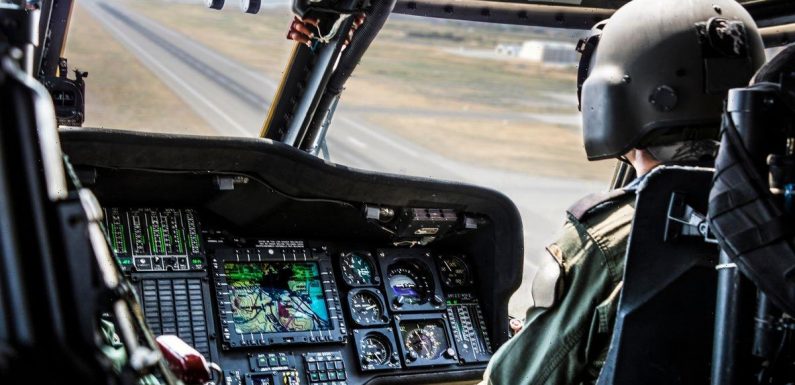 A helicopter pilot from Malta's armed forces seemed to be having some fun this week after his flight pattern appeared to have a rather phallic outline.
The unusual flight path was tweeted out by popular aviation enthusiasts account flightradar24.com where it predictably went viral, simply reading: "Meanwile in Malta."
The helicopter was revealed by aviation nerds to be an AW139, being described as a helicopter which can "adapt to multiple missions" and "enjoys superior performance" to other aircraft.
READ MORE: 'Dangerous' UK nursery where children eat pebbles and each other's poo
The Maltan Air Force however have hit back, claimign that the incident had been "printed out of context".
A spokesperson said: "The flight tracking shown was segmented as the helicopter was flying low altitude and did not show the completed flight path."
That being the case, the recorded flight path, according to the air force, was but a strange coincidence.
The same account also brought attention to a similar stunt in November, with phallic artwork this time coming from the US Air Force right next to a Russian naval facility in off the coast of Cyprus.
Classroom horror as girl is killed by extremely venomous black mamba at school
One flight expert told Times Now: "They were on a refuelling mission that usually is just a long oval, repeated over and over…. so they added the "balls." No extra taxpayer money spent."
Flightradar24 was founded by two Swedish aviation enthusiasts in 2006 and tracks flights using radar and from information gathered using open sourced data.

In September the plane carrying the coffin of Queen Elizabeth II was tracked by some six million users on the site, making it the most tracked flight of all time.
While, in August 2022, the plane carrying Nancy Pelosi to Taiwan was tracked worldwide as it landed in Taipei and the site crashed following Russia's invasion of Ukraine after so many people attempted to track Russian planes.
READ NEXT:
UK weather warnings in force ahead of bone-chillingly cold and icy weekend
'Satanic' Mia Khalifa slammed for comparing herself to the Virgin Mary in raunchy pic
Tiny pooch who eats sausages, cheese and Doritos sets record for world's oldest dog at 23
Elle Brooke reveals cheat meals since knock-out win as she feels 'gross and fat'
Inside Edinburgh's notorious strip pub where 'animal' men treat girls 'like meat'
Source: Read Full Article