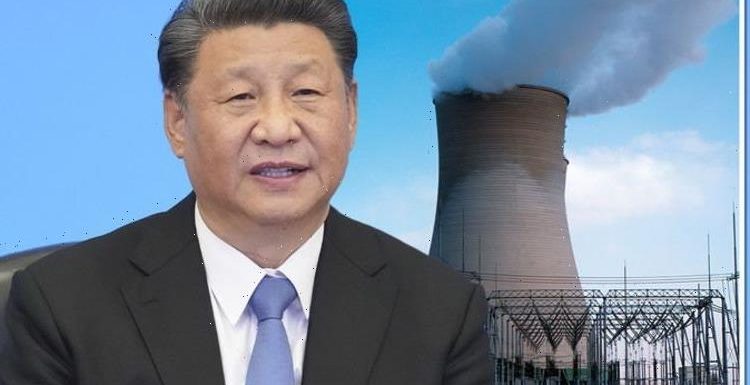 Steve Baker says China 'isn't ready to do deal at COP26'
We use your sign-up to provide content in ways you've consented to and to improve our understanding of you. This may include adverts from us and 3rd parties based on our understanding. You can unsubscribe at any time. More info
At least half of the 31 provincial jurisdictions in mainland China have reported a shortfall in power supplies in the last month. The crisis has affected major industry hubs like the coastal province of Guangdong but has also taken a toll on homes and businesses. Experts have attributed the shortfall to China's tightening grip on greenhouse emissions, the rising costs of coal and poorly managed electricity rationing across provincial lines.
China still relies on coal power for most of its electricity demands and remains the world's biggest producer of carbon dioxide (CO2) – the leading cause of global warming and climate change.
The power shortage has put a strain on entire power grids, casting a shadow of uncertainty over China's economic forecasts.
According to Lu Ting, chief economist at Nomura, the situation was particularly dire last weekend.
He wrote in a note on Monday: "With market attention now laser-focused on Evergrande and Beijing's unprecedented curbs on the property sector, another major supply-side shock may have been underestimated or even missed."
In the aftermath of the crisis, the economists at Nomura have slashed their growth forecasts of 8.2 percent down to 7.7 percent.
However, the experts warned the impact on China's economy may yet prove worse.
Mr Lu added: "We see more downside risk to our forecasts."
The power crunch has led China to halt production at a number of key factories, including sites supplying tech giants Apple and Tesla.
Eson Precision Engineering, a company that produces components for Tesla's electric cars, temporarily suspended production at its facilities in Kunshan, Jiangsu province.
Insulate Britain's mocked and told to go to China
The company said: "The company will leverage its inventory to maintain the operation while production is halted.
"We expect to arrange production on the weekends or in the upcoming holidays [next month] to meet customers' needs."
Medieval scenes unfolded in the country's northeast provinces, where business owners were forces to operate by candlelight.
Since last week, power rationing has been introduced to address the coal shortage.
According to local media, however, the blackouts have been arriving sooner and lasting longer than expected.
In Shenyang, the capital of Liaoning province, sudden power outages even affected unlucky motorists, leading to chaos on the roads.
Striking photographs shared by the South China Morning Post show cars stuck in a traffic jam, triggered by failed traffic lights.
Channey Zhan, who manages an opal glassware factory in Chaozhou, Guangdong, was also quoted by the outlet saying she had been told by authorities to cut down on her power consumption.
She said: "If the regulations become more strict, we may have to just keep [the furnace] warm but not produce anything.
"The situation is very serious and likely to become even more severe."
According to the state-run People's Daily newspaper, local government officials have been told rationing power will help "avoid the collapse of the entire grid".
Chinese authorities said: "From September 23 to 25, due to the sudden decline in wind power, and for other reasons, the power supply gap rose to the levels of severe."
Experts have previously warned Europe and America could be headed for a similar energy crisis, as nations look to transition from fossil fuels to renewables.
Craig Golinowski, the managing partner at Carbon Infrastructure Partners (CIP), told Express.co.uk the intermittent nature of solar and wind farms makes them an unreliable alternative to fossil fuels.
Source: Read Full Article