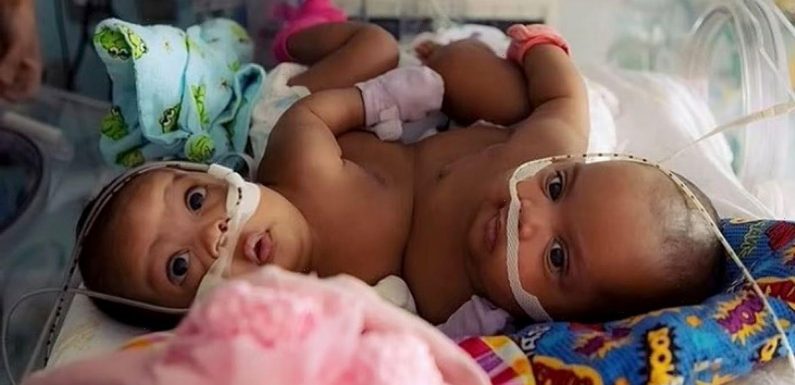 A pair of infant twins formerly attached at the stomach were successfully separated after a gruelling 11-hour surgery.
AmieLynn Rose and JamieLynn Rae Finley, who are 16 weeks old, were born attached from the breastbone to their belly button and shared a liver due to their condition were separated in a delicate operation on Monday, January 23.
The tots were given different coloured hats – green for AmieLynn and purple and JamieLynn – after their surgery to distinguish the twins.
READ MORE: Father and daughter blamed sick incestuous relationship on 'genetic sexual attraction'
They were given separate beds for the first time since their premature birth in October 2022 at Texas Health Harris Methodist Hospital Fort Worth.
The surgery, undertaken at Cook Childrens' Medical Center in Texas, was done by a team of 25 experts led by Dr José Iglesias.
The team was made up of anaesthesiologists, paediatric surgeons, plastic surgeons and other professionals who spent weeks devising the plan for the procedure – going as far as to make prosthetic models of the girls to map out the surgery.
The girls are now fully separated, equally splitting the liver they once shared.
According to The Daily Mail, Dr Iglesias said the surgery will give the girls a chance to improve their health and development, adding they'll be able to "grow as the unique, individual little girls they have been since birth".
Mutant anti-ageing gene treatment could 'rewind heart's biological clock by decade'
According to the National Library of Medicine, run by the US Government, conjoined twins happen in between every 50,000 and 200,000 births, with three quarters of all conjoined twins being female.
Despite advances in modern medicine, around 60% of conjoined twins are stillborn, with an additional 30% dying within 24 hours of being born.
Twins conjoined at the stomach, as in the case of AmieLynnee and JamieLynn, make up 10% of conjoined twin births, with the highest percentage being twins joined at the neck and abdomen, at 28%.
READ NEXT:
Residents fuming as enormous underpass sewer pipe fitted metres from their new homes
Horror fur farms sees raccoon dogs and minks stuffed into cages caked in animal poo
Woman stuffs her cat down her jumper in desperate bid to keep warm as costs soar
Source: Read Full Article