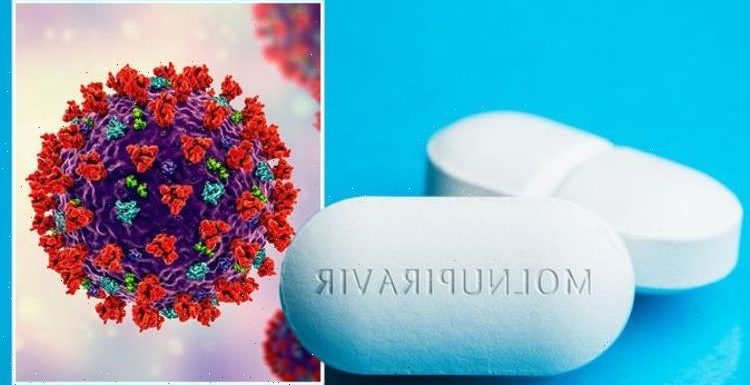 Molnupiravir: Merck & Co Inc's Covid pill approved in the UK
We use your sign-up to provide content in ways you've consented to and to improve our understanding of you. This may include adverts from us and 3rd parties based on our understanding. You can unsubscribe at any time. More info
The trial is being led by the University of Oxford will recruit a total of 10,600. The goal is to determine whether antiviral treatments can reduce the need for hospitalisation, particularly in people with an increased risk of complications. The trial will begin with the antiviral drug molnupiravir, which has been developed by Merck and Ridgeback Biotherapeutics.
Molnupiravir, also known as Lagevrio, has been tipped as a promising treatment for patients at early stages of infection.
The Medicines and Healthcare products Regulatory Agency (MHRA) had been approved last month for people suffering from mild to moderate COVID-19.
Health and Social Care Secretary Sajid Javid said: "This antiviral will be an excellent addition to our armoury against COVID-19, and it remains vital everyone comes forward for their life-saving COVID-19 vaccine – particularly those eligible for a booster – to ensure as many people as possible are protected over the coming months."
The Government said in October it had secured some 480,000 courses of the treatment and that its rollout would kick off with a trial.
According to the trial's chief investigator, Professor Christ Butler, targetting Covid at an early stage is most beneficial.
He said: "It is early on in the illness, when people are still being cared for in the community, that treatments for COVID-19 could have their greatest benefit.
"This new trial will test whether exciting, new antiviral treatments that are more specific to COVID-19 help people in the community recover faster and reduce the need for treatment in hospital."
Although past trials have already found a number of antiviral treatments to be safe and effective, the new trial will give researchers new insight into their effectiveness in communities with a high rate of vaccine coverage.
Government figures published on Wednesday indicate more than 119 million vaccines have already been administered across the UK.
See the latest Covid vaccine stats below and visit InYourArea for all the Covid vaccine latest
More than 51.1 million people have received their first dose and more than 46.6 million people have had their second jab.
The rollout of booster jabs has also reached more than 21.3 million people.
Molnupiravir's approval was announced in early November after a "rigorous review of its safety, quality and effectiveness" by British regulators and health officials.
Dr June Raine, MHRA Chief Executive, said: "Following a rigorous review of the data by our expert scientists and clinicians, we are satisfied that Lagevrio (molnupiravir) is safe and effective for those at risk of developing severe COVID-19 disease and have granted its approval.
"Lagevrio is another therapeutic to add to our armoury against COVID-19.
"It is also the world's first approved antiviral for this disease that can be taken by mouth rather than administered intravenously.
"This is important, because it means it can be administered outside of a hospital setting, before COVID-19 has progressed to a severe stage."
The fast-approaching rollout of Covid treatments will be welcomed by the British public, particularly in light of newly-announced restrictions.
Prime Minister Boris Johnson said on Wednesday the Government will launch its Plan B for winter for combat the spread of the Omicron variant of Covid.
This will involve wearing face masks in "most public indoor venues", such as cinemas and theatres, as well as a call to work from home where possible.
Mr Johnson said: "The single biggest thing that every one of us can do is to get our jabs and, crucially, to get that booster as soon as our turn arrives.
"Let's do everything we can to protect ourselves and our loved ones this winter, and reduce the pressures on our NHS."
Source: Read Full Article