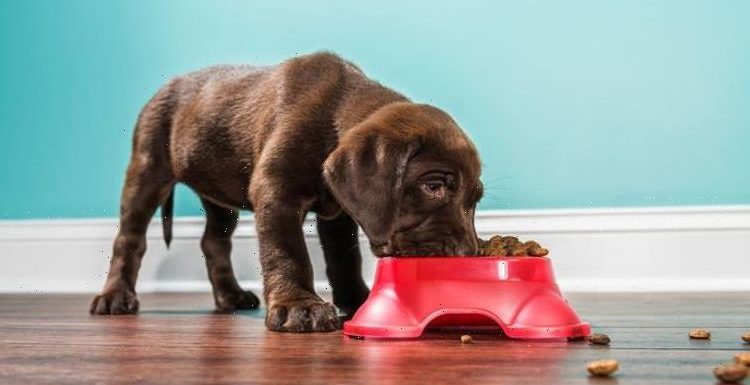 Golden retriever meets puppy in adorable moment
We use your sign-up to provide content in ways you've consented to and to improve our understanding of you. This may include adverts from us and 3rd parties based on our understanding. You can unsubscribe at any time. More info
It is estimated nearly 10 million dogs keep us company up and down the country, with recent polls findings 26 percent of UK adults own a pet. The pet industry is, therefore, unsurprisingly a thriving business with a wide variety of foods, toys and accessories sold for dogs and every shape and size. As of 2020, the pet food market has been valued at a staggering £2.9billion – but what do pet owners really know about the foods they feed to their four-legged companions?
According to a new report published by the raw dog food company ProDog Raw, some of the UK's most popular kibble brands contain ingredients you wouldn't necessarily want to feed your pets.
In a report published on Friday, RawDog highlighted 10 brands they fear are worryingly low in actual meat but high in processed ingredients that may pose a health risk to dogs.
The research claimed all 10 brands list "meat and animal derivates" or "meat meal" – meat products that cannot be traced to any specific animal.
According to the company, some of these products were found to only contain between four and six percent of the meat labelled on the packaging, such as chicken or turkey, meaning the rest may have come from any other animal.
According to the Pet Food Manufacturer's Association (PFMA), meat meals are "animal byproducts" that have been heat-treated, desiccated and had their fat removed.
Although not entirely appetising on paper, meat meals are considered a concentrated source of protein for your pets.
The report also claimed that six of the 10 brands were found to use vegetable oil in their dry food as a means of extending its shelf life.
Although some oils like olive and flax oil are deemed safe for dog consumption, vegetable oils have been linked to adverse health reactions when consumed in high concentrations.
Oils containing soybean and corn products, in particular, have been linked to issues like tummyache.
Seven of the 10 brands were also said to have been found to contain at least 10 different vitamin and mineral additives.
According to ProDog, these are included in the dry food to make up for the lacking natural alternatives.
However, there is some concern this could lead to hypervitaminosis and mineral excess.
This was the case in 2019 when Hill's Pet Nutrition issued a voluntary recall of canned dog foods over elevated levels of vitamin D.
The recall was investigated by the US Food and Drugs Administration (FDA) after reports of dogs experiencing vitamin D toxicity.
James Middleton offers advice on taking dogs on holiday
Hill's Pet Nutrition attributed the problem to "supplier error" and took steps to prevent a similar incident in the future.
The company said: "We care deeply about all pets and are committed to providing Dog owners with safe and high-quality products.
"Hill's has identified and isolated the error and, to prevent this from happening again, we have required our supplier to implement additional quality testing prior to their release of ingredients."
Raw dog food manufacturers are, however, calling for pet owners to transition to raw products.
Heidi Maskelyne, the founder of ProDog Raw, said: "Dog owners often have no idea what they're feeding their pets, similarly to how we approach our food, rarely do we investigate what's in the ingredient list.
"Regardless of this, what's really quite insidious with dog food is how vague manufacturers are allowed to be.
"Meat meal could literally refer to any sort of animal part, and I think owners deserve to know exactly what they're feeding their pets."
The study was carried out as part of the company's #DitchTheDry campaign which will run throughout August.
Ms Maskelyne added: "Yes it might be cheap to buy but that's because it's cheap to make.
"Many of our customers have been amazed at how economical buying raw is.
"I encourage all owners to at least investigate what is actually in the dry food they feed to their dogs every day."
But according to the British Veterinary Association (BVA), the UK has very strict laws about what is and what isn't allowed to go into dog food.
Commercially available products contain animal-derived ingredients from the human food chain are prepared in ways that meet pets' nutritional needs.
All animals slaughtered for food are done so under veterinary supervision and meet the "very high standards set in EU legislation".
Reddit user's puppy stares adorably at owner
You can learn more about these products on the PFMA website here.
The PFMA said: "Members of the PFMA manufacture their diets in line with the FEDIAF (European Pet Food Federation) Nutritional Guidelines for Cats and Dogs.
"These guidelines detail the nutritional needs of cats and dogs at the varying life-stages – growth, adult and senior.
"The guidelines are peer-reviewed by independent veterinary nutritionists throughout Europe and are regularly updated with the latest science."
According to Daniella Dos Santos, BVA Senior Vice President, pet owners looking to change their pets' diet should do so after consulting a veterinarian.
She told Express.co.uk: "All animal and animal by-products used in UK pet foods must, by regulation, be of a quality fit for human consumption, and commercially prepared pet foods are formulated to meet the nutritional needs of the modern-day domesticated pet.
"Pet owners who choose to feed raw food diets must be aware of the potential animal and public health risks associated with it and take full precautions while storing and handling the food.
"BVA does not recommend making a raw food diet at home without veterinary guidance due to the potential for nutritional deficiencies in homemade diets.
"We would advise any owner wanting to try a raw meat-based diet for their pet to first consult a veterinary surgeon."
Source: Read Full Article