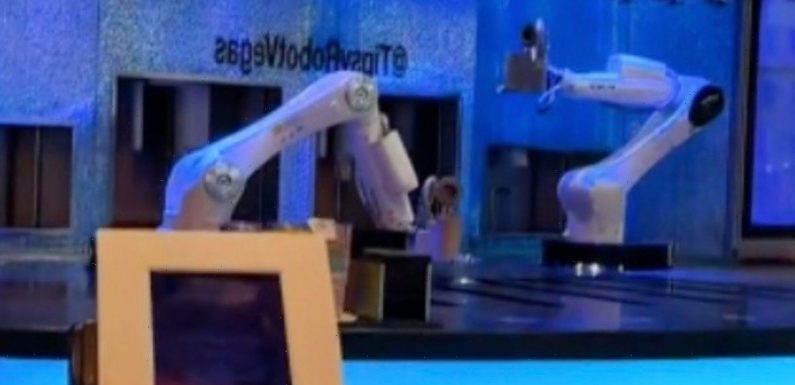 A drinker was stunned to see a "service charge" added to the price of a £13 margarita cocktail made by a robot.
The bloke, a TikTok user called Uptin, got the expensive drink at The Tipsy Robot in Las Vegas, US, a "sleek, futuristic cocktail bar where robots mix custom drinks & deliver them by conveyor belt," according to its website.
"I normally wouldn't mind an automatic 10% tip for making my drink but you're a robot," he said in a TikTok video.
READ MORE: Female teacher 'drove student to cemetery three times a week for steamy sex romps'
Uptin said there was no option to opt out of the service charge.
His clip shows two robotic arms making the drink in the bar that is completely run by artificial intelligence.
He added that the ice cream machine was broken and his drink came without any ice.
"I refuse to spend money at a company that forces an automatic tip," one person said in response.
"I wouldn't go there if I had to pay a mandatory tip to robots. That's beyond crossing the line," someone else commented.
"If you don't tip, the robot overlords will remember," one user quipped while another said: "They'll remember that during the robot uprising."
A world-first robot bartender began serving up drinks at a pub in Tokyo in 2020, and punters said they prefer it to humans.
Ghost hunter 'almost vomited' when he visited house that inspired The Conjuring
Restaurants, bars and shops in the country are struggling to hire staff in an ageing society and people say they like to "come and get drunk" without having to see another person.
The Tokyo robot, operated by restaurant chain Yoronotaki, chats about the weather while preparing orders as a smile appears on screen.
The robot, made by the company QBIT Robotics, can pour a beer in 40 seconds and mix a cocktail in a minute.
It uses four cameras to monitors customers to analyse their expressions with artificial intelligence (AI) software.
"I like it because dealing with people can be a hassle. With this you can just come and get drunk," Satoshi Harada, a restaurant worker said after ordering a drink.
"If they could make it a little quicker it would be even better."
Keep up to date with all the latest news stories. By signing up for one of Daily Star's free newsletters here.
READ NEXT:
NASA sending ship to asteroid worth 70,000 times more than the global economy
Mum, 57, who ran Facebook fetish page had child abuse images on X-rated account
'I'm no Josef Fritzl' says conspiracist who 'hid six Brit kids in underground cellars'
Source: Read Full Article