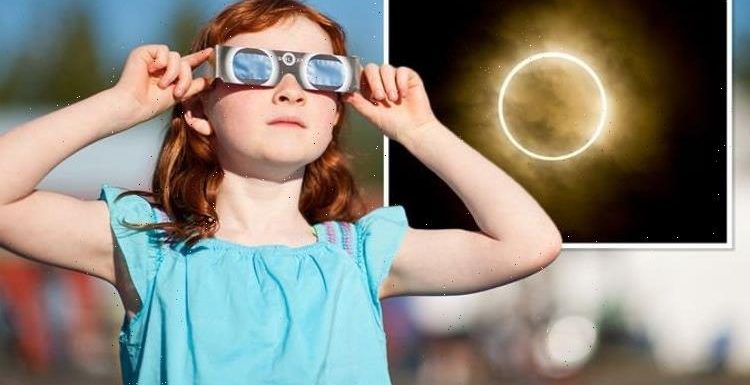 NASA shows the path of the 2021 annular solar eclipse
When you subscribe we will use the information you provide to send you these newsletters. Sometimes they'll include recommendations for other related newsletters or services we offer. Our Privacy Notice explains more about how we use your data, and your rights. You can unsubscribe at any time.
An annular eclipse of the Sun will create a beautiful "Ring of Fire" in the skies this week but only over specific parts of the globe. Astronomers expect the Ring of Fire will pass over parts of Canada, Russia and Greenland early on Thursday, June 10. But the good news is some partial eclipsing will be visible from the UK this week and this may very well be your first-ever opportunity to witness the phenomenon.
Before you rush out to see the partial eclipse in person, there are some precautions you need to take.
According to the US space agency NASA, there is only one safe way to look at an uneclipsed or partially eclipsed Sun – and that is through special-purpose solar filters.
These do not include your average sunglasses as "they transmit thousands of times too much sunlight".
Instead, NASA suggests buying certified "eclipse glasses" or hand-held solar viewers".
Similarly, astronomers at the Royal Observatory Greenwich have warned "sunglasses or 3D glasses will not protect your eyes."
The Observatory said: "Check if your local astronomical society is hosting a solar eclipse event, as they will have many instruments specifically for solar viewing or telescopes that have been fitted with the right filters."
Viewed from London this Thursday, the partial eclipse will obscure as much as 20 percent of the Sun's face.
Travel further up north and you will see more of the Sun eclipsed, with up to 30 percent eclipsing in Scotland.
What to look out for when buying eclipse glasses.
According to the Royal Astronomical Observatory, there are many eclipse viewing myths that could damage your eyesight.
Never look at the Sun directly and don't believe anyone who says you can look at the eclipse through a strip of old film negatives or smoked glass.
Similarly, black bin liners and dark sunglasses won't make the cut.
According to Professor Lucie Green of the Society for Popular Astronomy you can purchase safe eclipse glasses from specialised providers.
These will come in two forms: the kind you can simply hold up to your eyes or in the form of wearable glasses.
NASA suggests looking for manufacturers whose glasses meet the ISO 12312-2 international safety standard.
These should be marked on the glasses and on the store's listing with "CE and ISO Certified" or a similar message.
You can click here to see which companies the American Astronomical Society (AAS) recommends in the US, as well as some outside of the States.
Just be careful as not all eclipses glasses meet the standard or may be stronger, making it harder to see the eclipsed Sun.
The AAS said: "If you bought or were given eclipse viewers at a science museum or planetarium, or at an astronomy trade show, again you're almost certainly in possession of ISO-compliant filters.
"As long as you can trace your filters to a reputable vendor or other reliable source, and as long as they have the ISO logo and a statement attesting to their ISO 12312-2 compliance, you should have nothing to worry about."
If you find a pair of dusty and scratched up eclipse glasses you had tucked away in a cupboard from an eclipse years ago, it's probably best to invest in a new pair.
Damaged glasses may allow the Sun's harmful rays to hit your eyes.
If you can't find a suitable pair in time for the eclipse, there is a DIY method you can try.
According to Professor Green, this homemade device can be as simple as using as taping a bit of paper to a handheld mirror.
Grab a piece of paper or cardboard and cut out a hole in the centre.
You then want to tape the paper over the mirror and secure it in place in such a way that the hole reflects sunlight into a darkened room.
You should see a round spotlight on a wall or on the floor – a reflected image of the Sun.
Professor Green said: "You'll get a nice image of the Sun. You should be able to see all stages of the eclipse very clearly.
"If the projection distance is about five metres, that will give you an image of the Sun that is about five centimetres across, and the hole in the paper doesn't have to be circular."
You can also check out NASA's very handy guide to creating a simple pinhole projector with some paper, some tape and some tinfoil.
Source: Read Full Article